Owen Daniels chats with The Scores Report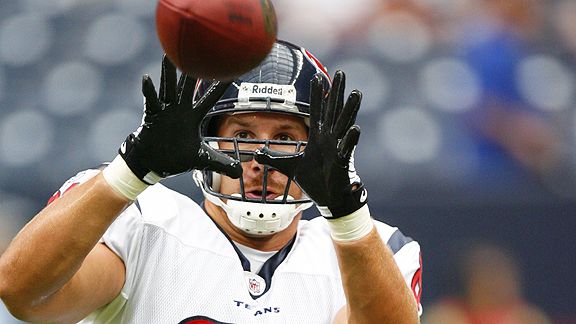 Not a lot of players have made a position change look as seamless as Houston Texans' tight end Owen Daniels, who started off his football career as a quarterback at Naperville Central High School in Illinois and at the University of Wisconsin. But after switching to tight end for the final two years at Wisconsin in order to see more playing time, Daniels has developed into one of Matt Schaub's most reliable targets. (He also has a Pro Bowl appearance under his belt as well.)
Owen was kind enough to chat with us recently about a host of topics, including what it's like to play alongside the dynamic Andre Johnson, what he believes the Texans must do to get over the hump and which NFL safeties are the hardest to shake down in coverage. He also spoke about how the uncapped year has affected his contract status and how he hopes to remain in Houston long-term.
For more on Owen including updates on the Texans' offseason, check out his official Twitter page.
The Scores Report: Hi, this is Anthony.
Owen Daniels: Hey, this is Owen Daniels.
TSR: Hey, Owen! It's great to talk to you – thanks for calling in.
OD: Sure, no problem.
TSR: You're a Naperville Central grad, right?
OD: Yeah.
TSR: I went to Neuqua Valley and graduated around the same time as you. I remember you tearing it up for Central.
OD: I appreciate it. We never played you guys in football for whatever reason; they didn't start playing each other until after I was gone.
TSR: I remember we played you guys a couple times in baseball, but never football.
OD: Yeah, we definitely didn't play you guys in football.
TSR: Did you watch the draft?
OD: I saw a little bit of it, but I was out of town because my brother goes to Princeton and I was at his spring game. So I didn't see much of it, but I kept track of our draft picks and stuff like that.
TSR: How did you think the Texans drafted?
OD: I think we addressed some needs by getting a couple of cornerbacks and another running back. Let's see, what else did we get…we got a linebacker and another tight end from Wisconsin, which is kind of funny.
TSR: (Laughs) Yeah, that's ironic.
OD: But yeah, I like the guys we got, for sure.
TSR: Are you ever offended as a player when your position is drafted? You've already established yourself as one of the marquee tight ends in the league, but does it ever bother you when you see the "TE" come up for one of the Texans' picks?
OD: It has kind of happened the last two years. Last year they drafted two tight ends, a fourth rounder and a fifth rounder, so I guess I was just interested as to why they took two guys last year as opposed to this year. The guy that they took from Wisconsin will play tight end, but another guy, I guess he's going to play receiver is what coach told the media. I'm not real concerned, but who needs self-motivation when they're drafting tight ends every year?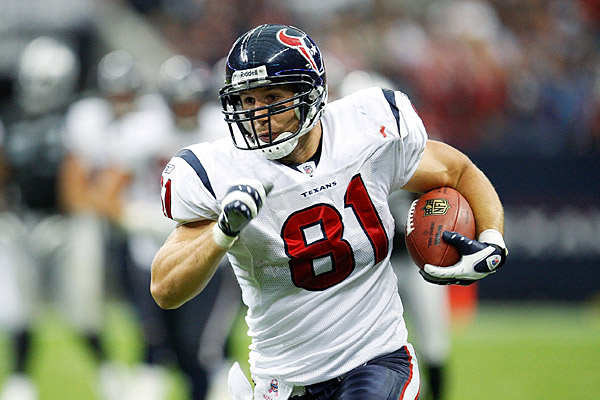 TSR: (Laughs) No kidding! All right, tough question but I've got to ask it: Do you see yourself playing for Houston long-term? I know you currently don't have a long-term contract in place.
OD: I would love to – this is the place I would like to play for a long time. I think my game fits well with the West Coast Offense that coach Kubiak runs here and I feel as though I've had good success over the past few years. Hopefully they'll still want me around, because I like playing in Houston – I like the city. Hopefully we can get something done before the season starts in terms of a long-term deal, because I'm still working on a one-year tender right now. I've been dealing with that the last couple of years, but I would like to be here, that's for sure.
TSR: How has the un-capped year affected you?
OD: It affects me a lot because after four years you're supposed to become an unrestricted free agent, but since there's no cap it jumps up to six years. So, I'm still restricted and I don't get to shop myself around for the other 31 teams in the league besides Houston. With restricted free agency, it's been a little different situation and I guess it's bad timing, but I have a job and hopefully we can get something done long-term soon.
TSR: The Texans have so much talent and they seem like they've been right on the cusp of making the playoffs for the past couple of years. In your mind, what's missing? How do you guys get over the hump?
OD: I think we have to start with playing better within our division. I think last year we were 1-5 in our division despite playing very well against the rest of the league. So, I think if we can play better against our division, get some wins against teams like the Colts, who have been atop the division for the last handful of years and who we've played tough. We've kind of moved from barely winning games, to knowing that we can really beat anybody if we play well. But sometimes we lose concentration and don't win the close ones. Most of the games in the NFL are close and the great teams find a way to win those and get to the playoffs.
TSR: What's it like playing with Andre Johnson, who might be the best receiver in the league and yet he still doesn't get a lot of recognition because he's a quiet guy?
OD: He's unbelievable. I've been able to watch him and play with him since '06 and he's gotten better every year, which is kind of crazy. I feel like his talent is endless. He works hard and he's a quiet guy, but he does speak up sometimes and when he has something to say you listen. He's obviously a big time playmaker and teams are always putting two guys on him. They're at least putting a safety on him over the top, which definitely opens up things for other guys like Kevin Walter and myself. He helps Matt (Schaub) spread the wealth around, but he's still getting his balls and he's definitely the best in the league.
TSR: Speaking of Matt Schaub, a lot of people said when he came over from Atlanta that he was the perfect fit for the West Coast Offense. Seeing as how you've grown with him in the NFL, do you feel like he's the ideal fit for that offense? What do you think of his development?
OD: Oh, definitely. Just look at what he did this past year, leading the league in passing yards. I think he had the fifth or sixth highest total for passing yards in league history. The biggest thing with him for the first couple of years is that he was playing well, but he'd miss a handful of games getting dinged up. But he realized last year that if we wanted to get to the places that we wanted to go, that he needed to stay healthy, be a durable guy and stay out there for all 16 games. He definitely worked hard to get stronger and more solid so that he could take some hits here and there. When he plays all 16 games, the sky is the limit for sure.
TSR: You've had the opportunity to face cornerback Dunta Robinson in practice over the last couple of years and know what kind of player he is. Talk about what kind of an affect his absence will have on the Texans now that he's a Falcon.
OD: They're getting a real solid guy. It was tough to see him go and he left some big shoes to fill at the cornerback position. He was the best guy we had, so the Falcons are definitely getting a good player and I was happy for him that he got to go to his home state and play for the home team there. He's a real solid guy and he's probably pound for pound the toughest guy I've ever played with. He's a skinny guy, but he hits, he sticks his nose in there and he's not afraid of contact at all. They're definitely getting a good cover guy and someone that's not afraid to lay someone out.
TSR: Give me a play that you made at some point in your career that has stood out to you. What's your favorite play that you've made so far?
OD: My favorite play? That I made myself?
TSR: Yeah.
OD: Oh, man…
TSR: This was probably a harder question than the one about your contract, huh?
OD: (Laughs) I guess it would have to be a touchdown catch that I had last year against Cincinnati. The Bengals were my favorite team growing up. I'm from Naperville, but for whatever reason I liked the Bengals and not the Bears. I got to play at Paul Brown Stadium and had a couple touchdowns, with the second one being a pretty nice one-handed grab in the end zone. I would say that one, which was coupled with a win, so that always makes it better.
TSR: Uh-oh – you're a Chicago guy who doesn't like the Bears. Once I print this you're going to be a villain among Bear fans.
OD: (Laughs) Well, growing up I wasn't a Bear fan and I'm definitely not now.
TSR: Sure, of course.
OD: We played the Bears a couple years ago and I think all they had to do was win a game to go to the playoffs, but we beat them here.
TSR: I remember – many of my friends are Bear fans and they were crushed that day!
OD: Yeah, that was a pretty sweet game!
TSR: Give our readers and me some insight into the NFL. What safety lays the biggest hit, covers the most ground, best tackler – anything. Give us some insight.
OD: Oh, man. I guess the biggest hitter that I have to deal with is Adrian Wilson of the Cardinals, and I'm glad I don't have to see him every year. He's hit me hard a couple of times and it's always fun going up against him. We've played them in preseason and during the year a couple times, so we have a relationship built there and he's definitely a tough competitor. In terms of guys covering me, I'd say Bob Sanders and Troy Polamalu. Those are the two of the toughest guys to run routes on because they're smart players and super athletic. Those guys are the toughest ones to beat.
TSR: Talk to me about Troy Polamalu for a second. I'm always amazed by his football IQ. How does he always know where the play is going and how does he get into great position so often? How much film and preparation do you think a guy like that does?
OD: I hope it's a lot!
TSR: (Laughs)
OD: (Laughs) I hope it's a lot. I hope he just doesn't have that good of instincts – more than everyone else has. I hope he studies a lot and doesn't just feel it out. But yeah, I think it's a pretty easy combination of both though.
TSR: Do you ever make it back for Wisconsin games?
OD: Yeah, I try to make it back there every season if the bye weeks match up and I've been lucky that they have. I love Madison.
TSR: Well Owen, I won't take up too much more of your time, but I really appreciate your sitting down with us. It's been a pleasure – wish I could say go Naperville Central, but you and I both know that I can't do that.
OD: (Laughs) It's okay! What are you guys, the Wildcats?
TSR: Yes sir! The Wildcats.
OD: Yeah, get out of here.
TSR: (Laughs) Our school was brand new when I was attending. It took me graduating for the football team to get better.
OD: (Laughs)
TSR: Naperville Central has always been a powerhouse though.
OD: Yeah, our conference was pretty solid with us, Naperville North and Wheaton South. At the time, Neuqua was just coming up – they were just learning.
TSR: You were the quarterback at Central, right?
OD: I was, yes. I played quarterback at Central and then two years at Wisconsin. After my second year, which was my redshirt freshman year, they asked me to switch positions and after thinking about it for a long time I eventually did. I was sick of watching – I wanted to get out there. Jim Sorgi, who has backed up Peyton (Manning), was still there and I just wanted to play. It was a good transition and it worked out.
TSR: I was about to say – I think everything turned out great given your success at the tight end position in the NFL. Well again, thank you for joining us and I wish you nothing but the best. Hopefully that long-term contract is right around the corner.
OD: All right, thanks man – I appreciate it.
TSR: Take care.