2010 BCS Bowl Preview: 5 Things to Watch for in the Fiesta Bowl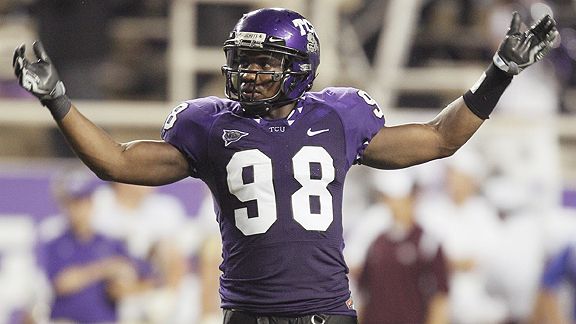 One of the more intriguing matchups of the 2009-2010 bowl season takes place in Glendale, Arizona when No. 4 TCU takes on No. 6 Boise State in the Fiesta Bowl on January 4. As part of our 2010 BCS Bowl Preview, here are five things to watch for in the 2010 Fiesta Bowl.
1. The most controversial matchup of the bowl season
The TCU-Boise State matchup represents everything that's wrong with the current BCS system. Instead of these two teams having the opportunity to prove themselves against BCS conference teams, the Horned Frogs and Broncos will play each other…again. These same two teams squared off last year in the Poinsettia Bowl and while it was a tightly contested game, true college fans would rather see how TCU and Boise would fair against a program like Florida or Georgia Tech. Instead, neither team will be able to prove much, which is exactly how the BCS wants it. Nevertheless, this is an exciting matchup that comes fully stocked with plenty of intrigue and drama associated with the game.
2. TCU's No. 1 defense vs. Boise's No. 1 scoring offense
It doesn't get any better then when the No. 1 defense in the country gets to take on the No. 1 scoring offense. Along with being first in the nation in total defense, the Horned Frogs have the sixth best scoring defense, the third best run defense and the fourth best pass defense. Thanks to Jerry Hughes, Daryl Washington, Tank Carder and a host of others, TCU arguably has the fastest and most aggressive defense in the nation. But don't expect the Broncos to cower to the Frogs' dominant defense. Led by quarterback Kellen Moore, Boise ranks first in scoring, 20th in rushing and 30th in passing. They average over 44 points per game, are No. 1 in sacks allowed and 8th in total offense. But if there was one thing they struggle with, it's red zone efficiency. Thanks to their spread offense, Boise can score quickly with big plays. But the closer they get to the end zone, the harder it becomes for them to score because they lack a power running game. Can Boise improve in that area in order to beat TCU?
3. Will the level of competition play a factor in this game?
TCU was a juggernaut this season, racking up victories against ranked conference foes BYU and Utah by a combined 58 points, as well as ACC Atlantic Division champion Clemson on the road. Meanwhile, Boise beat Oregon in the first game of the year, but didn't face a Top 25 team the rest of the season. Despite playing a relatively easy WAC schedule, three of the Broncos' wins came by 11 points or less as they struggled to put teams away. Considering the level of competition the Frogs played compared to the Broncos, did Boise get enough of a test during the season to get them ready to take on TCU in a BCS bowl?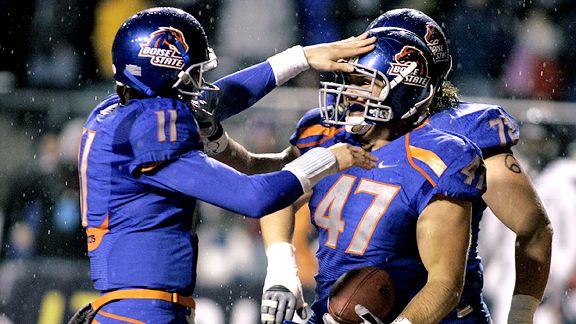 4. Can TCU get to Moore?
TCU ranks 21st in the nation with 2.67 sacks per game, but it'll face an opponent on January 4 that has only allowed five sacks all season. Five! Moore, the nation's top-rated passer, is outstanding at reading the defense and getting the ball out of his hand quickly. If the Frogs want to have any success disrupting the Broncos' passing game, they'll have to disguise their looks and force Moore to hang onto the ball. Can Jerry Hughes continue to wreck havoc on opposing quarterbacks or will Boise's O-line neutralize TCU's pass-rush and keep Moore upright?
5. Can Boise's defense slow down TCU's high-powered offense?
The Horned Frogs get plenty of well-deserved attention for their defense, but their offense has been equally impressive this season. Thanks to a backfield comprised of quarterback Andy Dalton and a trio of running backs in Joseph Turner, Matthew Tucker and Ed Wesley, TCU ranks fourth in total offense and scoring, fifth in rushing and 67th in passing. Dalton might find it difficult to pass on Boise's 13th ranked pass defense, but the Broncos are allowing over 125 rushing yards per game this season, which means TCU might be able to control this game on the ground from the onset. Chris Petersen certainly has his work cut out for him trying to game plan on both sides of the ball.
2010 Fiesta Bowl Game Information
Matchup: Boise State (13-0) vs. TCU (12-0)
Kickoff: 8:00PM ET, January 4
TV: FOX
Odds: TCU -7