The Official Fiesta Bowl Smack Talk Thread: Boise State vs. TCU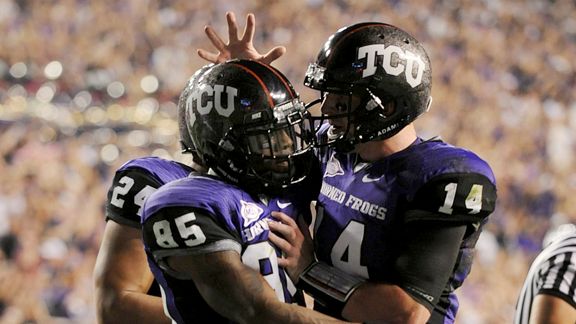 In one of the more anticipated matchups of the 2009-2010 bowl season, the Boise State Broncos will take on the TCU Horned Frogs in the Fiesta Bowl this year. In order to get you ready for a game, here's a quick glance at the matchup, key stats and more.
2010 Fiesta Bowl Game Information
Matchup: Boise State vs. TCU
Venue: University of Phoenix Stadium
Kickoff: 8PM ET
TV: FOX
Odds: TCU –7
Key Stats:
The Horned Frogs come into this game as one of the more accomplished teams in college football this season. Led by quarterback Andy Dalton, TCU ranks fourth in total offense, fourth in scoring offense and fifth in rushing offense. The Horned Frogs also have the top defense in the nation, rank third in run defense and third in pass defense. As if they don't dominate enough statistical categories, the Frogs also have the best kickoff return unit in the country.
Of course, Boise State is certainly no push over when it comes to rankings this season. The Broncos have the eighth best offense in the nation and rank No. 1 in scoring while averaging over 44 points a game. They're balanced attack is led by quarterback Kellen Moore and running back Jeremy Avery, who have paved the way for the 20th best rushing and 30th best passing offense in college football. Defensively, Boise ranks 13th in total defense, 40th against the run and 13th in pass defense. The Broncos have also allowed the fewest sacks of any team in college football this season.
The Bottom Line:
This is the most controversial matchup of the bowl season considering both of these teams would rather play BCS opponents in order to prove themselves. Plus, they already met in the Poinsettia Bowl last year, so this is a matchup college football fans have already seen. That said, this could also turn out to be the best bowl game of the year outside of the national title game. Will Moore lead Boise State to an upset win, or will TCU's No. 1 ranked defense put the clamps down on the Broncos' potent offense again this year?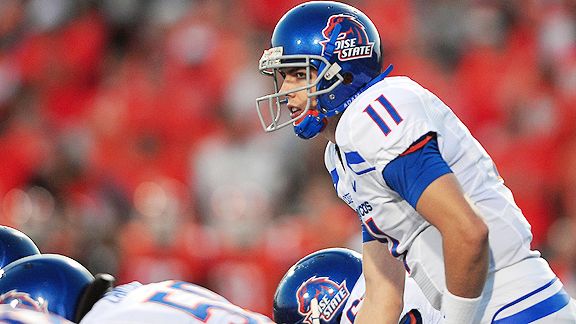 Let the smack talk begin:
Who will win the 2010 Fiesta Bowl?