2010 BCS Bowl Preview: 5 Things to Watch for in the Orange Bowl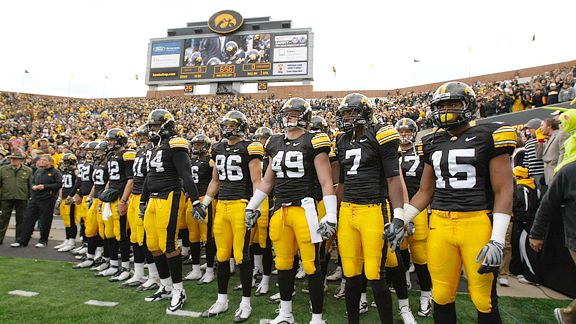 No. 1 in the ACC will take on No. 2 in the Big Ten when No. 9 Georgia Tech battles No. 10 Iowa in the Orange Bowl on January 5. As part of our 2010 BCS Bowl Preview, here are five things to watch for in the 2010 Orange Bowl.
1. GA Tech's spread option attack vs. Iowa's stiff run defense
Thanks to a three-headed monster in Jonathan Dwyer, Josh Nesbitt and Anthony Allen, the Yellow Jackets had the second best rushing attack in the nation this season. They averaged 307.15 yards per game, 35.31 points per game and 442.69 total yards of offense per game. There was only one time this season where Tech didn't rush for over 200 yards on the ground, which came in a 33-17 loss to Miami in mid September. There's no doubt Iowa has watched countless film on how the Hurricanes attacked the Jackets' triple-option, remarkably holding them to just 97 yards on the ground. The Hawkeyes rank 11th in the nation in total defense and eighth in pass defense, but it'll be their run defense (ranked 33rd in the country) that will be tested in the Orange Bowl. Miami succeed because it had the athletes in the front seven to penetrate the gaps and consistently wreck havoc in Tech's backfield. Led by linebackers Pat Angerer and Jeremiha Hunter, the Hawkeyes have the tools to slow down Tech's rushing attack. But will they execute come January 5?
2. Does Iowa have any late season magic?
Even though they would have rather won in less dramatic fashion, the Hawkeyes were kings of the comeback early in the season. They needed two blocked field goals to beat Northern Iowa in Week 1, a 16-point forth quarter to beat Penn State on the road, an interception in the final minutes to defeat Michigan at home, a come-from-behind second half win over Wisconsin and a last-second, fourth-down miracle to beat Michigan State in East Lansing. While some may point out that Iowa had a little luck running through its veins this season, there's no doubt the Hawkeyes had some magic sprinkled in there too. It wasn't until quarterback Ricky Stanzi got knocked out of a game against Northwestern in early November that things started to go wrong. Back to back losses against Northwestern and Ohio State knocked Iowa out of national title contention, but a 12-0 win over Minnesota in their final game of the season helped the Hawkeyes reach a BCS bowl. Did they save any magic for Georgia Tech?
3. Can Stanzi overcome the long layoff and quiet his critics?
For all intents and purposes, Iowa QB Ricky Stanzi wasn't statistically great over the course of the season, which is why many fans criticized him mercifully earlier in the year. It wasn't until he got hurt in a loss to Northwestern in November that fans realized what they had in Stanzi: A winner. While subbing for Stanzi, freshman James Vandenberg struggled mightily against the Wildcats and while he played much better against Ohio State the following week, his three interceptions aided in a 27-24 Buckeyes' victory. Stanzi says his ankle has healed and that he'll play against Georgia Tech. But by the time he steps on the field for the Orange Bowl, it'll be 59 days since his last snap against Northwestern. While he'll certainly have enough preparation time for the game, can he shake off the rust? Can he re-establish the chemistry he had with his offense? With his 17-4 record as a starter, there's no doubt that Stanzi gives the Hawkeyes the best chance to win on January 5. But questions linger about whether or not he can overcome the obstacles that are before him and lead Iowa to a BCS bowl victory.
4. Can the Yellow Jackets' run defense hold up?
All the focus of this game will be rightfully paid to the matchup between Georgia Tech's offense and Iowa's defense, but there's another matchup brewing under the surface that could help the Hawkeyes earn a victory. Georgia Tech ranks 67th against the run, allowing over 150 yards per game on the ground this season. Iowa's running game has not been great (they rank No. 103 in that category, averaging just 109.42 YPG on the ground), but freshman running back Adam Robinson is back to full strength, which will give the Hawkeyes a big boost. He rushed for 3.7 YPC against a very good Ohio State defense on November 14, and 6.0 YPC against Minnesota in the season finale. The extra time off should help him get back to 100% and if Iowa's offensive line can help open holes for Robinson and company, then the Hawkeyes might be able to seize control and keep GA Tech's triple-option on the sidelines.
5. That said, the Yellow Jacket defense is no pushover
Statistically, Georgia Tech hasn't been great against the run this year, but that doesn't mean they're not a good unit as a whole. The Yellow Jackets use a base 4-3 defense, but they also utilized a 3-4 front to help them beat Clemson in the ACC title game. Their pass-rush is led by defensive end Derrick Morgan, who totaled 18 tackles for loss, 12.5 sacks and two forced fumbles in 13 games this season. If Iowa can't get Morgan blocked, he's the type of game-changer that can help produce three-and-outs for the Jackets in order to get their triple-option onto the field as much as possible. The Hawkeyes need to run the football in order to stay balanced and keep the Jackets' on their heels or else it could be a long night for Stanzi.
2010 Orange Bowl Game Information:
Matchup: Georgia Tech vs. Iowa
Kickoff: 8:00PM ET
TV: FOX
Odds: Georgia Tech -4
Talk trash about the Orange Bowl on our official smack talk thread.
Photo from fOTOGLIF