Boise State rolls past 'first real test' Fresno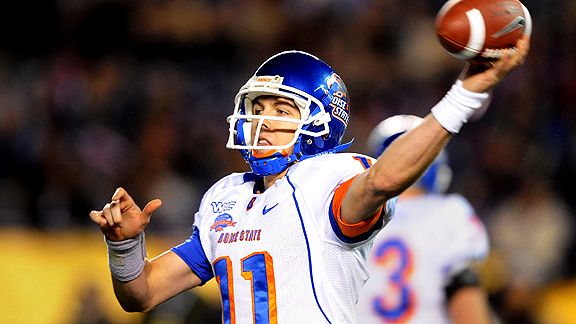 Unranked Fresno State was supposed to give No. 10 Boise State its first real test of the 2009 season when the two WAC teams met at Bulldog Stadium on Friday night. But despite a monster night from Fresno running back Ryan Matthews, the Bulldogs couldn't slow down the Bronco offense as Boise rolled to a 51-34 victory.
This was a closer contest then the final score indicates, although once Jeremy Avery scored on a 67-yard swing pass from Kellen Moore to give Boise a two touchdown advantage early in the fourth, the game started to get away from Fresno.
Still, what an incredible performance by Matthews. The junior tailback rushed for 234 yards and three touchdowns on 19 carries and virtually kept Fresno in the game by himself with touchdown runs of 69, 60 and 68 yards. He showed incredible explosion, quickness and vision throughout the night and will no doubt keep Fresno in most ball games. The Bulldogs must get better production out of their quarterback position, however, because Ryan Colburn (14 of 29, 187 yards, 1 TD, 2 INTs) struggled.
It's impressive how Chris Peterson always has his team ready to play. Just when you think Boise will be challenged, they put up 51 points on the road and remind everyone how good they are. The Broncos have a clear path to another undefeated season.
Be sure to check out our college football picks and predictions for Week 3.