College Football Picks & Predictions: Week 3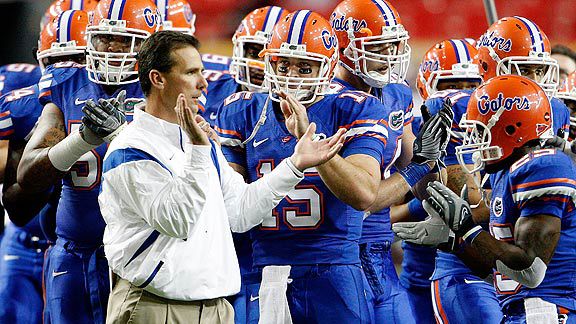 Tennessee (1-1) at No. 1 Florida (2-0), 3:30PM ET
Don't think for a second that Urban Meyer won't be extra motivated for this game after Lane Kiffin accused him of violating NCAA recruiting rules back in February. Kiffin better hope that his power running game will help keep this one close, because Florida's defense is going to terrorize quarterback Jonathan Crompton if Tennessee becomes too one-dimensional. Crompton made several poor decisions last week in UT's loss to UCLA, a game in which he threw three interceptions. If he turns the ball over against the Gators, this game will be out of reach by halftime. Of course, if Monte Kiffin's defense can generate some pressure on Tim Tebow, the Vols could make things interesting. But so far, Kiffin hasn't gotten much production out of his front four and it has forced him to blitz in order to get pressure. Tebow will recognize that and pick UT's defense apart. This one could get ugly.
Odds: Florida -30
Prediction: Florida 41, Tennessee 10.
Texas Tech (2-0) at No. 2 Texas (2-0), 8:00PM ET
Mack Brown still has nightmares of Michael Crabtree scoring the winning touchdown in last year's thriller in Lubbock. But Crabtree and Graham Harrell have both moved on and although Raiders quarterback Taylor Potts (861 yards, 9 TDs) is off to a great start this year, it's hard to imagine that Tech will pull off the upset this year. Colt McCoy won't allow Texas to lose at home and the Longhorn back seven is too good to let Potts to beat them for four quarters.
Odds: Texas -17.5
Prediction: Texas 52, Texas Tech 28.
No. 23 Georgia at Arkansas, 7:45PM ET
The last time these two teams met was back in October of 2005 when the Dawgs barely edged the Razorbacks 23-20 in Athens. Bobby Petrino's team is fresh coming off a bye week (which followed an easy 48-10 victory over FCS foe Missouri State), while Georgia fought tooth and nail for their 41-37 win over South Carolina. Petrino admitted that the Razorbacks have been game planning for this matchup since August and he even held senior Michael Smith to only four carries in the win over Missouri State so that the running back would be fresh for this week's matchup vs. UGA. The Dawgs have given up 61 points in their first two outings and considering Arkansas's offense is starting to come together under Petrino, I see the Razorbacks securing a nice home win.
Odds: Arkansas -1
Prediction: Arkansas 31, Georgia 28.
West Virginia at Auburn, 7:45PM ET
The Tigers will be seeking a measure of revenge after the Mountaineers soundly beat them in Morgantown last year. Although both teams have started off the season on the right foot, West Virginia could have a hard time corralling Auburn running backs Brandon Tate and Onterio McCalebb. The duo has combined to rush for over 530 yards in two games and will provide a challenge that the Mountaineers' run-defense didn't receive in their first two games. As long as the Auburn defense can contain Noel Devine and senior quarterback Jarrett Brown, they should be able to get their revenge on West Virginia and start the '09 season 3-0.
Odds: Auburn -7
Prediction: Auburn 38, West Virginia 24.