2009 NFL Preview: #14 Minnesota Vikings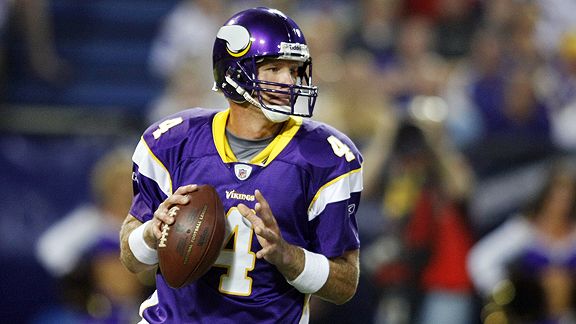 Check out all of our 2009 NFL team previews.
Offseason Additions: Brett Favre (QB); Glenn Holt (WR/released in preseason); Karl Paymah (CB).
Offseason Losses: Matt Birk (C); Napoleon Harris (LB); Darren Sharper (S); Kenechi Udeze (DE); Robert Ferguson (WR); Marcus Johnson (OT).
Player to Watch: Brett Favre, QB.
Who else? Head coach Brad Childress didn't mind shoving quarterbacks Sage Rosenfels and Tarvaris Jackson to the backburner in order to acquire the 39-year-old Favre, who the Vikings hope is the missing ingredient for a Super Bowl run. Before an arm injury derailed his production, Favre was playing at a MVP-like level last year for the Jets. When he finally made up his mind to sign with Minnesota in mid August, he managed to avoid all of training camp. Not that he needed the extra reps. Favre is already well-versed in Childress's West Coast Offense and shouldn't have any trouble leading the Vikings in Week 1 despite missing all of camp. But the key to his and Minnesota's success is for Brett to stay healthy for an entire season. If he can't, all the trouble Childress went through this summer in trying to sign Favre would have gone to waste.
Team Strength: Led by Adrian Peterson and a dominating left side of the offensive line, the Vikings will have success running the football this year. Favre brings another element to the passing game, so defenses won't be able to stack the box in hopes of containing Peterson and even if they do, AP proved last year that he could still gain positive yards. Tackle Bryant "Mount" McKinie and guard Steve Hutchinson form the best left side in football and will once again be leaned on to pave the way for AP and backup Chester Taylor. Minnesota does have some question marks along the offensive line, most notably at center where John Sullivan takes over for All-Pro Matt Birk (who signed with Baltimore in the offseason), and at right tackle where rookie Phil Loadholt will get a chance to start in his first year. But Loadholt is a mauler and should provide an upgrade over last year's shaky rotation of Ryan Cook and Artis Hicks, and Sullivan has potential.
Potential Weakness: The Vikings' biggest concern is one that hasn't happened yet. There's no question that Favre makes this team better, but what happens if/when he gets hurt? At 39 years old, can he get through an entire 16-game season without suffering injuries that will cost Minnesota games? The Jets looked like Super Bowl contenders in November last year after beating the Titans in Tennessee, then went on to lose four of their last five games because Favre suffered a tear in the biceps of his throwing arm. Brett is already complaining about possibly having a cracked rib – what's next?
Outlook: Unless you're a Packers or Bears fan, you hate this ranking. You think that because the Vikings have AP, a great run defense, added Favre and gave him an explosive weapon in rookie Percy Harvin (a potential OROY winner) that this team is Super Bowl bound. But as previously mentioned, Favre probably won't stay healthy all season and people were suspect about Minnesota's chances earlier this year when it was only Rosenfels and Jackson at quarterback. Yes, there's a lot to love about this team, including AP, the Williams Wall, the run defense, Jared Allen's fantastic mullet and Favre's ability to make things happen in the passing game. But the Vikings could potentially wind up being the Jets of the NFL this year in that they look fantastic in the first half, only to crash and burn as Brett starts to fade. Plus, what happens if Favre struggles early on? Will the currently happy locker room start to divide? Furthermore, can Childress keep everything together?
The Vikes might be Super Bowl contenders this year, even while playing in a tough NFC North. But they just as easily could be prime candidates for a massive second half meltdown.
2009 Prediction: Third, NFC North.