2009 NFL Preview: #13 Chicago Bears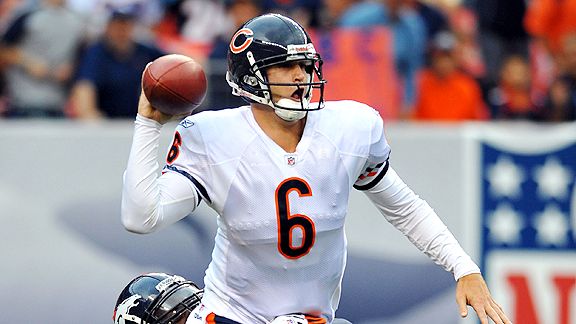 Check out all of our 2009 NFL team previews.
Offseason Additions: Jay Cutler (QB); Orlando Pace (OT); Kevin Shaffer (OT); Pisa Tinoisamoa (LB); Josh Bullocks (S); Frank Omiyale (OT).
Offseason Losses: Mike Brown (S); Terrence Metcalf (G); John St. Clair (OT); Fred Miller (OT); Rex Grossman (QB).
Player to Watch: Jay Cutler, QB.
If any other player were listed here, Bear fans would petition to have this site taken down (and they might anyway since Da Bears aren't No. 1 in these rankings). Cutler is the reason why the fine folks in Chicago are talking Super Bowl and why other media publications are predicting the Bears to win the NFC North this season. The strong-armed Cutler complained his way out of Denver this offseason and now has the task of winning with what some pundits deem a putrid receiving corps. But what those same pundits fail to grasp is that tight end Greg Olsen is a solid option in the passing game and Cutler should work well with former Vandy teammate Earl Bennett (whose next catch in the NFL will also be his first). Running back Matt Forte is a great receiving option out of the backfield and returner-turned-receiver Devin Hester can stretch a defense with his speed. But the Bears' success this season rests squarely on Cutler's shoulders.
Team Strength: Even though he's coming off a down year, middle linebacker Brian Urlacher is still one of the best in the league and it's laughable to suggest that he's overrated. His athletic talents are a perfect fit for Chicago's defensive scheme and his intelligence separates himself from other defenders on Sundays. He reportedly looked fantastic this summer and as long as the neck and back problems that limited last year don't start acting up again, he's going to be a force against the run and in coverage. But Urlacher is just one piece to star-studded linebacker corps. Lance Briggs has outstanding athleticism and is a sideline-to-sideline tackler. He too is coming off a down year, but like Urlacher, Briggs will be motivated by the hype that surrounds this team entering the season. While intriguing youngster Jamar Williams or third-year player Nick Roach might push him for the starting spot, newcomer Pisa Tinoisamoa will play opposite Briggs at the other outside linebacker position. Tinoisamoa is familiar with Lovie Smith's defense from their days together in St. Louis and adds speed to a linebacker corps that is already loaded with players that can run.
Potential Weakness: While many will be quick to suggest that receiver is the Bears most pressing concern, that position has nothing on the secondary. The Bears' best corner, Charles Tillman, missed the entire preseason after having his second back operation in the last two years. While the team expects him to play in the opener, Tillman will probably need a couple games to shake off the rust. Playing opposite Tillman will be Zack Bowman, who battled a hamstring injury in preseason. Speaking of injuries, starting free safety Danieal Manning also dealt with hamstring issues in preseason and nickelback Nathan Vasher can never seem to stay healthy. At strong safety, six-round pick Al Afalava could get the starting nod over Kevin Payne and Craig Steltz and while he's good at sniffing out the run, Afalava struggled in pass coverage while at Oregon State. On a whole, the Bears' defensive backfield looks shaky entering the season.
Outlook: Cutler gives this team rejuvenated hope. The Bears have seriously upgraded the one position that has been lacking since Jim McMahon helped Chicago win the Super Bowl in 1986. Paired with dazzling second year running back Matt Forte, the Bears have a formidable duo in their backfield and will definitely be a more potent offense than they have been in years past. That begs the question: Will the defense regress after the Bears finally added a franchise quarterback? The linebacker corps is solid and the defensive line will be able to generate a pass rush with Tommie Harris (as long as he's healthy and motivated), Adewale Oguneleye and Alex Brown. But the secondary has some major question marks and could potentially hinder how successful Chicago is this season. The offensive line raises some questions, too. The additions of Orlando Pace and Frank Omiyale, as well as a healthy Chris Williams, makes the Bears appear better on paper. But can Pace stay healthy? Does Omiyale (who is a better fit in a zone-blocking scheme) provide a significant upgrade over last year's starter Josh Beekman? The Bears also play in one of the tougher divisions in football as the Packers and Vikings reloaded in the offseason and have postseason berths on their minds as well.
The Bears are improved, but can the secondary hold up? Will Cutler be begging for Chicago to trade for legit No. 1 receiver by midseason (ahem, Brandon Marshall)? This could be a playoff team, but time will tell if all the additions the Bears made this offseason will inevitably pay off in the end.
2009 Prediction: Second, NFC North.