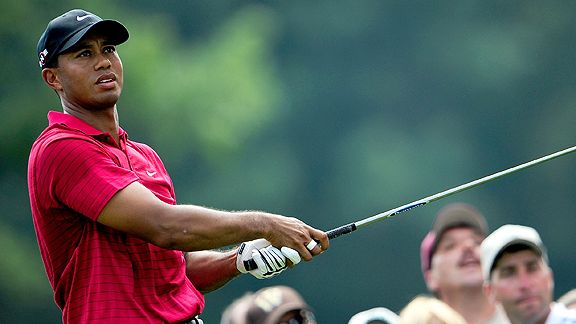 As it turns out, the report that surfaced yesterday about Tiger Woods being fined by the PGA Tour was erroneous. Tiger, although still peeved about what went down over the weekend at the WGC-Bridgestone Invitational, said that the PGA Tour has not fined him.
From the Washington Post:
"I've heard from the tour, and there's no fine," Woods said. "That was an erroneous report."

Ty Votaw, a spokesman for the PGA Tour, said the original report of a fine was "inaccurate." Votaw said Commissioner Tim Finchem had read and considered Woods's remarks.

"There has been no process started with respect to any disciplinary action," Votaw said by phone.

"The commissioner has reviewed the reports, and based on the reports that he read, Tiger's comments related to the impact of the decision. He did not read them as an unreasonable attack or as being disparaging."
We linked to a report by the Examiner yesterday about Woods being fined, although we're not sure where the original report came from.
The conspiracy theorist in me wonders if the PGA received backlash for the supposed fine and decided to renege. But if Tiger is even saying that it was an erroneous report, then maybe there really was no fine to begin with.
Either way, it's still a lame rule. You can't have golfers worried about a game clock when they're dealing with a tough shot in the rough. It takes away from the excitement of the tournament and it puts unnecessary pressure on the golfers.
Related Content: