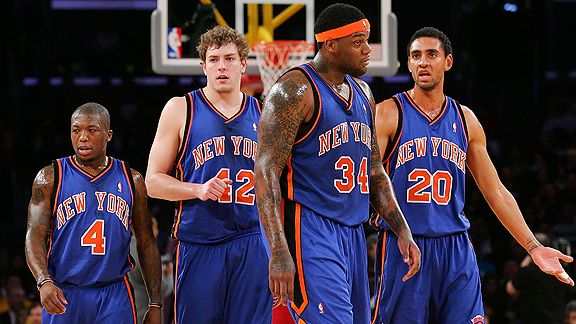 ESPN's Chad Ford wrote a good article [Insider subscription required] about how the Knicks' rebuilding plan has shaped up thus far.
They successfully shed Stephon Marbury, Jamal Crawford, Zach Randolph and Jerome James. But Eddy Curry and Jared Jeffries are still on the roster, and their contracts will eat up cap space in 2010. Surprisingly GM Donnie Walsh passed up a chance to trade Jeffries for Kenny Thomas's expiring contract at the trade deadline. I have no idea why he would do that.
The Knicks also did a great job of wooing Mike D'Antoni to New York. Players love to play in his up-tempo system and he has a number of connections to NBA stars given his stint as assistant coach for Team USA.
But Ford writes that "phase 3" of the plan has hit a few snags:
The plan was to restock the Knicks' talent pool via the draft. Rookies have low salaries and high upside, and given the Knicks' lack of talent the team hoped it could strike gold once or twice in the draft. While it's still very early, things haven't gone according to plan so far. The Knicks' top targets the past two years have been off the draft board when they drafted.

In 2008, their two favorites — Derrick Rose and O.J. Mayo — were gone, so they settled for Danilo Gallinari. While Gallinari showed enormous promise in Europe, he hurt his back in the summer league and played sparingly for the Knicks in his rookie season while he tried to rehab. Meanwhile, the Knicks passed on several prospects in the '08 draft — like Brook Lopez, Eric Gordon and Anthony Randolph — who look like potential stars down the road.

In 2009, Walsh and D'Antoni had their hearts set on Davidson shooting star Stephen Curry. However, the Warriors took him one place ahead of the Knicks, who settled on Arizona forward Jordan Hill. While Hill has upside, too, he's closer to Dale Davis than Amare Stoudemire.

And what about 2010? In 2005, Isiah agreed to send that first-round pick to Phoenix as part of the Marbury trade. The Suns then traded it to Utah. There are no protections left on the pick. It's gone.
Isn't it a little ironic that the Knicks are struggling at the one thing (finding talent in the draft) that Isiah Thomas was good at? Gallinari may still turn out to be a player, but I'm sure Knicks fans would trade him for any number of players that the team passed up. Ford mentioned Lopez, Gordon and Randolph, but what about D.J. Augustin or Jason Thompson?
While I like Jordan Hill, it seems a little counter intuitive to draft a power forward when you already have David Lee on the roster and are potentially targeting Chris Bosh or Amare Stoudemire next summer. However, the Knicks probably view Bosh and Stoudemire as potential centers in D'Antoni's system.
To draft Hill, the Knicks passed up Brandon Jennings, who turned in a very good summer league performance for the Bucks and has the kind of speed, quickness and vision to be a nightmare on the fast break. The team has been flirting with Ramon Sessions (also of the Bucks), but has yet to come to terms on a deal even though Milwaukee put themselves in a tough position to match any offer greater than $2 or $3 million per season. As it stands, the Knicks don't have a point guard to run D'Antoni's system.
And, as Ford writes, the Knicks' plans have soured with the economy. If they are able to move both Jeffries and Curry, they would have enough to sign two max-contract players, but even then, it would be tough to fill out the roster with the limited funds available. It's looking more and more that the Knicks aren't going to have the talent to attract LeBron James or Dwyane Wade. Forgetting about D'Antoni and Madision Square Garden for a moment, wouldn't LeBron and Wade, assuming they change teams, rather play in Brooklyn with Devin Harris and Brook Lopez?