Ten Predictions for the MLB second half

The second half of the 2009 MLB season has kicked off and with that, I'm going to make some predictions that are sure to be proved wrong in a couple months.
Feel free to whip out your crystal ball in the comments section but before you do, please do everyone a favor and take off your favorite team prescribed glasses and be objective for once in your life, will ya?
1. The Blue Jays will trade Halladay…to the Phillies.
Toronto GM J.P. Ricciardi is reminding everyone who will listen that he doesn't absolutely need to trade Roy Halladay – which he doesn't. But the bottom line is that he'll probably get more in return for the "Doc" this season than he would next when Halladay is set to become a free agent after the 2010 season. And despite Ricciardi stating that he's open to trading Halladay within the division, he's not stupid. He's not going to trade Halladay to the Red Sox or Yankees and risk becoming public enemy No. 1 in the eyes of Jays fans for not only getting rid of their best and most popular player, but also trading him to a division rival in the process. In the end, I think Ricciardi will trade Halladay to an NL team and my guess is that it will be Philadelphia that will eventually puts a package together to acquire him. Although they might balk at the $7 million that's remaining on Halladay's contract, the Phillies are built to win now and need more starting pitching to make another run at a World Series. They also have enough appealing prospects to entice Ricciardi to make a deal.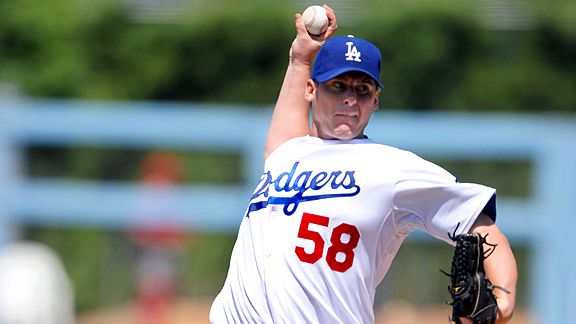 2. The Dodgers won't win the NL Pennant.
The Dodgers are the best team in baseball and I'm not afraid to put that in writing (which I did here). But something tells me that while they're almost a shoe-in to in the NL West and probably go to the NLCS, they won't be heading to the World Series. Chad Billingsley had a great first half, but he's starting to look more human with every outing and while Clayton Kershaw is a phenomenal young pitcher, the back of L.A.'s starting rotation is very beatable. Of course, their lineup is outstanding and can certainly compete against anyone in the NL. But this team kind of reminds me of the 2008 Angels and Cubs. Neither team suffered any slumps throughout the season and essentially was on cruise control in the second half. When they got to the postseason and the games were all tight, neither team responded well. Will the same thing happen to the Dodgers? Again, this is more of a hunch than anything and I wouldn't blame the Dodger faithful (or anyone for that matter) for eating my soul and preaching how wrong I'll be. But I just think that this club could get overly content and even if they don't, their pitching might still fail them in the end.
3. The Cubs will make a run in the second half.
Two things led to the Cubs' lackluster first half: Injuries and a lack of offense – and one may have had an effect on the other. Losing Aramis Ramirez for a huge chunk of the first half due to a shoulder injury took a significant bat out of Chicago's lineup. But now that he's back and guys like Kosuke Fukudome and Alfonso Soriano are starting to heat up again, the Cubs should see a rise in run production. Derrek Lee has also been solid and young players like Jake Fox have contributed as well. If Geovany Soto (DL) can get his act together, the Cubs could put pressure on the Cardinals in the NL Central. I'm not saying that Chicago will win their division and make the postseason, but considering that their starting pitching was a major strength in the first half, I wouldn't count this club out. Of course, the back end of the bullpen is still a serious question mark and Fukudome and Soriano could start slumping again at a moment's notice, but keep an eye on this team.
4. Billy Beane will have to accept a lesser package to move Holliday.
Let's call it like it is: Trading for Holliday last winter has proved to be a dud for the A's. Not only has he not contributed much to Oakland's offense, but the A's are also currently 14 games back of the Angels in AL West and now GM Billy Beane has to find a trade suitor for the left fielder, who becomes a free agent at the end of the year. Holliday isn't going to re-up with the A's after the season and considering he's hitting below .280 with only nine home runs, Beane probably won't get the haul he normally does in trades. If Beane wants to move Holliday (and his contract) before the deadline, then he's probably going to have to accept a deal that won't net him a top prospect in return. Granted, the GM isn't going to just give Holliday away, but if he thinks that he's going to get two top prospects (and a couple of promising mid-round prospects) for the struggling left fielder, then he's probably in for a wake up call.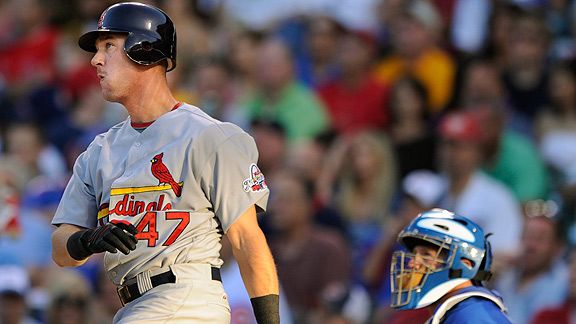 5. The Cardinals will find their protection for Pujols…in Ryan Ludwick.
Many pundits feel as though St. Louis will eventually make a move for Matt Holliday to ensure that Albert Pujols gets the protection he deserves in the lineup. But if they wind up standing pat around the trade deadline, don't look too far for who could eventually fill the role batting behind the phenomenal Pujols. Ryan Ludwick is only hitting .265 as of this writing, but he's starting to heat up after slumping since coming off the DL with a hamstring injury in mid May. He hit two home runs on the last day of the first half (he now has 15 dingers on the year) and is hitting .409 (18 for 44) in his last 44 at bats. Acquiring Holliday would be great, but don't discount Ludwick's potential to bat cleanup for the Cardinals either.
6. Cliff Lee and Victor Martinez aren't going anywhere.
The Indians have been one of the most disappointing teams in baseball this year, freefalling into last place in the AL Central despite many pundits predicting in spring training that they could win the division. But just because they're 13.5 games back of the Tigers in the Central, it doesn't mean that GM Mark Shapiro is going to have a fire sale as some have suggested. Ace Cliff Lee has a very manageable salary ($5.75 this season, $8 million club option with $1 mil buyout) through next season, as does catcher Victor Martinez ($5.7 million in '09, $7 million club option with $250,000 buyout in 2010). So there's no reason for Shapiro to feel as though he has to trade either player to acquire more talent. The fact is that Cleveland has talent, at least offensively. It's their pitching that has been horrendous since trading CC Sabathia at the deadline last year. If Shapiro can get through this season and hang onto his core on offense, then maybe he can add an arm or two in the offseason in order to get the Tribe back into contention next year.
7. Pitching will sink the Rangers in the end.
Look, I'm all about the Rangers' postseason run this year. I think they're a fun team to watch and they certainly have the lineup to contend. But their pitching staff overachieved a bit in the first half and I just don't trust Scott Feldman, Vicente Padilla or any of the other arms after Kevin Millwood. I think this club will hang with the Halos for a little while, but at some point they're going to start slowly sliding out of contention because they just don't have the horses in the starting rotation to match what they bring to the field offensively.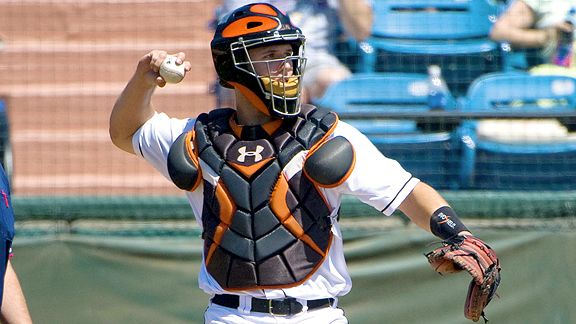 8. The Giants will stand (somewhat) pat at the trade deadline.
The Giants have some of the best pitching in the NL, but it's no secret that their offense is incredibly suspect. That said, don't expect GM Brian Sabean to make a huge move at the trade deadline. San Fran has a couple of budding minor league stars in pitchers Madison Bumgarner and Tim Alderson, as well as position players like Buster Posey and Angel Villalona. They're set up for the future so don't assume that just because the Giants are in contention this season, that they're going to cough up any of their top prospects in order to get a bat. That means no Matt Holliday, no Jermaine Dye and probably no Freddy Sanchez, either. If they make a move, think more Scott Rolen than a big name, because Sabean will be more inclined to trust that Randy Winn and Bengie Molina will heat up in the second half than he would be to giving up a significant piece (or two) for Holliday, Dye or Sanchez. If he can get a big bat and not give up Bumgarner, Alderson, Posey or Villalona, then all bets are off. But it's doubtful that he would be able to make move without throwing in one of his top prospects.
9. The NL Wild Card race will be the most exciting storyline of the second half.
The Giants, Rockies, Cubs, Brewers, Braves, Astros and Marlins are all within five games of each other in the NL Wild Card chase and each team brings a little something different to the party. San Fran has outstanding pitching, Colorado has played some of the best baseball in the league over the past two months, Chicago is getting healthy and Milwaukee has a potent lineup and will probably make a move at the trade deadline. I could see Atlanta, Houston and Florida eventually fading, but I also wouldn't be surprised if they hung in there for the entire second half. The bottom line is that no team is going to run away with the NL Wild Card this season and I could see this race not being decided until the final couple days of the season.
10. The Phillies will play the Angels in the World Series.
Hey, what would a prediction piece be without a projected World Series finish? Philadelphia is starting to have that World Series glow about them again and even though their starting pitching is suspect, don't forget that I'm also predicting that they'll acquire Roy Halladay. Nobody seems to be talking about the Halos this season, which is exactly why I like them to upset whomever they play in the postseason. Right now, their pitching isn't that great, but it could certainly be one of the better rotations in all of baseball once healthy. I wouldn't count them out for making a move at the deadline either.
Oh yeah: Halos in 6.
Posted in: MLB
Tags: Albert Pujols, Alfonso Soriano, Angel Villalona, Aramis Ramirez, Atlanta Braves, Baseball predictions, Bill Beane, Brian Sabean, Buster Posey, Chad Billingsley, Chicago Cubs, Clayton Kershaw, Cleveland Indians, Colorado Rockies, Derrek Lee, Geovany Soto, Kevin Millwod, Kosuke Fukudome, Los Angeles Angels, Los Angeles Dodgers, Madison Bumgarner, Matt Holliday, Milwaukee Brewers, MLB Predictions, MLB rumors, NL Wild Card, Philadelphia Phillies, Roy Halladay, Ryan Ludwick, San Francisco Giants, Second half MLB predictions, St. Louis Cardinals, Texas Rangers, Tim Alderson, Toronto Blue Jays, World Series Predictions