2009 NBA Mock Draft Version 3.0 + Updated Consensus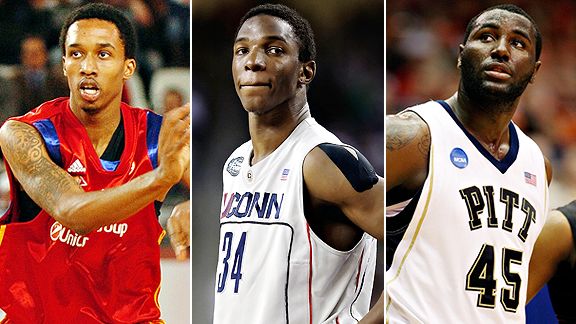 The draft is just a few days away, so it's a good time to take one final stab at mocking the first round of this draft. I'll continue to update the consensus draft this week, but this will be my last attempt at predicting what will happen this Thursday.
First, let's take a look at the most recent consensus. Chad Ford released the most recent version of his mock draft today, NBADraft.net also updated today, while DraftExpress updated their mock yesterday.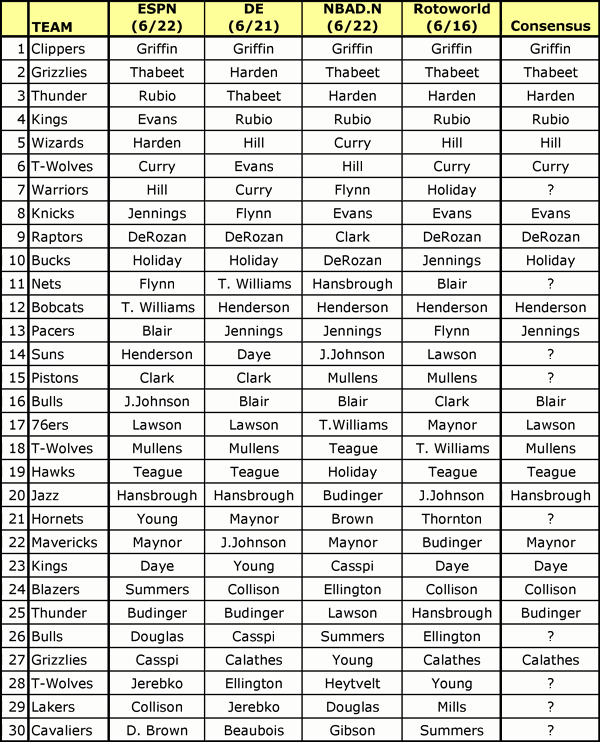 Now I'll go, pick by pick, through the first round, taking the consensus into account while also throwing in my $0.02 here and there.
#1 CLIPPERS
The Clips have shown no signs of trading away their opportunity to draft Blake Griffin. There is much fluidity with the next few picks, but the Oklahoma product is pretty much guaranteed to be the first pick. The Clippers will then (reportedly) try to move Zach Randolph or Chris Kaman, though it might be wise to move forward with Kaman and Griffin in the front court, Baron Davis at the point, and Eric Gordon and Al Thornton on the wing. Randolph is going to be tough to move. (I still can't believe that Mike Dunleavy traded for him last season.)
Pick: Blake Griffin, PF, Oklahoma
#2 GRIZZLIES
The consensus says that Hasheem Thabeet will be the pick and I don't disagree, even though he just pulled out of a workout with Memphis due to a shoulder injury. DraftExpress thinks that Memphis will go with James Harden and move O.J. Mayo to the point, which they say is his natural position. I don't know that they've given up on Mike Conley yet, so I think they will go big with this pick. Their biggest need is at power forward, so trading down and drafting Jordan Hill is a possibility. But if they stand pat, Thabeet could very well be the pick, even though he doesn't seem to want to play in Memphis.
Pick: Hasheem Thabeet, C, UConn

#3 THUNDER
This pick mostly depends on what the Thunder think they have in Russell Westbrook. Is he their point guard of the future? If so, OKC might go with Harden, a savvy off guard who tested much better athletically at the combine than expected. If not, they could go with Ricky Rubio or another point guard and move Westbrook to off guard. If Thabeet is available, he's a possibility as well.
Pick: James Harden, SG, Arizona State
#4 KINGS
The consensus says that Rubio will be the pick even though his visit to Sacramento didn't go all that well because he was too sick to work out. He has time to make another visit, but I think Evans' performance at a recent workout has made him the frontrunner in Sacramento.
Pick: Tyreke Evans, PG, Memphis
#5 WIZARDS
The Wizards think they're in "win now" mode, so they should probably trade this pick for some veteran help, especially at off guard. If they keep the pick, they could go with one of the combo guards — Holiday, Evans, Curry or Harden, if available — or go for some upside in the front court and draft Jordan Hill. They are reportedly really high on Rubio, even though he isn't the greatest fit with Gilbert Arenas in the Wizards' backcourt.
Pick: Ricky Rubio, PG, Spain
#6 TIMBERWOLVES
Minnesota looks to be set on drafting a point guard, which will allow Randy Foye to play off guard (probably his natural position). They should have their pick of Curry, Holiday, Evans, Flynn and Jennings, but it was Evans that reportedly dominated the massive point guard workout in Minnesota. Curry didn't attend, but with both Rubio and Evans already off the board, he may be their pick.
Pick: Stephen Curry, PG, Davidson
#7 WARRIORS
Golden State really likes Stephen Curry, but now that he's off the board, this becomes a crapshoot. Larry Riley said recently that he'd like some "beef," and Jordan Hill fits the bill. Brandon Jennings and Terrance Williams are reportedly quite high on the Warriors' draft board.
Pick: Jordan Hill, PF, Arizona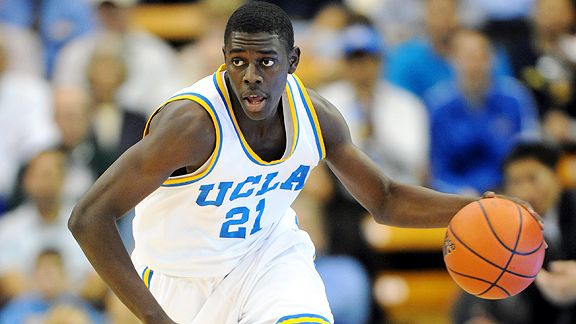 #8 KNICKS
The Knicks would like to draft Curry or Hill here, but with both players gone, look for them to go with another point guard. Jennings, Holiday, Flynn and even Ty Lawson are possibilities here. They're reportedly trying to get Holiday in for a second workout, which tells me that he may be their backup plan if Curry and Hill are off the board.
Pick: Jrue Holiday, PG, UCLA
#9 RAPTORS
DeMar DeRozan has been penciled in for Toronto for the last few weeks, though NBADraft.net has the Raptors taking Gerald Henderson in their most recent mock. John Hollinger's Draft Rater doesn't like DeRozan, but there's no telling if Bryan Colangelo, who has a reputation for having a great eye for talent, will care.
Pick: DeMar DeRozan, GF, USC
#10 BUCKS
From the sound of it, GM John Hammond is looking for a point guard here, and with Jonny Flynn, Brandon Jennings and Ty Lawson on the board, he has a nice group to choose from. Of that group, I think Flynn is most likely to be the pick. He's the best defender of the bunch (including Evans and Curry) and has the right attitude to thrive in a small market like Milwaukee. The Bucks already have Ramon Sessions, and probably should be looking at a front court pick like DeJuan Blair (or moving up for Jordan Hill), but it sounds like they have point guard on the brain. Jrue Holiday is another possibility, if available.
Pick: Jonny Flynn, PG, Syracuse
#11 NETS
Even though the Nets already have Devin Harris, it's entirely possible that they'll decide to go with the best player available, even if it's a point guard like Flynn, Jennings or Lawson. Gerald Henderson is another possibility with Vince Carter getting on in years, but the rumors all seem to be swirling around a front court pick like DeJuan Blair or Tyler Hansbrough. Both players are hard-nosed rebounding types, but they each have their faults. For Blair, it seems to be his height (6'5″ w/o shoes) and concerns about his knees. For Hansbrough, it's a perceived lack of upside. Blair's reach makes up for his height, and I think his game will translate a little better to the NBA given his strong post moves inside. (Hansbrough is more robotic on the block.)
Pick: DeJuan Blair, PF, Pittsburgh
#12 BOBCATS
Again, Charlotte could very well go with Jennings or Lawson here and maybe look to make a trade with a team searching for point guard help. If not, they'll probably look to the wing where a guy like Gerald Henderson could really make an impact. He's a terrific athlete and has an improving offensive game. He should fit in with what Larry Brown is trying to do.
Pick: Henderson, SG, Duke
#13 PACERS
Indiana would probably be thrilled if they have the choice between Brandon Jennings and Ty Lawson here. Lately, the buzz about Lawson has been good, and concerns about slipping out of the lottery has Jennings working out for some of the teams working in the mid-first round. With GM Larry Bird calling the shots, I think he'll go with the safer pick (Lawson) leaving the upside of Jennings on the table.
Pick: Ty Lawson, PG, North Carolina
#14 SUNS
While there are a few guys that might be able to help immediately, with Steve Nash's career on the decline, GM Steve Kerr could look at finding his eventual replacement. I don't think he would pass on Jennings' potential here. The Suns seem to want to move forward with Nash running the show, so it would give Jennings a year or three to develop.
Pick: Brandon Jennings, PG, via Italy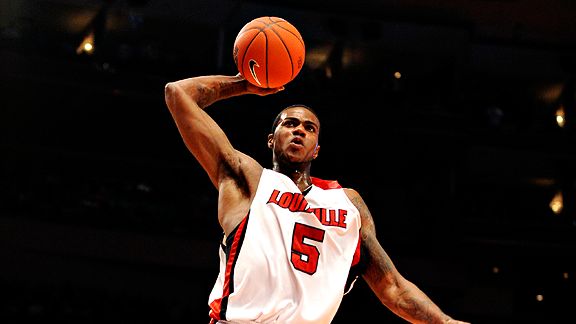 #15 PISTONS
The word is that the Pistons have made a promise to draft B.J. Mullens if he's on the board at #15, but Mullens himself says there is no promise, and Chad Ford says that the team is more interested in Earl Clark. If Clark beefs up, he can play the 4, so he'd help with the Pistons' problems on the front line. (And if they draft Clark, what does that mean for Carlos Boozer potentially signing with Detroit?)
Pick: Earl Clark, F, Louisville
#16 BULLS
Chicago reportedly has interest in Hansbrough here, but they may not be able to pass on the upside of B.J. Mullens. They should be aware that there are long odds of a seven-footer drafted outside of the lottery going on to have a great NBA career.
Pick: B.J. Mullens, C, Ohio State
#17 SIXERS
Philly fans may be hoping that Ty Lawson or Brandon Jennings slips to them here at #17, but Eric Maynor would be a nice pick as well. He's being overlooked in a great point guard draft, but he does everything well and should be able to contribute immediately, a la Courtney Lee. Jeff Teague is another possibility. His outside shooting should help Elton Brand down low.
Pick: Eric Maynor, PG, VCU
#18 TIMBERWOLVES
If Minnesota gets their point guard (Evans) at #6, their fans should be happy if they can land someone like Terrance Williams at #18. Corey Brewer's career is off to a rocky start, and Randy Foye isn't exactly lighting things up, so Williams gives the T-Wolves another option on the wing.
Pick: Terrance Williams, GF, Louisville
#19 HAWKS
Truth be told, the Hawks should have taken Chris Paul or Deron Williams in the '05 Draft, but they didn't and they're still looking for their point guard of the future after drafting Acie Law two years ago. Enter Jeff Teague, a smooth shooter in the same mold as current Hawk Mike Bibby.
Pick: Jeff Teague, PG, Wake Forest
#20 JAZZ
I may be wrong, but if Hansbrough is available at #20, I don't see the Jazz passing on him. It's just too good of a fit (especially with Carlos Boozer likely on his way out of town).
Pick: Tyler Hansbrough, PF, North Carolina
#21 HORNETS
New Orleans needs wings who can shoot, because Peja Stojakovic and Rasual Butler aren't going to get the Hornets to the Finals. While Wayne Ellington is a possibility, LSU's Marcus Thornton might be the better fit. He's sort of a Rip Hamilton type who scores a lot off of screens. He also does a nice job of knocking down contested jumpers which will help in the NBA.
Pick: Marcus Thornton, G, LSU
#22 MAVERICKS
The Mavs probably need to think point guard first, but they might still be in denial about that Devin Harris-for-Jason Kidd trade. Darren Collison is a possibility, but the Mavs should be able to re-sign Kidd for another season or two, and they may look at trading Josh Howard due to his tendency to be an off-court distraction. This is where James Johnson comes in. He can play either forward position and was considered a borderline lottery talent before questions about his attitude started to weigh down his stock.
Pick: James Johnson, F, Wake Forest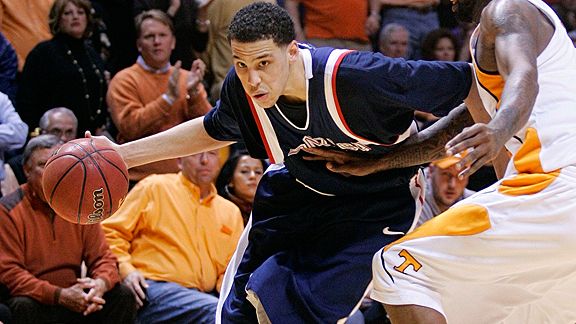 #23 KINGS
If the Kings go with a point guard at #4, they would have a tough time passing on the potential of Austin Daye here. Draft Express has him rated as the #2 small forward in this draft, but he's going to need some time to develop, and they have nothing but time in Sacramento.
Pick: Austin Daye, SF, Gonzaga
#24 TRAIL BLAZERS
I think Darren Collison is a sleeper at point guard in this PG-heavy draft. He's a floor general who plays great defense and can hit the open jumper. He doesn't have the three-point range of Steve Blake, but he already does everything else better. He would be a nice fit in Portland, assuming they keep this pick. (They'll probably trade it.)
Pick: Darren Collison, PG, UCLA
#25 THUNDER
Assuming OKC goes with Harden at #3, they'll probably look to the front court with this pick. At this point, there are a number of power forwards — Josh Heytvelt, Gani Lawal, Jeff Pendergraph, Taj Gibson, Omri Casspi, Derrick Brown or DeMarre Carroll — who could help the Thunder up front. Two of the mocks say that Chase Budinger is a good pick here, but unless they get Thabeet at #3, I think they're going to go big. How about Casspi, who has played well in workouts this summer? The Thunder can wait for the 20-year-old to develop.
Pick: Omri Casspi, F, Israel
#26 BULLS
They drafted a center at #16, so they might look to the wing to shore things up in case Ben Gordon leaves via free agency. Wayne Ellington shot the ball great in the tournament and he has the potential to be a pretty good fit alongside Derrick Rose in the backcourt when John Salmons eventually leaves.
Pick: Wayne Ellington, SG, North Carolina
#27 GRIZZLIES
If they go with Thabeet at #2, they might turn to the backcourt with this pick and draft Florida's Nick Calathes, who is a good finisher and spot up shooter. There are also a number of power forwards still on the board that could provide some defense and rebounding.
Pick: Nick Calathes, PG, Florida
#28 TIMBERWOLVES
The T-Wolves could use a little more beef up front, and Gonzaga's Josh Heytvelt has the outside stroke to complement Al Jefferson's post up game. Along with Kevin Love, the trio could give Minny a nice rotation up front, though the T-Wolves may elect to draft a player with more athleticism.
Pick: Josh Heytvelt, C, Gonzaga
#29 LAKERS
With Derek Fisher getting older and Shannon Brown entering free agency, the Lakers have a few questions in the backcourt. They might also look to shore up the small forward position if it looks like Trevor Ariza or Lamar Odom isn't going to return. Sweden's Jonas Jerebko is a versatile 6'9″ forward who could potentially fill Odom's role at the 3/4 spot.
Pick: Jonas Jerebko, F, Sweden
#30 CAVALIERS
With Anderson Varejao's future in Cleveland unknown, the Cavs have their pick of several power forward types who could bring defense and rebounding. How about USC's Taj Gibson, who is a pretty good shotblocker?
Pick: Taj Gibson, PF, USC
Posted in: NBA, NBA Draft, News, Rumors & Gossip
Tags: 2009 Mock Drafts, 2009 NBA Draft, 2009 NBA mock draft, Austin Daye, Austin Daye draft, B.J. Mullins, B.J. Mullins draft, Blake Griffin, Blake Griffin draft, Brandon Jennings, Brandon Jennings draft, Chase Budinger, Chase Budinger draft, consensus mock draft, DaJuan Summers, DaJuan Summers draft, Darren Collison, Darren Collison draft, DeJuan Blair, DeJuan Blair draft, DeMar DeRozan, DeMar DeRozan draft, Earl Clark, Earl Clark draft, Eric Maynor, Eric Maynor draft, Gani Lawal, Gani Lawal draft, Gerald Henderson, Gerald Henderson draft, Hasheem Thabeet, Hasheem Thabeet draft, James Harden, James Harden draft, James Johnson, James Johnson draft, Jeff Teague, Jeff Teague draft, John Paulsen, Jonny Flynn, Jonny Flynn draft, Jordan Hill, Jordan Hill draft, Jrue Holliday, Jrue Holliday draft, Marcus Thornton, Marcus Thornton draft, NBA Draft, NBA mock draft, Nick Calathes, Nick Calathes draft, Patrick Mills, Patrick Mills draft, Ricky Rubio, Ricky Rubio draft, Sam Young, Sam Young draft, Terrence Williams, Terrence Williams draft, Ty Lawson, Ty Lawson draft, Tyler Hansbrough, Tyler Hansbrough draft, Tyreke Evans, Tyreke Evans draft, Wayne Ellington, Wayne Ellington draft