2009 MLB Preview: #20 Cincinnati Reds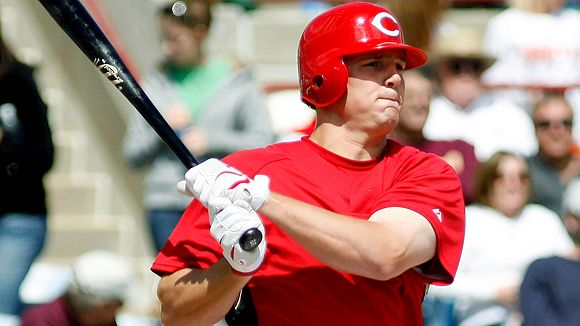 Click Here to see Previews of all 30 MLB Teams
Offseason Movement: The Reds signed a true leadoff hitter in Willy Taveras and added catcher Ramon Hernandez in a trade with the Orioles. The club also signed free agents Jacque Jones, Arthur Rhodes, Jonny Gomes and Daryle Ward.
Top Prospect: Yonder Alonso, 1B
Alonso is quickly becoming a polished hitter and has displayed a good combination of average and power. Thus far, he's tore up the Hawaii Leagues, hitting .323 with three dingers in 93 at bats. If all goes well, he should spend this year in Double-A, work his way up through the minors and possibly get an opportunity to crack the big league roster in 2010.
The Big Question: Can Jay Bruce and Joey Votto have breakout seasons?
The Reds have one of the more promising young lineups in baseball, but Brandon Phillips isn't a true cleanup hitter and the club would love it if either Bruce or Votto (or both) would have breakout seasons. The concern regarding Votto is that he might not get enough at bats this spring after playing for Team Canada in the World Baseball Classic. But even if Bruce and Votto don't go gangbusters this year, it's clear that both have very bright futures and will hopefully be the core of the Reds' lineup for years to come.
Outlook: A lot has to go right for Dusty Baker's club to compete this season, but the Reds definitely have the makings of a nice young team. The addition of Willy Taveras should help the top of the lineup and if he and Jerry Hairston Jr. can get on, that only means more opportunities for Joey Votto, Brandon Phillips and Jay Bruce. Ramon Hernandez also gives Cincy more pop at the bottom of the order, although Edwin Encarnacion's wrist injury has been a small concern this spring. The club hopes Edinson Volquez won't take a step back after winning a surprising 17 games last year, because he makes a nice 1-2 punch at the top of the rotation with Aaron Harang. The key to the pitching staff will be getting decent production out of Bronson Arroyo and Johnny Cueto, who threw a one-hitter in his first start last season before finishing 9-14. With youngsters Votto, Phillips, Bruce, Cueto and Homer Bailey, this will be a fun team to watch this year. But the bottom line is that the Reds need some of these young players to have breakout seasons, which is asking too much at this point.
Projection: 4th NL Central
Posted in: MLB
Tags: 2009 MLB Preview, 2009 MLB Projections, 2009 MLB Team Previews, Aaron Harang, Brandon Phillips, Bronso Arroyo, Edinson Volquez, Edwin Encarnacion, Jay Bruce, Jerry Hairston Jr., Joey Votto, Johnny Cueto, MLB Preview 2009, Ramon Hernandez, Willy Taveras, Yonder Alonso