2009 MLB Preview: #20 Cincinnati Reds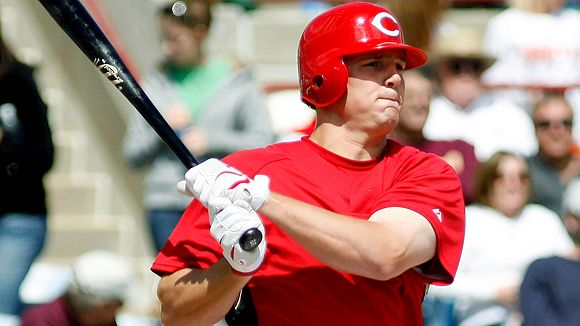 Click Here to see Previews of all 30 MLB Teams
Offseason Movement: The Reds signed a true leadoff hitter in Willy Taveras and added catcher Ramon Hernandez in a trade with the Orioles. The club also signed free agents Jacque Jones, Arthur Rhodes, Jonny Gomes and Daryle Ward.
Top Prospect: Yonder Alonso, 1B
Alonso is quickly becoming a polished hitter and has displayed a good combination of average and power. Thus far, he's tore up the Hawaii Leagues, hitting .323 with three dingers in 93 at bats. If all goes well, he should spend this year in Double-A, work his way up through the minors and possibly get an opportunity to crack the big league roster in 2010.
Posted in: MLB
Tags: 2009 MLB Preview, 2009 MLB Projections, 2009 MLB Team Previews, Aaron Harang, Brandon Phillips, Bronso Arroyo, Edinson Volquez, Edwin Encarnacion, Jay Bruce, Jerry Hairston Jr., Joey Votto, Johnny Cueto, MLB Preview 2009, Ramon Hernandez, Willy Taveras, Yonder Alonso