2009 MLB Preview: #19 Florida Marlins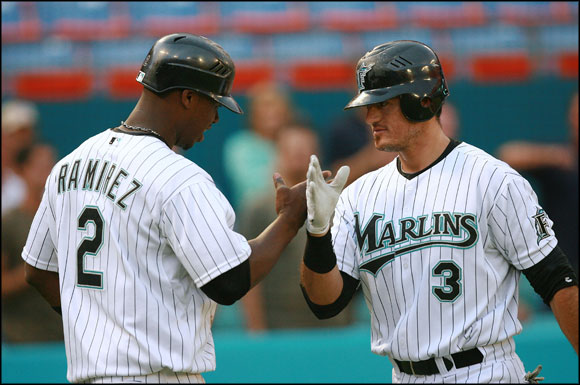 Click Here to see Previews of all 30 MLB Teams
Offseason Movement: The Marlins made a series of trades this offseason, including sending first basemen Mike Jacobs to the Royals for reliever Leo Nunez, starting pitcher Scott Olsen and outfielder Josh Willingham to the Nationals for infielder Emilio Bonifacio, and closer Kevin Gregg to the Cubs for Jose Ceda. All three moves were made in hopes of helping the club down the road and get compensation for players that had already reached their ceilings.
Top Prospect: Cameron Maybin, OF
The Marlins essentially handed Maybin a starting job before spring training started – and for good reason. The 21-year old is one of the most exciting prospects in baseball and a rare five-tool player. Maybin has it all – speed, average, power – but he will need time to develop and patience should be shown. At least playing in Florida he'll see some quality at bats and nobody is behind him so the pressure should be off.
The Big Question: Can all of the young talent come together and produce?
Cameron Maybin, Hanley Ramirez, Jorge Cantu, Dan Uggla and Gaby Sanchez comprise one of the most promising lineups in all of baseball. But is it too much expected out of guys like Maybin and Sanchez at this stage in their careers? There's no doubt that both players are the real deal, but they'll have to produce if Florida expects to put a winner on the field in '09. The Fish finished just 5.5 games back of the Wild Card last season, so a postseason appearance isn't out of the question. But a lot has to come together in order for that to happen.
Outlook: If you're a true baseball fan, how could you not like what this young club brings to the table? Hanley Ramirez is an absolute stud, while Cameron Maybin and Gaby Sanchez are two of the most promising players in the league. The starting five is solid as well, led by Ricky Nolasco and followed by promising arms Josh Johnson, Chris Volstad, Andrew Miller and Anibel Sanchez. All five of those pitchers have a bright future ahead of them and all are young and healthy. The Rays gave inexperienced, small market teams hope next year. Is it out of the question for the Marlins to make a postseason run this year? Absolutely not, although young teams tend to fade after a hot start so it'll be interesting to see how the Fish play after the All-Star Break. And considering they'll have to compete with the Phillies, Mets and Braves all season, it'll be tough for the Marlins to emerge as a playoff team. But one thing is for sure – this club has loads of potential.
Projection: 4th NL East