2009 Fantasy Baseball Preview: Catchers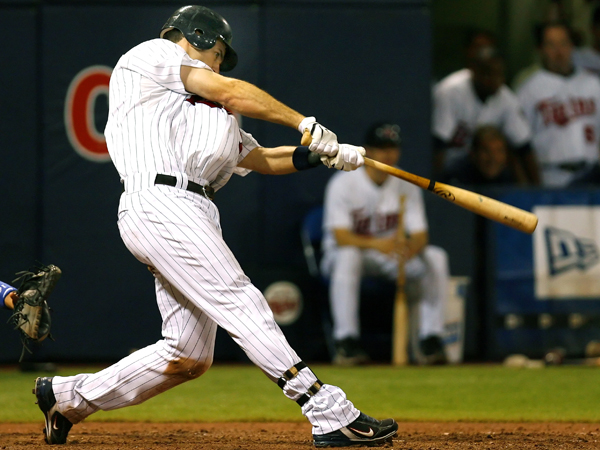 All 2009 Fantasy Articles | 2009 Position Rankings
There's an unwritten rule among intelligent fantasy football drafters that goes a little something like this: Don't draft a quarterback before Round 5. That's because unless you land Peyton Manning, there's not a huge difference between the No. 2 rated quarterback and the No. 8.
A similar rule can be applied to catchers in fantasy baseball. Chances are if you selected Victor Martinez (the No. 1 rated catcher in most draft rankings in 2008) early in your draft last year, you punched a whole through one of your walls by the All-Star Break.
If you selected a guy like Joe Mauer in the fourth or fifth round, you probably were quite satisfied by his .328-9-85-98 production. But what if we told you that you could have had taken Bengie Molina much later and still wound up with .292-16-95-46 production out of your catcher spot? Sure, you would give up runs and sacrifice average, but you almost doubled your home runs and gave your RBI numbers a boost as well.
What we're saying is – don't overvalue the catcher position. Let someone else jump on Brian McCann's potential or Russel Martin's stolen base production while you're concentrating on bolstering the other positions that don't have the amount of depth that the backstops do.
As we pointed out, there just isn't much of a difference at the end of the day between guys like Mauer and Molina. Plus, don't forget that nowadays most teams like to keep their catchers as fresh as possible – especially the contenders.
So unless a stud drops into your lap in later rounds, take a look at the backstops below to address your catcher position. You can thank us later.
Bengie Molina, San Francisco Giants
Yes, Molina runs with about as much grace as a cement truck and he won't cross the plate too many times, but his average usually hovers around .285 and he'll hit 15-plus home runs. Batting cleanup also helps his RBI production and now that young Giants Fred Lewis and Pablo Sandoval are starting to develop, he should have even more opportunities to drive in runs. Consider yourself fortunate if you're able to pluck Molina off the board late in your draft while addressing other positions in earlier rounds.
Ryan Doumit, Pittsburgh Pirates
Doumit is an injury risk, but he's coming off a breakout 2008 season and at only 27, his ceiling his high. Considering he hit .318 with 15 home runs and 34 doubles last year, he would be an outstanding value late in the draft and although he's still a bit of an unknown, Doumit nailed down the starting catcher position last year so you don't have to worry about him splitting time (unless of course he goes into a tailspin in the first half of the season). Like Molina, Doumit will also bat either third or fourth in the lineup, which will give him plenty of opportunities to drive in runs.
Chris Iannetta, Colorado Rockies
Could this be Iannetta's breakout year after blasting 18 home runs in 2008? He went from a sleeper last season to a bona fide top 10 starting catcher and his potential is awfully intriguing after he drove in 65 RBI and scored 50 runs in just 333 at bats last year. He only hit .264, but he certainly has the potential to sniff the .300-mark hitting at Coors.
Jorge Posada, New York Yankees
A lot of fantasy pundits are down on Posada this year after he had shoulder surgery last year, but even at 37 he still has a lot of value. He won't play more than 125 games this year, but he should see some at bats at DH, especially with Hideki Matsui continuing to battle a bad knee. Posada hits in one of the best lineups in baseball and if he can stay healthy, he has the potential to hit well over .300 and chip in 15-plus home runs and 85-plus RBI.
Mike Napoli, Los Angeles Angels
Don't expect much in the batting average department, but he has 20-plus home run potential and could have a breakout season in 2009 if he fixes the various holes in his swing. The only problem is that he's a good bet to be a platoon player and if his average dips too much, his playing time could plummet. Still, he's a candidate to drive in 70-plus runs, score 60-plus runs and even swipe anywhere from 8 to 10 bases this season.
Matt Wieters, Baltimore Orioles
Weiters is a potential sleeper and if you're in a keeper league, he's definitely worth a long look. He's only 22 years old, but he posted a .355 batting average in two minor-league stops in 2008 and could be a tremendous steal late in your draft. Keep an eye on him in spring training because if he earns the starting catcher position in Baltimore, he's unlikely to relinquish it.
Ramon Hernandez, Cincinnati Reds
Call this our bargain bin special. Hernandez hit 15 dingers last year in Baltimore, but jumps to a hitter's park this season in Cincinnati. He probably won't sniff .280 in the batting average department, but he'll give you more than enough pop to keep you happy and you could always grab a young sleeper like Pablo Sandoval (who also qualifies as a first basemen) or a trusty vet like Yadier Molina later in the draft if you wind up pulling the trigger on Hernandez.
Below is our official ranking of catchers. You'll see that there is plenty of depth after the top 5, including the guys ranked after the ones we went into detail above.
1. Brian McCann, ATL
2. Joe Mauer, MIN
3. Russell Martin, LAD
4. Geovany Soto, CHC
5. Victor Martinez, CLE
6. Bengie Molina, SF
7. Ryan Doumit, PIT
8. Chris Iannetta, COL
9. Jorge Posada, NYY
10. Mike Napoli, LAA
11. Matt Wieters, BAL
12. Ramon Hernandez, CIN
13. Jarrod Saltalmacchia, TEX
14. Kelly Shoppach, CLE
15. Jeff Clement, SEA
16. Gerald Laird, DET
17. A.J. Pierzynski, CHW
18. Kurt Suzuki, OAK
19. Yadier Molina, STL
20. Dioner Navarro, TB
21. Chris Snyder, ARZ
22. Brandon Inge, DET
23. Jason Varitek, BOS
24. Jesus Flores, WAS
25. Kenji Johjima, SEA
Posted in: Fantasy Baseball, MLB
Tags: A.J. Pierzynski, Bengie Molina, Brandon Inge, Brian McCann, Chris Iannetta, Chris Snyder, Dioner Navarro, Geovany Soto, Gerald Laird, Jarrod Saltalmacchia, Jason Varietk, Jeff Clement, Jesus Flores, Joe Mauer, Jorge Posada, Kelly Shoppach, Kenji Johjima, Kurt Suzuki, Matt Wieters, Mike Napoli, Ramon Hernandez, Russell Martin, Ryan Doumit, Victor Martinez, Yadier Molina