The economy is really starting to take its toll on professional sports, and the NBA is no different. Bad contracts are bad even when the economy is pumping, but they really stand out in tough times like these. So I decided to look through the payrolls team-by-team to try to identify the worst contracts in the NBA. I expected to list 15-20 names, but I ended up scribbling down 68. That's right, there are no fewer than 68 bad contracts in the NBA.
I didn't include any of the players that are in the final year of their contracts because…well, what's the point? They'll be off the books in a few months anyway. Instead, I wanted to focus on those contracts that are going to haunt teams for years to come, so to be eligible, players have to have at least a year left on their current deals.
It's tough to compare someone making superstar money to an average, everyday role player, so I split these 68 contracts up into three groups: the Overpaid Role Players, the Not-So-Super Stars and the Injury-Prones. I will rank them from least-worst to most-worst with the thinking that I wouldn't trade the player for anyone further down the list but I would trade him for anyone previously mentioned. So, for example, if a guy is listed #7 within a particular group, I'm not trading him for anyone ranked #6-#1, but I would think seriously about moving him for a guy that is ranked #8+.
So let's start with the role players and go from there…
(Note: In most cases, I don't blame the player himself for his outrageous contract. The fault lies with the general manager that inked the guy to the deal. However, this rule goes out the window if the player has a history of only producing in his contract year – I'm looking at you, Tim Thomas.)
THE OVERPAID ROLE PLAYERS
Guys That I Wouldn't Mind Having On My Team
36. Shane Battier (two years, $14.3 million)
6.7 ppg, 4.9 rpg
I know he's supposed to be the "no-stat MVP," but $7 million per season seems like a lot to pay for a defensive specialist who only gets 0.7 steals per game. Plus, when he shaves his head, you can almost see his brain.
35. Jason Maxiell (four years, $20 million)
5.4 ppg, 3.9 rpg
Maxiell's Player Efficiency Rating (15.79) is above average. But why pay the guy if you aren't going to play him?
34. Andres Nocioni (three years, $21.0 million)
10.5 ppg, 4.2 rpg, 41% FG%
Nocioni can ball, but $7 mil a season is a steep price to pay for 11 and 4. We'll see if he blossoms now that he's outside of Luol Deng's shadow.
33. Nick Collison (two years, $13.2 million)
7.9 ppg, 6.8 rpg
You'd think this guy would have a killer 18-footer by now.
32. Ronny Turiaf (three years, $12.5 million)
5.5 ppg, 4.0 rpg
He plays hard, but any number of guys in the D-league and overseas that can do what he does at a fraction of the price.
I Only Want Him On My Team In A Contract Year
31. Tim Thomas (one year, $6.5 million)
9.3 ppg, 3.3 rpg
"Tiny" Tim is the poster boy for guys that only produce when they're playing for a new contract. Ernie Grunfeld, GM of my beloved Bucks, signed him back in '00 to a six-year deal worth $68 million and then, six underachieving years later, the Clippers were so enamored with his performance against them in the playoffs that inked him to a four-year deal worth $24 million. This clown has a career average of 11.7 points and 4.2 rebounds and he has made more than $84 million thus far. Sorry, I have to go throw up…
…okay, I'm back.
The Expiring Contracts
30. Darko Milicic (one year, $7.5 million)
6.3 ppg, 4.8 rpg
29. Mike James (one year, $6.5 million)
8.6 ppg, 3.2 apg
28. Antonio Daniels (one year, $6.6 million)
4.4 ppg, 2.8 apg
27. Earl Watson (one year, $6.6 million)
6.0 ppg, 5.7 apg, 37% FG%
26. Tony Battie (one year, $6.3 million)
4.4 ppg, 3.6 rpg
25. Brian Cardinal (one year, $6.8 million)
2.0 ppg, 1.8 rpg
24. Etan Thomas (one year, $7.4 million)
3.1 ppg, 2.6 rpg
23. Mark Blount (one year, $8.0 million)
3.9 ppg, 1.8 rpg
22. Jerome James (one year, $6.6 million)
3.0 ppg, 1.5 rpg
21. Kenny Thomas (one year, $8.8 million)
0.8 ppg, 1.9 rpg
20. Bobby Simmons (one year, $11.2 million)
8.0 ppg, 4.4 rpg
Expect to hear "__________'s expiring contract" a lot next February. Seriously, these guys will be involved in all sorts of trade scenarios, but in this economy, most teams will just hold onto them and let their salaries come off the cap. What's sad is that most of these guys are useless, yet they'll make more in one season than most of us will in our lifetimes.
Great, now I'm depressed.
All They Can Do Is Shoot, But That's Something
19. Jason Kapono (two years, $12.9 million)
8.4 ppg, 2.1 rpg
18. Sasha Vujacic (two years, $10.5 million)
5.7 ppg, 1.6 apg
17. Daniel Gibson (three years, $12.5 million)
8.1 ppg, 38% FG%
16. Vladimir Radmanovic (two years, $13.4 million)
10.5 ppg, 4.0 rpg, 1.6 apg
15. Morris Peterson (two years, $12.2 million)
5.4 ppg, 2.1 rpg
After signing a three-year deal, setting himself up for life, Vujacic's shooting numbers have dropped eight percent from the field and almost nine percent from three-point range. (Like he needed to be more annoying.) And I don't think the Cavs had 38% shooting in mind when they inked Boobie to a long-term deal; the play of Delonte West has made Gibson expendable. As for Radmanovic, he is arguably the worst defender in the league. Really. Just watch him on that end of the court sometime. He's totally lost. His awareness in NBA 2K9 should be zero.
One Good Year Does Not a Starting Point Guard Make
14. Marcus Banks (two years, $9.4 million)
2.7 ppg, 1.3 apg
13. Beno Udrih (four years, $26.7 million)
10.9 ppg, 4.3 apg
12. Marko Jaric (two years, $14. 7 million)
1.8 ppg, 0.9 rpg, 27% FG%
Sure, Udrih is overpaid and the Kings were dumb to sign him long-term. But the guy can run an offense and that's still something. But I wonder — does Marko's new bride (Victoria's Secret model Adriana Lima, pictured below) know that he's not getting any minutes for one of the worst teams in the league? Does she care? Does he care?
After looking at that picture, do I care?
The Not-So-Special Specialists
11. Reggie Evans (two years, $10 million)
2.7 ppg, 4.7 rpg
10. Jared Jeffries (two years, $13.4 million)
4.6 ppg, 4.0 rpg
Here we have the Rebounder and the Defender. Too bad that's all either guy can do. Jeffries is a poor man's Battier. (I don't really know what that even means.)
The Big Stiffs
9. Darius Songaila (two years $9.3 million)
6.7 ppg, 2.6 rpg
8. Joel Pryzbilla (two years, $14.3 million)
5.2 ppg, 8.1 rpg
7. Erick Dampier (one year, $12.1 million)
5.3 ppg, 7.0 rpg, 1.3 bpg
6. Nazr Mohammed (two years, $13.4 million)
2.5 ppg, 2.0 rpg
5. Dan Gadzuric (two years, $14.0 million)
3.5 ppg, 3.5 rpg
Now that's a list of overpaid backup centers. The Bucks drafted Andrew Bogut in June 2005 then sign Gadzuric to a long-term deal two months later. How does this make sense? Since when does being seven-foot and being able to get up and down the court in a reasonable amount of time entitle you to a multi-million dollar contract?
What In the World Were They Thinking?
4. Jamaal Tinsley (two years, $14.9 million)
No stats in 2008-09
The Pacers have been trying to get rid of Tinsley for a while now but they can't find any takers. I wonder why…
3. Matt Carroll (four years, $16.4 million)
3.3 ppg, 1.3 rpg, 39% FG%
The Mavs had to take on Carroll's brutal contract to get rid of the #1 guy on this list, so this is actually an improvement for Mark Cuban. Carroll is proof positive that if you can average double-digit points in your contract year for one of the worst teams in the league, you can parlay that into a deal worth $20 million. Right place, right time…
2. Luke Walton (four years, $21.6 million)
4.9 ppg, 2.5 apg, 2.5 rpg
I'm of the school that Luke wouldn't have signed this big of a contract if his last name wasn't "Walton." Hell, if not for that family name, I'd argue that he wouldn't even be in the NBA. He's a 6'8" white dude who can't shoot but I'm told that "he knows how to play the game." Seriously, there are a half a dozen guys like that in my rec league (and they can shoot it better than he does).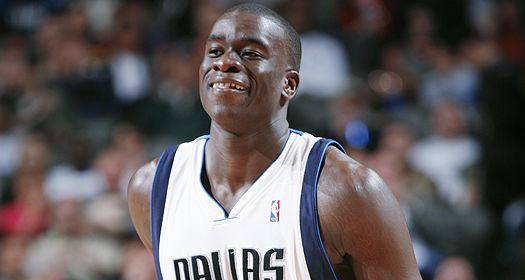 1. DeSagana Diop (four years, $26.8 million)
3.3 ppg, 3.8 rpg, 0.8 bpg
How does a guy that has never averaged more than 3.3 points or 5.4 rebounds a game get a five-year deal worth $31 million? He's a great shot-blocker, you say? His career high in blocks is 1.8 – that's worth $6 million per season? Really? I thought America was a meritocracy…
THE (NOT-SO-SUPER)STARS
18. Vince Carter (two years, $33.6 million)
20.5 ppg, 5.0 rpg, 4.8 apg
Is he playing well? Absolutely. Is he worth every penny? Not so much. The Nets couldn't give him away at the trade deadline.
17. Richard Jefferson (two years, $29.4 million)
18.3 ppg, 4.7 rpg, 2.4 apg, 43% FG%
He's helped the Bucks stay competitive, but the franchise is in dire financial shape. He's worth $10-$11 mil per season, not $15 million.
16. Rashard Lewis (three years, $58.7 million)
18.4 ppg, 5.9 rpg
Yes, he's overpaid, but at least he can shoot – and he's perfect for what Orlando wants to do.
15. Mike Dunleavy (two years, $20.4 million)
15.1 ppg, 3.8 rpg, 2.4 apg
Mike, Jr. finally lived up to his bloated contract last season and then he got hurt. Perfect. Man, it's been a rough year for the Dunleavys.
14. Antawn Jamison (three years, $40.1 million)
21.6 ppg, 9.2 rpg, 2.0 apg
It's hard to know how bad this contract will look in a year or two. He's still producing, albeit for a bad team.
13. Andrei Kirilenko (two years, $34.3 million)
12.4 ppg, 5.3 rpg, 3.0 apg
This contract has looked awful for a long time now. He inked his deal before the arrival of Carlos Boozer and Deron Williams and the Jazz have been counting the minutes since.
12. Troy Murphy (two years, $23.0 million)
13.9 ppg, 11.8 rpg
Call me crazy, but at essentially the same price, I'd rather have Murphy for two years than the next guy for five.
11. Emeka Okafor (five years, $62.5 million)
14.1 ppg, 10.6 rpg, 1.7 bpg
Welcome to cap hell, Charlotte.
10. Andre Iguodala (five years, $68.6 million)
18.0 ppg, 5.4 apg, 6.0 rpg
Don't get me wrong – Iggy is a solid player. Just not $13.7 mil-per-season solid.
9. Luol Deng (five years, $61.7 million)
14.1 ppg, 6.0 rpg, 1.9 apg
A 14/6 guy is worth $12 mil a year? Really? Someone call Drew Gooden and tell him he's in for a payday this summer. (Relax, Bulls fans, at least Deng is just 23.)
8. Kirk Hinrich (three years, $26.5 million)
9.4 ppg, 4.2 apg, 43% FG%
What happened to him? His career was on the slide even before Derrick Rose came to town. This is a guy that is in desperate need of a change of scenery.
7. Larry Hughes (one year, $13.7 million)
11.9 ppg, 1.9 apg, 2.9 rpg
6. Ben Wallace (one year, $14.0 million)
3.0 ppg, 6.6 rpg, 1.4 bpg
Hey, at least these ridonkuous contracts only last one more year. I am sick and tired of talking about how they're overpaid.
5. Stephen Jackson (four years, $35.6 million)
21.1 ppg, 6.4 apg, 41% FG%
4. Corey Maggette (four years, $39.7 million)
19.8 ppg, 5.6 rpg
While Jackson's numbers are decent, he's a volume shooter and he's already 30 – imagine how bad this contract is going to look in a couple of years. The same goes for Maggette. Don't forget that playing in Golden State inflates those numbers. Geesh!
3. Baron Davis (four years, $53.8 million)
15.3 ppg, 7.9 apg, 3.5 rpg, 36% FG%
I wonder if the Clips want a do-over. Davis is a good player, but not $13.5 million-per-year good. What's sad is that I really like watching Davis play. He should be playing for a contender. Elton Brand really did a number on this guy.
2. Zach Randolph (two years, $33.3 million)
21.8 ppg, 10.5 rpg
Don't be fooled by those numbers. Randolph is a $9 million-per-year player in a $16 million-per-year contract. He makes a killing scoring and rebounding for terrible teams.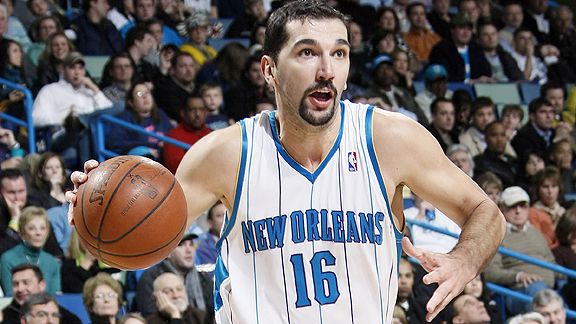 1. Peja Stojakovic (two years, $27.7 million)
13.8 ppg, 4.4 rpg
Sure, he's averaging almost 14 points per game, but he's shooting just 40% from the field. This trade actually forced the Hornets to try to give their third-best player, Tyson Chandler, away. Since they acquired Peja, New Orleans has had absolutely no cap flexibility. This is the move that may ultimately keep the Hornets out of the Finals, at least for the next couple of seasons. They rolled the dice that Peja could still shoot and it came up snake eyes.
THE INJURY-PRONES
14. Shaquille O'Neal (one year, $21 million)
18.2 ppg, 8.8 rpg, 1.5 bpg
Yes, he's having a good year, but he's not worth $21 million. While the next guy is the better center, at least Shaq has proven he can take a team to the Promised Land. The Cavs may ultimately regret not adding him at the expense of Wally Szczerbiak and Sasha Pavlovic at the trade deadline.
13. Yao Ming (two years, $34.1 million)
19.8 ppg, 9.6 rpg
Don't get me wrong – Yao has a great game. I love it. But I don't think you can build around a guy who has missed more than a third of his games in the last three seasons. And his foot problems are only going to get worse, right?
12. Nene Hilario (three years, $33.5 million)
14.8 ppg, 7.9 rpg
He's productive when he plays, but this guy is an injury waiting to happen. Prior to this season, he missed 40% of Denver's games over his first six years.
11. Andrew Bogut (five years, $60.0 million)
11.7 ppg, 10.3 rpg, 1.0 bpg
I like Bogut's hard-nosed style, but it seems to be taking its toll on his body. He has missed more than a quarter of his games over the past three seasons. Now he has back pain — that's easy to fix, right?
10. Jason Richardson (two years, $27.8 million)
17.0 ppg, 4.3 rpg, 2.2 apg
J-Rich is a solid player. Just not $13.9 mil-per-season solid.
9. Michael Redd (two years, $35.3 million)
21.2 ppg, 3.2 rpg, 2.7 apg
Over the last three years, Redd has missed 36% of the Bucks' games. I think it's safe to say he's injury-prone. I do love this former second round pick, but he's not living up to his contract. I want to see an efficent, 18+ point season with the Bucks getting out of the first round of the playoffs. Then I'll be happy.
8. Jermaine O'Neal (one year, $23.0 million)
13.5 ppg, 6.9 rpg
In the previous four seasons, O'Neal has missed 37% of his team's games. Wowsers. The guy still has skills, if he can only stay upright.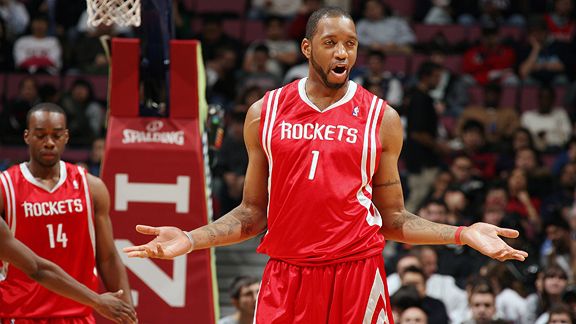 7. Tracy McGrady (one year, $22.5 million)
15.6 ppg, 5.0 apg, 4.4 rpg, 39% FG%
One more year and the Rockets will be able to free themselves from this albatross of a contract. Remember when people used to argue about who was the better shooting guard – Kobe or T-Mac? That seems like such a loooooong time ago.
6. Kenyon Martin (two years, $32.2 million)
12.2 ppg, 6.2 rpg
Hey, at least K-Mart is healthy and contributing! (Nugget fans know what I'm talking about.) Martin has one of those contracts that was untradeable the moment he signed it. Then he played a total of 58 games in the '05-'06 and '06-'07 seasons. Believe me, Denver fans are happy for the 12 and 6.
5. Samuel Dalembert (two years, $25.1 million)
6.3 ppg, 8.7 rpg, 1.8 bpg
As time goes on, this contract looks more and more ridiculous.
4. Elton Brand (four years, $66.2 million)
13.8 ppg, 8.8 rpg
Methinks the basketball gods are giving Elton a little payback for leaving Baron Davis high and dry. Karma is a bitch.
3. Eddy Curry (two years, $21.8 million)
2.0 ppg, 2.0 rpg
A 6'11" center who can't rebound or stay healthy? Great. His game has such a bad rep that he's been unmovable for years.
2. Monta Ellis (five years, $55 million)
13.4 ppg, 3.8 rpg, 2.8 apg
Yet another bright career gets derailed by a wild moped ride in Mississippi. How many times does this happen before we all stand up and say "NO" to Mississippi moped rides?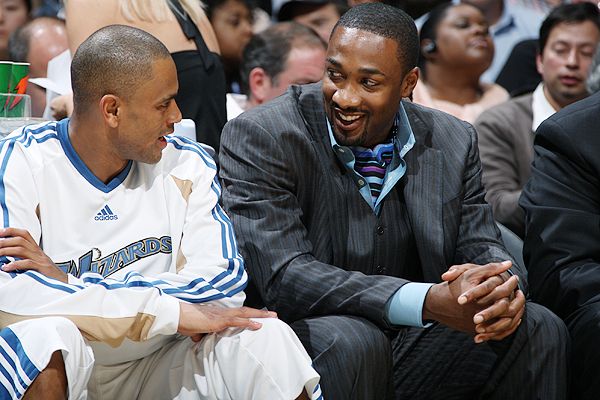 1. Gilbert Arenas (five years, $96.4 million)
No stats in 2008-09
To think, the Wizards actually seemed happy to be getting Agent Zero at a "hometown discount." But who exactly were they bidding against? If he doesn't return to his All-NBA form, the franchise will be hamstrung for years to come. This is yet another Ernie Grunfeld gem.
Posted in: Fantasy Basketball, Humor, NBA, NBA Finals
Tags: Adriana Lima, Adriana Lima photos, Andre Iguodala, Andrei Kirilenko, Andres Nocioni, Andrew Bogut, Antawn Jamison, Antonio Daniels, bad contracts, Baron Davis, Ben Wallace, Beno Udrih, Bobby Simmons, Brian Cardinal, Corey Maggette, Dan Gadzuric, Daniel Gibson, Darius Songaila Joel Pryzbilla, Darko Milicic, DeSagana Diop, Earl Watson, Eddy Curry, Elton Brand, Emeka Okafor, Erick Dampier, Etan Thomas, Gilbert Arenas, Jamaal Tinsley, Jared Jeffries, Jason Kapono, Jason Maxiell, Jason Richardson, Jermaine O'Neal, Jerome James, John Paulsen, Kenny Thomas, Kenyon Martin, Kirk Hinrich, Larry Hughes, Luke Walton, Luol Deng, Marcus Banks, Mark Blount, Marko Jaric, Matt Carroll, Michael Redd, Mike Dunleavy, Mike James, Monta Ellis, Morris Peterson, Nazr Mohammed, NBA free agency, Nene, Nick Collison, Peja Stojakovic, Rashard Lewis, Reggie Evans, Richard Jefferson, Ronny Turiaf, Samuel Dalembert, Sasha Vujacic, Shane Battier, Shaquille O'Neal, Stephen Jackson, Tim Thomas, Tony Battie, Tracy McGrady, Troy Murphy, Vince Carter, Vladimir Radmanovic, Yao Ming, Zach Randolph