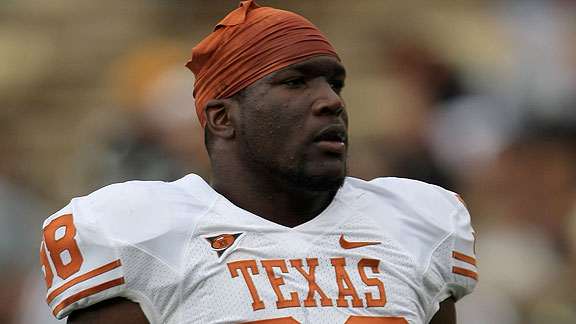 I remember back in high school when I discovered Final Fantasy 7 and my life changed forever. 10 years later I'm better than all my friends at riding chocobos and using potions. Hooray. I suppose we could compare my gargantuan accomplishment with Brian Orakpo's if I try really hard. Seems Orakpo started as a mere basketball star, and by the time he matriculated, had discovered he was in fact one of the best defensive football players in the country. Big whoop.
Facetiousness aside, it takes a hell of a lot of work to reach the level that Orakpo has, especially in so short a time. According to Orakpo's high school teammate Drew Kelson in an article on Inside Texas.com:
"Freshman football was merely about playing in front of all your classmates right on the campus football field. Simply having a uniform and getting a chance to play was cool."
That is not the kind of atmosphere I have been led to expect from Texas high school football. Shame on you Friday Night Lights. No, I take it back; I can't stay mad at you.
So Orakpo spent his first couple of seasons at Lamar High School in Houston impressing the ladies and looking good. Not too shabby. But there came a time for the young Orakpo when he realized that he could actually make something out of this football thing, perhaps a big something. By the time high school was over, Orakpo had been recognized throughout the country as a defensive prospect and had been recruited to play for the University of Texas.
Now Orakpo really gets serious. Red-shirting his freshman year, Orakpo hit the weight room with a vengeance, adding muscles onto his muscles and generally becoming enormous. By the time his time for active duty rolled around, he was ready.
In his first collegiate appearance, Orakpo had a pressure, two tackles, and forced a fumble. He would go on to play in every game that season, starting once. He earned a spot on The Sporting News Freshman All-American 1st team and was voted defensive freshman of the year by the same outlet.
As a sophomore his numbers continued to go up. He was awarded the Lowe's Most Improved Defensive Player of the Year and helped the University of Texas to a 3rd place rank for least rushing yards allowed per game.
2007 was going to be the year Orakpo arrived as a true defensive phenom. He was in the starting lineup and was ready to tear up the field, that is until injuring his right knee during UT's first regular season game. Orakpo was sidelined for the next four games, returning against Oklahoma, but appearing on the field for only 17 plays (though he did record a sack). Despite his shortened playtime, Orakpo worked himself back to his previous form. In fact, when Texas played Arizona State in that year's Alamo Bowl, Orakpo had a sack, a pressure on the quarterback, and even posted career highs in tackles and tackles for losses (six and three, respectively).
OK, now it's Orakpo's time. He's healthy, experienced, and can bench more than 500 pounds. Orakpo was a force to reckoned with last year, let's go through the numbers a bit: 42 tackles, 4 forced fumbles, 30 pressures, and 11.5 sacks (a number that led his team and was sixth in the nation). Orakpo also helped his team to a 12-1 record, and thrust Texas into the top spot in the Big 12 in scoring and rushing defense, total defense, and a second place spot in pass efficiency defense.
Orakpo won just about every trophy available: The Lombardi for the country's best lineman, the Hendricks Award for best defensive end, and The Nagurski Trophy for the nation's top defensive player. He was 1st team All-American on pretty much everyone's list and was the Big 12 Player of the Year. Also, let's keep in mind that he earned all this acclaim even with limited playing time for one game against Kansas due to injury.
So we begin the speculation, is Orakpo a first round pick? Definitely. Almost certainly in the top ten. But, despite all his accomplishments, teams may be wary of him for a couple of reasons. He's got nearly everything a coach or scout would want to see in a defender: speed off the snap, great jumping ability for blocking passes, and of course enough strength to tear a quarterback in half, but let's remember those injuries he's had over his career. During the NFL Combine he even tweaked a hamstring and couldn't complete all the drills. While he still dominated the Combine in the events he participated in, and the injury wasn't serious, it may hint at a larger problem down the road. Only time will tell if Orakpo can endure longer seasons in the NFL while staying injury-free. All the weight-training in the world won't be enough to reverse time.
Overall, Orakpo is still a hot prospect and promises to make an impact on whatever team may choose him. Currently, it seems the Cleveland Browns are the most interested, and with the 5th pick in the draft the most likely to get him. He's been working out and running drills for them on numerous occasions and they have all but given him a key to the locker room. Ah, but then, there's a lot of teams below the Browns that would love to wheel and deal Orakpo, or at least the 5th pick, over to them, notably the Packers at the 10 spot.
All in all, Orakpo is an explosive player with a work-ethic that'll aid him a lot in the years to come, adding 50 pounds of muscle over his college career attests to that. Injuries notwithstanding, Orakpo is an awesome natural athlete. Let's try not to worry overly much about his durability either, when Brian Orakpo sets his mind to something, he'll be sure to impress.
Latest on Orakpo
Peforming in linebacker drills during the Texas Pro Day, Orakpo blew away the onlookers with a dominating performance. One of the most interested of the NFL reps was Green Bay Packers GM Ted Thompson…
Career
Brian Orakpo Profile CBSSports.com
A listing of awards and accomplishments from high school onward.
News and Commentary
NFLDraftScout Brian Orakpo Player Profile
Combine and Pro Day statistics.
Brian Orakpo DraftCountDown Scouting Report
No-nonsense report on Orakpo's strengths and weaknesses.
Kelson's Breakdown: Brian Orakpo at InsideTexas.com:
Interesting insider-perspective from teammate Drew Kelson.
Orakpo says
On possibly moving to outside linebacker in a 3-4 scheme

"I'm not the guy that can potentially play the position, I'm the guy that can play the position — and I have the film to prove it."
Posted on: CBSSports.com
Sources and Links

CBSSports.com
InsideTexas.com
NFLDraftScout.com
DraftCountDown.com
Posted in: College Football, Fantasy Football, General Sports, News, NFL, NFL Draft, Rumors & Gossip
Tags: 2009 NFL Draft, 3-4 Defensive End, Add new tag, Athlete Profiles, Brian Orakpo, Brian Orakpo Bio, Brian Orakpo Draft Rumors, Brian Orakpo Profile, Brian Orakpo Rumors, Brian Orakpo stats, Defensive End, Orakpo Draft, Texas