10 MLB players to root for in the steroid era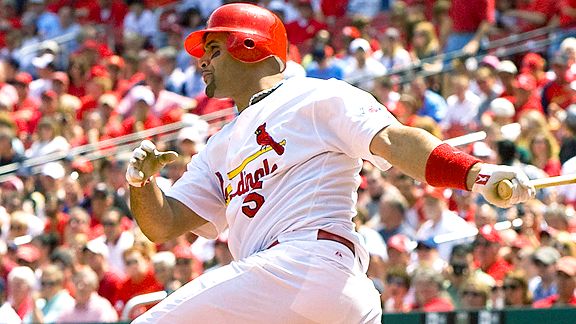 When I was growing up, my friends and I used to walk down to an open field next to a church and play baseball with four rubber bases, one aluminum bat and a tennis ball.
On the way to the field, we used to have mock drafts where we pretended we were general managers picking players for our lineup. When we got to the field, we had to do our best to simulate what each player's batting stance looked like and then hit like that player.
My favorite player growing up was Giants' first baseman Will Clark, so after I drafted him I always had to bat lefty (which was a bit problematic since I was right handed and never mastered the art of switch hitting) and stick my right leg straight out in front of me in order to impersonate his stance. And just like "The Thrill," I had to wear thick eye black and stick a wad of chewing tobacco (well, he had chewing tobacco, I had Big League Chew) in one of my cheeks.
Those are the memories that always make me laugh at myself as a kid. It's also memories like those that also make me wonder what I would have done if I were a young baseball fan growing up in what should be known as "the steroid era."
If I drafted Mark McGwire, I guess I would have had to put pillow cushions in each of my sleeves to replicate his big, steroid-enhanced arms. If I drafted Roger Clemens, I guess I would have had to mimic taking HGH before I took the mound and then subsequently pretend to give my girlfriend an injection just as the Rocket did to his wife. (And then lie about everything if I was questioned later about the allegations.)
And I guess if I had drafted Alex Rodriguez, I would have had to not only mimic the steroid use, but also tip one of my friends off about what pitch was coming so that he could pad his stats.
I feel bad for young baseball fans these days. Chances are that their favorite player is/was on the juice and therefore their sports heroes are cheating in order to gain a competitive edge. As it turns out, Will Clark was kind of a dick. But as far as we all know, he played the game the right way and never tried to gain an edge over his fellow players. And unlike A-Fraud, Clark would have rather cut off both his arms than tip an opponent to what pitch was coming.
In effort to help out the young fans across this fine nation, I've compiled a list of 10 MLB players (in no particular order) that people can root for as we drudge our way through the steroid era. As far as we know, none of these players have ever taken performance-enhancers, nor have they disrespected the game by playing solely for stats, money or anything else. These aren't only good guys, but they're also tremendous ball players that probably don't get enough credit for staying clean in an unclean baseball fraternity.
Posted in: MLB
Tags: A-Fraud, A-Rod, Aaron Rowand, Albert Pujols, Alex Rodriguez, Alex Rodriguez steroids, Anthony Stalter, Curtis Granderson, Derek Jeter, Dustin Pedroia, Grady Sizmore, Hanley Ramirez, Ian Kinsler, MLB Best Players, MLB Players to root for, Nick Markakis, Orlando Hudson, Sports players to root for, Top 10 MLB Lists, Top 10 sports lists