10 MLB players to root for in the steroid era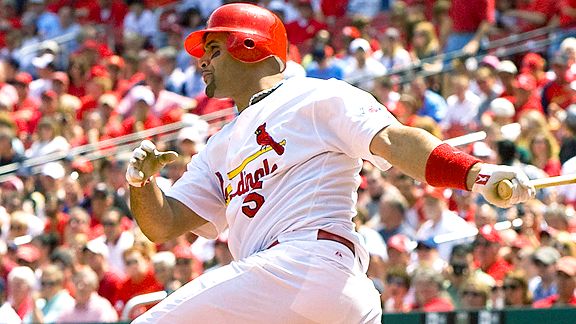 When I was growing up, my friends and I used to walk down to an open field next to a church and play baseball with four rubber bases, one aluminum bat and a tennis ball.
On the way to the field, we used to have mock drafts where we pretended we were general managers picking players for our lineup. When we got to the field, we had to do our best to simulate what each player's batting stance looked like and then hit like that player.
My favorite player growing up was Giants' first baseman Will Clark, so after I drafted him I always had to bat lefty (which was a bit problematic since I was right handed and never mastered the art of switch hitting) and stick my right leg straight out in front of me in order to impersonate his stance. And just like "The Thrill," I had to wear thick eye black and stick a wad of chewing tobacco (well, he had chewing tobacco, I had Big League Chew) in one of my cheeks.
Those are the memories that always make me laugh at myself as a kid. It's also memories like those that also make me wonder what I would have done if I were a young baseball fan growing up in what should be known as "the steroid era."
If I drafted Mark McGwire, I guess I would have had to put pillow cushions in each of my sleeves to replicate his big, steroid-enhanced arms. If I drafted Roger Clemens, I guess I would have had to mimic taking HGH before I took the mound and then subsequently pretend to give my girlfriend an injection just as the Rocket did to his wife. (And then lie about everything if I was questioned later about the allegations.)
And I guess if I had drafted Alex Rodriguez, I would have had to not only mimic the steroid use, but also tip one of my friends off about what pitch was coming so that he could pad his stats.
I feel bad for young baseball fans these days. Chances are that their favorite player is/was on the juice and therefore their sports heroes are cheating in order to gain a competitive edge. As it turns out, Will Clark was kind of a dick. But as far as we all know, he played the game the right way and never tried to gain an edge over his fellow players. And unlike A-Fraud, Clark would have rather cut off both his arms than tip an opponent to what pitch was coming.
In effort to help out the young fans across this fine nation, I've compiled a list of 10 MLB players (in no particular order) that people can root for as we drudge our way through the steroid era. As far as we know, none of these players have ever taken performance-enhancers, nor have they disrespected the game by playing solely for stats, money or anything else. These aren't only good guys, but they're also tremendous ball players that probably don't get enough credit for staying clean in an unclean baseball fraternity.
(Side Note: I apologize for not mentioning any pitchers, but I was aiming for everyday players when I first decided to compile this list, so that's what I went with.)
1. Albert Pujols, 1B, St. Louis Cardinals
If you're looking for the best player in baseball, he's currently parked at first base in St. Louis. Before the steroid reports surfaced, many believed that A-Fraud was the best player in the game, but there's little debate now that it's Pujols who holds that honor. Granted, some question if Pujols has ever used himself, but I'm willing to believe that he's clean and all the amazing feats he has accomplished on the field to this point have all been steroid-free. Ever since he broke into the league in 2001, he's been nothing shy of a marvel at the plate and is without a doubt the best pure hitter in baseball.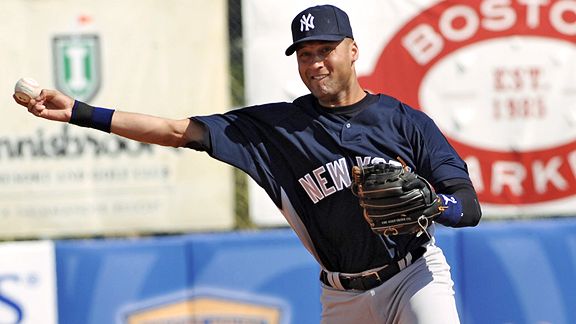 2. Derek Jeter, SS, New York Yankees
SI.com did a poll last year where over 495 major leaguers voted on the most overrated player in baseball and Jeter took home the (non) honor of ranking first. There's no doubt his range at short isn't what it used to be, but Jeter never takes a play off, rarely makes mistakes to cost his team victories and he's still consistent (albeit unspectacular) at the plate. He also remains great in the clutch, which certainly isn't easy to do considering he plays in the hardest media market in sports. He might get more attention and praise than his overall numbers suggest he deserves, but I'd rather watch 10 media features on Jeter than just one on A-Fraud.
3. Dustin Pedroia, 2B, Boston Red Sox
I get tired of the "Little Engine that Could" references when it comes to Pedroia. He was a stud at Arizona State and was drafted in second round of the 2004 MLB Draft, yet because he's 5'9" and 180 pounds, people like to make him out to be the Rudy of baseball. He has always been a talented player, but his drive and devotion to the game is what made him an MVP. Simply put, Pedroia plays the game the way it's supposed to be played. He thinks up at the plate, always knows the situation in the field and like Jeter, he never takes plays off. Some players have talent, but it goes to waste because of their lack of effort. Pedroia is both talented and a hard worker, and chances are he's going to be great for a long time because he knows how to get the most out of his abilities.
4. Nick Markakis, RF, Baltimore Orioles
While his popularity is growing each year, Markakis is still a relatively unknown star in this league. He's a rare five-tool player and because he plays in Baltimore, nobody knows it. He's not a guy that's going to hit 50 home runs a year or put up Pujols-like batting average numbers, but he will hit over .300, blast 20-plus dingers, score 100 runs and play a near flawless right field. He's also incredibly durable, missing just one game in 2007 (that's one game out of 162, mind you) and just six in 2008. Like all of the guys on this list, Markakis just loves playing the game.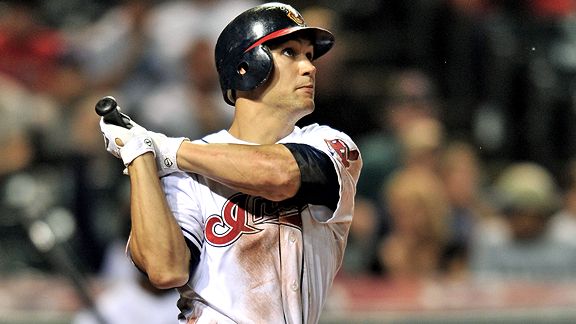 5. Grady Sizemore, CF, Cleveland Indians
What's not to like about Grady Sizemore? He can hit for power, steal bases and is quite possibly the best centerfielder in baseball. He also didn't miss a single game in 2006 and 2007, and just five games in 2008, which is not only a testament to his durability, but also to his desire. He'll probably never be a consistent .300 hitter because he isn't selective enough at the plate, but he brings so much more to the ballpark on a nightly basis that it's hard to dwell on his unspectacular average numbers. (Although he is a career .278 hitter, so it's not like he's hitting below the Mendoza line or anything.)
6. Aaron Rowand, CF, San Francisco Giants
The Giants grossly overpaid for Rowand as a free agent last year, but that shouldn't take away from the recognition he deserves as one of the hardest working players in baseball. Rowand never complains, is the ultimate team leader and if I had kids that were interested in baseball, I'd make sure that they were studying how Rowand approaches the game. I've never seen a player sacrifice his body more than Rowand and if you're a true baseball fan, you've got to appreciate how he attacks every play as if it were his last.
7. Orlando Hudson, 2B, Los Angeles Dodgers
Orlando Hudson? Seriously? I know, Hudson isn't the most spectacular player to ever don a pair of baseball cleats, nor will he ever be. But if you watch this guy on a semi-regular basis, you'd see how easy it is to root for him. He doesn't have Pujols' talent, but Hudson will stop at nothing to give his team a chance to win, which includes sacrificing his body, his at bats or going all out on routine plays. He also does everything with a smile on his face and it's rare to see him not sharing a laugh with an opponent or teammate at second base. I hope him hitting in front of Manny Ramirez this year gives his numbers a boost and therefore garners him the attention he deserves.
8. Ian Kinsler, 2B, Texas Rangers
Kinsler is another one of those throwback players like Jeter and Pedroia in that he busts his ass on every play and his intensity exceeds his talent (although that's not to say that he doesn't have any, because clearly he does). Kinsler doesn't excel at one facet of the game, but he does everything well. He can hit for average, a fair amount of power and will steal bases at a decent clip, too. Granted, he does benefit from hitting in a stacked Rangers' lineup, but that shouldn't take away from how talented he is and I'm willing to bet if he were in a weaker offense, he'd still put up solid numbers.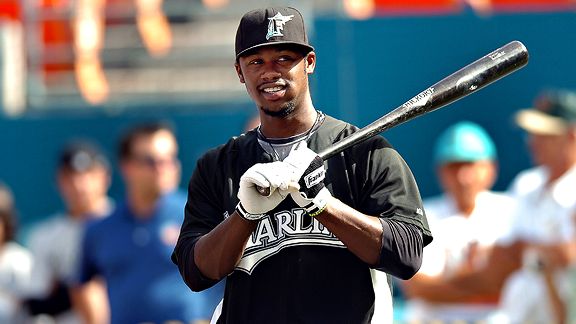 9. Hanley Ramirez, SS, Florida Marlins
Ramirez has taken some flack recently for not going all out on every play, but I'll admit, I'm so intrigued by how good he is at such a young age that I can get past the fact that he's not Charlie Hustle like the rest of the guys on this list. Ramirez has the talent to be one of the best players in the game and that alone makes him easy to pull for. Hopefully some of his coaches in Florida will get him to realize his full potential and he'll be a star in this league for years to come.
10. Curtis Granderson, CF, Detroit Tigers
Granderson needs to be more consistent at the plate before he'll be considered among the best players in baseball, but he does have five-tool talent and what makes him incredibly likable is how much he gives off the field. He established his Grand Kids Foundation in 2008 in order to help underprivileged children in Detroit and other areas get a good education and keep them out of gangs. He also set up a celebrity basketball game last year in which all proceeds went to school systems and inner city children in the Flint and Detroit, Michigan areas. I know a lot of athletes give to charities, but it's nice to see that a player like Granderson not only donates his time and money, but also continues to be a tremendous role model at all times.
Feel free to shot out a couple players that you feel are easy to root for. I know there are many, many more, which gives fans a little hope for baseball's future.
Posted in: MLB
Tags: A-Fraud, A-Rod, Aaron Rowand, Albert Pujols, Alex Rodriguez, Alex Rodriguez steroids, Anthony Stalter, Curtis Granderson, Derek Jeter, Dustin Pedroia, Grady Sizmore, Hanley Ramirez, Ian Kinsler, MLB Best Players, MLB Players to root for, Nick Markakis, Orlando Hudson, Sports players to root for, Top 10 MLB Lists, Top 10 sports lists