The NBA Finals: Position-by-Position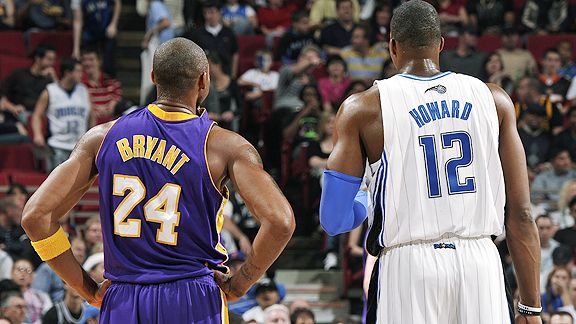 It's not the matchup that everyone (outside of central Florida) wanted to see, but it's a good matchup nonetheless. The Magic proved in their series against the Cavs that they are currently the best team in the East, and they'll face the battle-tested Lakers who are coming off a pair of rough and rugged series against the Rockets and the Nuggets.
Orlando has been the more consistent team and they don't get rattled. They get down big with regularity and have been able to get back into games by playing one possession at a time and not worrying too much about the scoreboard early on. Conversely, the Lakers have been "bipolar" (to quote their star) and no one really knows which team is going to show up. It seems to be a matter of focus and effort, and the Lakers have struggled with their consistency in both areas of the game. There are times that they look like the best team in the league and there are times when they look like they should have been knocked out in the first round.
Let's look at each position and break down the different matchups…
Comments Off on The NBA Finals: Position-by-Position

Posted in: NBA, NBA Finals
Tags: 2009 Finals, 2009 Finals preview, 2009 NBA Playoffs, Andrew Bynum, Dwight Howard, Finals preview, Howard vs. Bynum, Kobe Bryant, Lamar Odom, Los Angeles Lakers, NBA Playoffs, Orlando Magic, Pau Gasol, The Finals