Magic may activate Jameer Nelson for Finals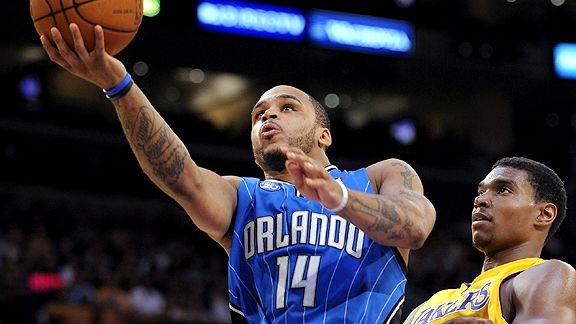 One thing that has been especially amazing about Orlando's postseason run is that they've done it all without their All-Star guard, Jameer Nelson. According to a report from the Orlando Sentinel, the Magic are considering the possibility of activating Nelson for the Finals.
General Manager Otis Smith told the Sentinel on Sunday that Nelson would only play if he passes "a litany of tests" and the club is comfortable with a decision that won't risk his future.

Nelson has not played since tearing the labrum in his right shoulder on Feb. 3 against the Dallas Mavericks. He underwent what was believed to be season-ending surgery on Feb. 19, but his rehabilitation is dramatically ahead of schedule, as much as two months.

Smith said Nelson had an MRI as recently as last week and has participated in contact drills.

"It's up in the air. We'll see how Jameer looks the next few days," Smith said. "There's a few more things we have to get comfortable with. We're looking at the pros and cons. Doctors will have to talk to doctors. If we're at a place where Jameer can help us accomplish our goals, then maybe he can play and give us some more punch.

"There's a litany of tests he'll have to pass. His health is the main thing. We're not going to mortgage his future."
The Magic went 2-0 versus the Lakers this season and in those two games, Nelson averaged 27.5 points (on 59% shooting), 6.5 assists and 5.0 rebounds, so getting him back would be a big boost for the franchise. I wouldn't expect him to be very sharp after sitting out so long, but he could give the Magic some key minutes in certain situations. Besides, if he can shoot the ball, he can help.