The NBA Finals: Position-by-Position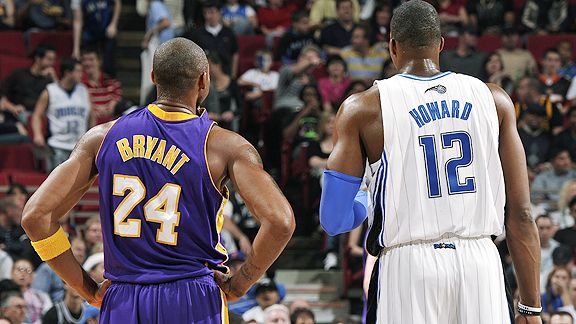 It's not the matchup that everyone (outside of central Florida) wanted to see, but it's a good matchup nonetheless. The Magic proved in their series against the Cavs that they are currently the best team in the East, and they'll face the battle-tested Lakers who are coming off a pair of rough and rugged series against the Rockets and the Nuggets.
Orlando has been the more consistent team and they don't get rattled. They get down big with regularity and have been able to get back into games by playing one possession at a time and not worrying too much about the scoreboard early on. Conversely, the Lakers have been "bipolar" (to quote their star) and no one really knows which team is going to show up. It seems to be a matter of focus and effort, and the Lakers have struggled with their consistency in both areas of the game. There are times that they look like the best team in the league and there are times when they look like they should have been knocked out in the first round.
Let's look at each position and break down the different matchups…
PG: Fisher/Farmar/Brown vs. Alston/Johnson/Nelson
I think this is safe to say that this isn't the strength of either team. Without Jameer Nelson, the Magic have been relying on Rafer Alston and Anthony Johnson. Alston was inconsistent during the Cleveland series, scoring 11, 4, 18, 26, 3 and 13 over the six games against the Cavs. But it wasn't due to a drastic swing in shots; he took 10 or more in five of the six games. He either shot the ball well or he didn't. Johnson is a hard-nosed fill-in who can watch with Derek Fisher, but might have a problem with the athleticism of Jordan Farmar and Shannon Brown. The Laker bench has struggled, so if Farmar or Brown could provide some spark, it would allow Phil Jackson to rest Kobe a bit more.
There has been some talk that the Magic may activate Jameer Nelson for the Finals, though even if he were to play, I wouldn't expect him to perform like the All-Star he was this season. He was a key player in both regular season wins against the Lakers, averaging 27.5 points in those two games. He'll probably be rusty and it's going to take him a while to get into basketball shape. If he is available, Stan Van Gundy will probably use him in spot duty.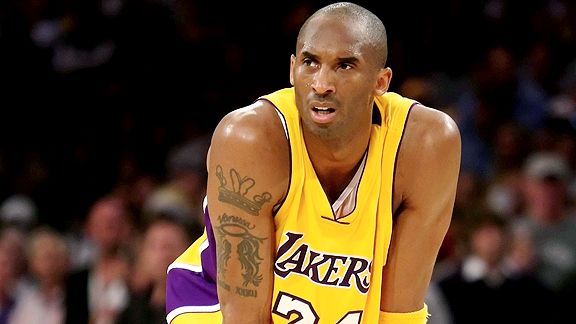 SG: Kobe/Vujacic vs. Lee/Pietrus/Redick
Sure, LeBron averaged better than 40 points per game, but Mickael Pietrus earned rave reviews for his ability to (sort of) cover LeBron one-on-one. Lee will likely get the start, but Pietrus will probably be the one watching Kobe in crunch time. Both Magic guards are athletic enough to hang with Kobe, but they need to be smart and avoid leaving their feet when he throws multiple ball fakes. The key with Kobe is keeping him out of the lane and off the free throw line. If he scores 35+ per game on contested jumpers, I think Van Gundy will take it. His plan in the Cleveland series was to "let" LeBron get his (on tough, contested shots) and control the Cavs' role players. He'll probably use a similar strategy in the Finals with Kobe.
On the flip side, both Lee and Pietrus have enough offensive ability to keep Kobe engaged. Pietrus shot 47% from long range against the Cavs, so Kobe can't wander off when he's in the game. Jackson may elect to put Kobe on Hedo Turkoglu, especially in crunch time.
As for Vujacic, he hit 40% of his threes against the Nuggets, so he's starting to show some signs of breaking out of his shooting slump. The Magic can't forget about him. For Orlando, J.J. Redick has been the forgotten man in the Magic's backcourt rotation, largely due to the fine play from Pietrus and Van Gundy's desire to keep Turkoglu and Rashard Lewis on the floor as much as possible.
SF: Ariza/Walton vs. Turkoglu/Pietrus
If Jackson assigns Ariza to cover Turkoglu, this will be one of the most interesting matchups of the series. So much of Orlando's offense is run through the 6'10" Turkoglu. He and Dwight Howard run a pick-and-roll at the top of the key. If the defender goes under the screen, he'll shoot the open three. If the defender comes over the top, he'll look to penetrate and create. If Howard's defender jumps out to help, Turkoglu will pass the ball to another perimeter player who will look for Howard cutting to the rim. It's an effective offensive set and how the Lakers handle it defensively will go a long way towards determining the winner of the series. As for Ariza's offense, he has shot the ball well of late and needs to keep it up to space the court for Kobe and Pau Gasol to operate.
Luke Walton's play has been spotty, but he's probably quick enough to stay with Turkoglu, who gets by more on guile and deception than pure turn-the-corner speed. Walton has a tendency to foul, so look for Turkoglu to try to take advantage of that.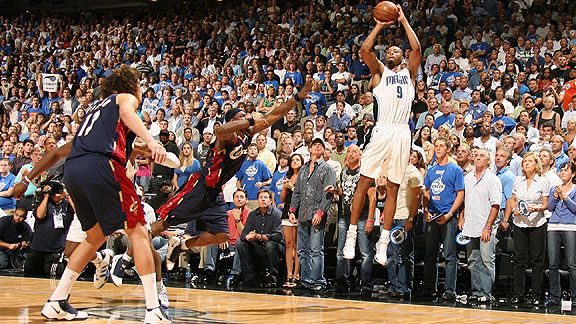 PF: Gasol/Odom vs. Lewis/Battie
The frontline is where these two teams are vastly different. The Lakers would like to utilize Andrew Bynum as much as possible to guard Howard, which means that Gasol will have to play a lot of power forward. But Lamar Odom is a much better defensive matchup on Rashard Lewis. Lewis will cause fits for Gasol, but the same is true on the other end of the court, where Gasol's length will trump Lewis in the post. If Bynum does a good defensive job on Howard, look for Jackson to keep Gasol in the game to make Lewis defend in the post. If Bynum struggles on Howard and Lewis gets off offensively, look for Jackson to go with an Odom/Gasol combination at the PF/C positions. It was Lewis' offensive versatility (shooting over or driving past bigger players on the perimeter, posting up smaller players down low) in the Cleveland series that caused all sorts of problems. The Lakers have their own finesse power forward in Odom, but how much will they use him? He's been up and down his entire career and it's tough to know what the Lakers will get from him on a nightly basis.
C: Bynum/Gasol vs. Howard/Gortat
If the Lakers get into serious foul trouble, they could also throw D.J. Mbenga out there and see how he fares. Bynum has repeatedly asked for more minutes, and this is his chance to shine. Howard has dominated the glass in the regular season meetings, which is a problem, but more importantly, can Bynum cover Howard one-on-one? The Magic are at their best when teams are forced to double-team Howard, freeing up their arsenal of perimeter shooters for open threes. If Bynum can contain Howard in the post, the perimeter defenders can stay home on the shooters and the Magic will be forced to rely on the pick-and-roll with Turkoglu and Howard.
Free throws will also play a huge role for Howard. He shot 70% against the Cavs, but is a career 60% shooter. If he can keep up his recent accuracy, it's going to put the Lakers in a tough spot.
Who will win?
The Lakers have home court so they have the advantage in this series. If they play hard and execute, they're going to be very tough to beat. But the Magic are more than capable of winning a couple of games in L.A. if the Lakers don't show up mentally or are physically unwilling to compete inside (as they were against the Celtics in last year's Finals). The 2-3-2 format is tough on the team without home court. They essentially need to steal one of the first two games and then hope they can win three in a row on their home court. A Game 6 win on the road is feasible, but winning Game 7 on the road is next to impossible. To upset the Lakers, the Magic need to jump all over them early in the series and try to take both games in L.A.. It would be a difficult (but not impossible) feat; if not for some poor execution down the stretch, the Nuggets could have won the first two games in L.A. and it would have put the Lakers in a very tough spot.
I expect the Lakers will show up and win this series in 6 or 7, but I wouldn't be surprised if the Magic win in 5 or 6. This series is a lot closer than most pundits seem to think.
Comments Off on The NBA Finals: Position-by-Position

Posted in: NBA, NBA Finals
Tags: 2009 Finals, 2009 Finals preview, 2009 NBA Playoffs, Andrew Bynum, Dwight Howard, Finals preview, Howard vs. Bynum, Kobe Bryant, Lamar Odom, Los Angeles Lakers, NBA Playoffs, Orlando Magic, Pau Gasol, The Finals