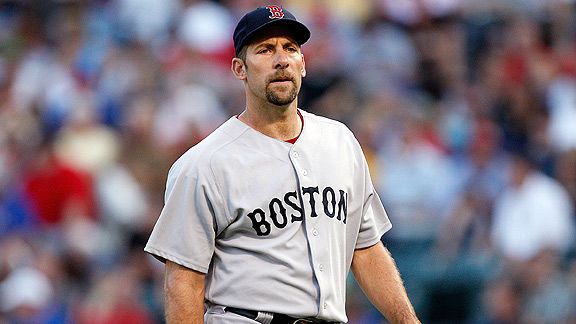 John Smoltz has been one of the finest pitchers in his era, but has he reached the end of his career?
Thursday night, Smoltz was rocked for nine hits and eight earned runs in just 3.1 innings of work as the Yankees crushed the Sox 13-6 in New York. Smoltz got through the first three innings without giving up a run, but once the Yankees started turning over their lineup, they began to tee off on him.
This was his fourth start in a row where he's given up at least five earned runs. Over that span, he's not only been incredibly hittable, but he also has been missing with his fastball and last night he struggled with his control. When he's missing with his pitches, he's leaving the ball in the zone and he's getting crushed. One of the main reasons he's still pitching at 42 is because he's always had impeccable control. But if he doesn't have that part of his game, he might as well be throwing beach balls at hitters.
Smoltz was a nice signing for the Sox in the offseason and maybe he still needs time to work himself back into game shape after having shoulder surgery earlier this year. But Boston can't continue to lose every fifth day waiting for him to work out the kinks.
Maybe it's time for Terry Francona to move Smoltz to the bullpen.