Bay, Red Sox break off contract talks again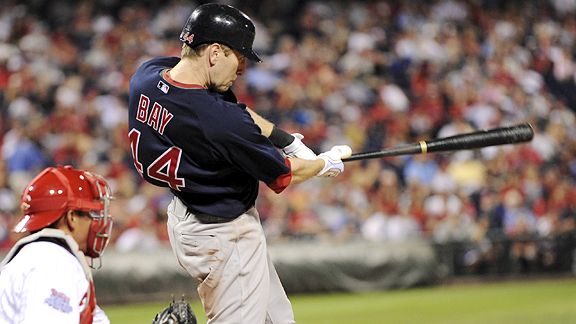 For the second time this year, the Red Sox have broken off contract talks with outfielder Jason Bay, who becomes a free agent after the season.
"It's now clear that this round of talks won't result in a deal, either,'' Epstein said. "As a result, we're going to table discussions again, which once again is a mutual decision, and pick them up most likely after the season.''

That does not necessarily mean that Bay is eager to test the free agent market. While that would likely garner him bigger offers, especially with the Yankees in need of a left fielder for 2010 and beyond, Bay said he could resume talks with the Red Sox before filing for free agency. The sides, Bay said, have made progress since they first broke off talks in spring training.

"I'm not trying to set a precedent,'' Bay said. "Just looking for something that's fair. Whether that's changed over the last three months, you guys can determine that.
Ultimately I think a deal between Bay and the BoSox will eventually get done. It might drag on into the winter, but if Epstein wants him bad enough, Bay will be back patrolling left field at Fenway again next season.
But if Bay flies the coup (either to the Bronx or otherwise), I wouldn't discount the Sox taking a look at Matt Holliday, who becomes a free agent after this season. He hasn't hit well this season, but he would be the next best available after Bay and he'll still be relatively young.
Again though, I think Bay will wind up back in Boston. He has dramatically upgraded his defense at Fenway and while he probably isn't as good as he was at the start of this season, he's a quality bat and someone the Sox can plug in the middle of their lineup for the next couple seasons and not have to worry about filling that void.