King: Vick shouldn't go on Oprah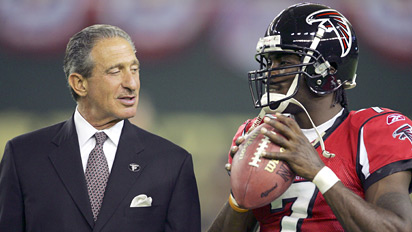 While appearing on Dan Patrick's radio show, SI.com's Peter King squashed Rich Eisen's idea that Michael Vick should go on Oprah and make a public appearance (as opposed to crawling into a hole and avoiding the public eye) once he's out of prison.
"I don't think Oprah Winfrey helps him at all," King said. "He needs to say something personally to both Arthur Blank and Roger Goodell."

King said that Vick needs to earn his honor back quietly and behind the scenes. He shouldn't go on TV and deliver a mea culpa that may or may not be sincere.

King said the circus around Vick on a new team will be intense for two weeks, but then maybe settle down.

King said a team that's use to attention like the Cowboys and Redskins has to take him. King said he thought the Bucs would go after him, but now they have "65 quarterbacks."

"I'd love to have this guy on my team," King said of Vick.
King brings up a good point in that Vick should make personal apologizes to those he lied to and not try to fix everything by making one big public appearance on a show like Oprah. As King noted, there's a chance Vick could come off looking unapologetic and insincere during the interview and that would only hurt his public image even more. (If that's even possible, that is.)
I'm a little surprised that King would say that he would "love" to have Vick on his team, although he might be trying to convey that Vick has done his time and deserves a second chance.