Ravens interested in Anquan Boldin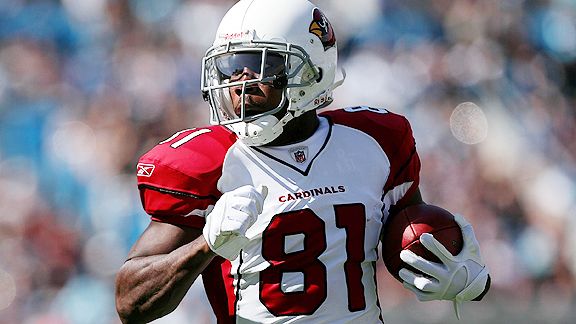 Throw the Ravens into the mix of teams interested in acquiring wideout Anquan Boldin from the Cardinals.
In a move that could drastically change this year's NFL draft, the Ravens have expressed interest in acquiring wide receiver Anquan Boldin from the Arizona Cardinals, a league source confirmed Thursday.

It would likely take a first- and a third-round draft pick to acquire Boldin, who had 89 catches for 1,038 yards and 11 touchdowns last season.

This is the third time in five years the Ravens have considered trading for a wide receiver. Their trade for Terrell Owens in 2004 was rescinded, and the team failed to complete a deal for Randy Moss in 2005.

Asked whether the Ravens have contacted the Cardinals about Boldin, general manager Ozzie Newsome said Thursday: "With the draft coming up, I've had a chance to talk to eight different teams over the past 48 hours."

Boldin, 28, would be attractive to the Ravens because they couldn't draft a proven receiver like him with the 26th overall pick.
As the article points out, if the Ravens are determined to take a receiver at No. 26, then giving up a first and a third for Boldin would be wise. Any receiver they take in the first round would need two to three years to develop and even then, they might not be half the player Boldin is right now.
Giving Joe Flacco a highly productive wide receiver like Boldin would be an outstanding move. But is it more important than filling their defensive (their identity) holes? Remember, Baltimore lost Bart Scott to the Jets in free agency and released cornerbacks Samari Rolle and Chris McAlister. They did sign free agent Domonique Foxworth, but that still leaves a hole at the other cornerback position. Then again, the Ravens would have one of the better offenses in the NFL if they brought in Boldin, so it'll be interesting to see if they put together a trade package.