Peppers signs franchise tender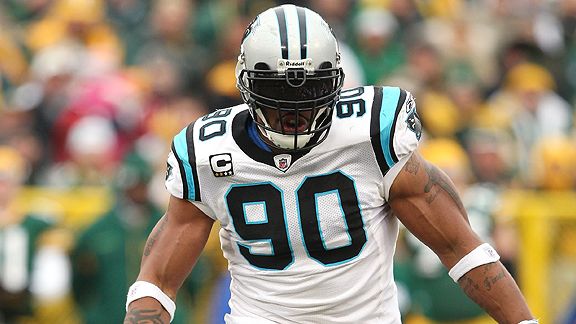 The wait is finally over for the Panthers, as defensive end Julius Peppers will sign his tender on Wednesday according to the team's official website. He'll earn $16.683 million this season.
The Panthers could still try and trade him, but it's doubtful that they find any suitors who will be willing to give up draft picks and long-term money. It's more likely at this point that the Panthers sign Peppers to a long-term deal than trade him. Carolina wants to win now and with John Fox and GM Marty Hurney's jobs seemingly on the line every year, draft picks for future years don't help them in the present.
Peppers wanted to play outside linebacker in a 3-4 scheme, but the grass isn't always greener on the other side. The Panthers hired Ron Meeks to replace Mike Trgovac as defensive coordinator and while Meeks isn't necessarily a scheming genius, Dwight Freeney excelled under him in Indianapolis so Peppers could thrive in Carolina's new scheme.
It'll be interesting to hear what Peppers says once he reports to training camp in a month. If he's going to be bitter all season about the Panthers franchising him, then it's going to be a long year. But if he shows up hell bent on having a great year so he could hit the market and prove his free agent worth, then maybe both he and the team can get what they want out of the situation.