Peppers doesn't show for Panthers' minicamp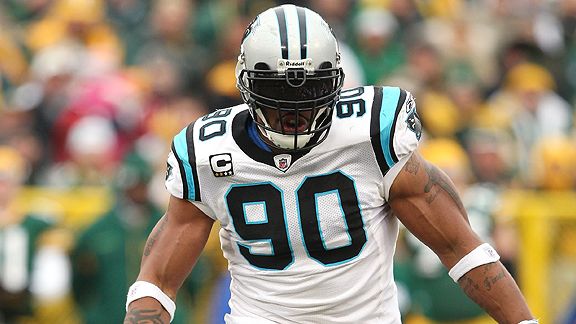 As expected, Panthers' defensive end Julius Peppers didn't show for the start of Carolina's three-day minicamp.
The stalemate continued Friday with the four-time Pro Bowl selection, who wants to play elsewhere. But the Panthers have placed the franchise tag on him, limiting his options in free agency.

Because Peppers has not signed Carolina's one-year, $16.7 million tender, he can't be fined for missing the mandatory minicamp.

General manager Marty Hurney says Friday he's had several conversations with agent Carl Carey and they've been "all positive."

Second-round pick Everette Brown of Florida State got more reps in Peppers' absence
Peppers not showing up for minicamp is hardly a story, but it could be a telltale sign that he won't show up for training camp, which would make headlines. Carolina hired Ron Meeks in January to replace Mike Trgovac as defensive coordinator, so one would think that Peppers would be in camp come July in order to learn the new scheme.
But while head coach John Fox doesn't seem concerned about his star defensive end not attending camps until July, at least one Carolina believes that he'll show up until after the padded work is complete.
It would be very Michael Strahan of Peppers if he did that.
Comments Off on Peppers doesn't show for Panthers' minicamp

Posted in: NFL
Tags: Carolina Panthers, Julius Peppers, Julius Peppers contract, Julius Peppers holdout, Julius Peppers latest, Julius Peppers no-show minicamp, Julius Peppers rumors, Julius Peppers skips minicamp, Julius Peppers training camp, Mike Trgovac, Ron Meeks