2009 fantasy football is coming soon—a look back at 2008 tight ends and kickers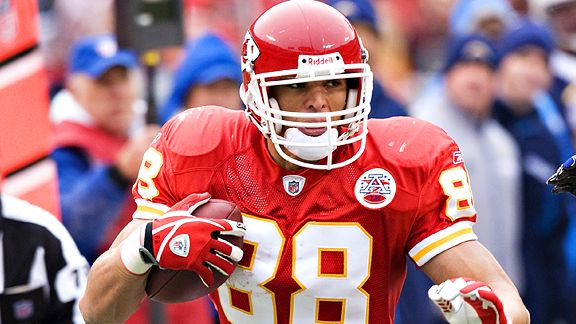 When you are drafting your fantasy football team, you're picking running backs, receivers and quarterbacks first. Tight ends and kickers are usually taken in the mid-late rounds because their value isn't as high, and, especially in the case of kickers, you can still get a decent one in the draft's final round. Here is a look back at the 2008 leaders at the two positions and how we think those numbers will project to 2009:
TIGHT ENDS
1. Tony Gonzalez, Kansas City Chiefs—During a season in which he was kind of auditioning for other teams, Gonzalez had one of his best campaigns—96 catches for 1058 yards and 10 touchdowns. Those are, like, Torry Holt numbers. Gonzo is now with the Atlanta Falcons, where he should have the opportunity to put up similar numbers in 2009.
2. Antonio Gates, San Diego Chargers—Gates had a disappointing season overall, with zero 100 yard games. But he was hurt most of the year, so even when he played he was hobbling. Still, 704 yards and 8 scores is not too shabby. This season, Gates should top that by at least 50%.
3. Dallas Clark, Indianapolis Colts—Clark was injured to start the 2008 season, but he really came on strong toward the end of it, just like his Colts team did. Clark owners were treated to a 12-catch, 142-yard, 1 TD game in week 15, and overall he finished with 77 catches for 848 yards and 6 touchdowns. There is no good reason to expect any less in '09.
4. Visanthe Shiancoe, Minnesota Vikings—Shiancoe made more headlines for inadvertently showing his bare ass on camera, but he finished the season with one huge game to pad his 2008 stats, too. That was in Week 16, known in the fantasy world as title week—so Shiancoe no doubt helped some of you win your league by catching 7 passes for 136 yards and 2 scores, giving him totals of 42-596-7 on the season. But dude is too streaky to consider drafting earlier than the 12th round or so.
5. Anthony Fasano, Miami Dolphins—Fasano was streaky but, like Shiancoe, he had a 2-TD game in Week 16, which boosted his season value. Fasano finished with 34 catches for 454 yards and 7 TDs, but I'd be surprised if he's even drafted by 50% of you. I mean, Jason Witten didn't even make this list due to being hurt most of '08.
KICKERS
1. Stephen Gostkowski, New England Patriots—The Patriots didn't score as many TDs as they did in 2007 so Gostkowski only had 40 extra points as opposed to 74 the year before. That meant more field goal opps, and he converted 36 of 40 to lead all kickers with 148 points. He also had four field goals and five PATs in week 16 to help some win titles. With Tom Brady back, there is no reason to think Gostkowski's numbers will dip much, but he may have more extra points in '09.
2. David Akers, Philadelphia Eagles—He's had a history of injuries, but when he's in the lineup, Akers is one of the game's most accurate kickers. Last season he had two 4-field goal games and three 3-field goal games. The Eagles are going to put points on the board, so Akers is draft material for sure.
3. John Carney, New York Giants—This was almost a fluke, as Carney had to fill in for the injured Lawrence Tynes. He did so well that he made the Pro Bowl, kicking 35 of 38 field goals and 38 of 38 on extra points. But with Tynes healthy, Carney is once again looking for work in '09.
4. Matt Bryant, Tampa Bay Bucs—Bryant had to endure the death of his infant son a few games in, but he battled admirably. However, this is the Bucs we're talking about, and they only allowed Bryant 36 PAT chances. Overall he had 32 of 38 field goals and 35 of the 36 extra points. But guys like Bryant are valuable because they play on teams that don't score a lot of TDs, giving them more field goal chances. He should have similar numbers this season.
5. John Kasay, Carolina Panthers—Kasay had a 4-field goal game in week 1 and another in week 17, but only 20 field goals in the other 15 games. I'm just saying, I probably wouldn't draft the guy.
Posted in: Fantasy Football, Happy Hour, NFL
Tags: Anthony Fasano, Antonio Gates, Atlanta Falcons, Carolina Panthers, Dallas Clark, David Akers, Fantasy Football, Indianapolis Colts, Jason Witten, John Carney, John Kasay, Kansas City Chiefs., kickers, Lawrence Tynes, Matt Bryant, Miami Dolphins, Minnesota Vikings, National Football League, New England Patriots, New York Giants, NFL, Philadelphia Eagles, San Diego Chargers, Stephen Gostkowski, Tampa Bay Bucs, tight ends, Tom Brady, Tony Gonzalez, Torry Holt, Visanthe Shiancoe