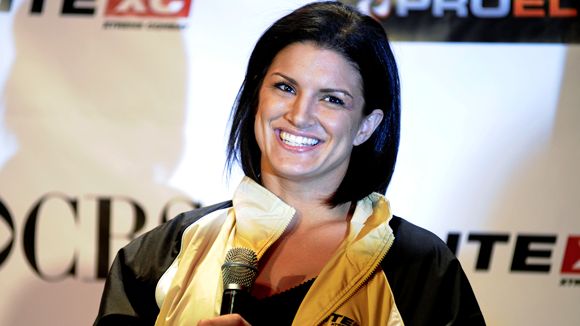 Here's a weekly rundown of MMA content from Ben Goldstein of CagePotato.com:
– Gina Carano (above photo) looks pretty hot as a pin-up girl.
– Toby Imada pulled off the most epic submission in MMA history against Jorge Masvidal at last weekend's Bellator event.
– Hatsu Hioki, Marlon Sandro, Michihiro Omigawa, and Masanori Kanehara advanced to the semi-finals of Sengoku's featherweight grand prix.
– Team U.S. and Team U.K. split a pair of quarterfinal fights, while a bounty offered for knocked-out teeth hilariously backfired on Wednesday's episode of The Ultimate Fighter. Plus, will Rampage Jackson return for season 10?
– With Houston Alexander's hand injury, UFC 98 becomes the second-most-cursed card in UFC history. Nevertheless, the show must go on, and Matt Serra has taken over video-blogging duties to promote it.
– Two new people will be inducted into the UFC Hall of Fame the day before UFC 100 in July. The smart money's on Charles "Mask" Lewis and Chuck Liddell.
– Speaking of UFC 100, a new viral effort has been launched to get the crowd to chant "Fedor!" immediately following the Brock Lesnar/Frank Mir main event, pretty much just to screw with Dana White.
– Despite getting KTFO'd, Benji Radach is appealing his April 11th Strikeforce loss to Scott Smith.
– Your chance to win an all-expenses-paid trip to UFC 98 from CagePotato.com ends on Monday!
Comments Off on Friday MMA Review 5/8

Posted in: Mixed Martial Arts
Tags: Benji Radach, Charles "Mask" Lewis, Chuck Liddell, Fedor Emelianeko, Gina Carano, Gina Carano photos, Hatsu Hioki, Jorge Masvidal, Marlon Sandro, Masanori Kanehara, Matt Serra, Michihiro Omigawa, MMA, MMA News, MMA rumors, Rampage Jackson, Sengoku gran prix, The Ultimate Fighter, Toby Imada, Toby Imada submission, UFC, UFC rumors