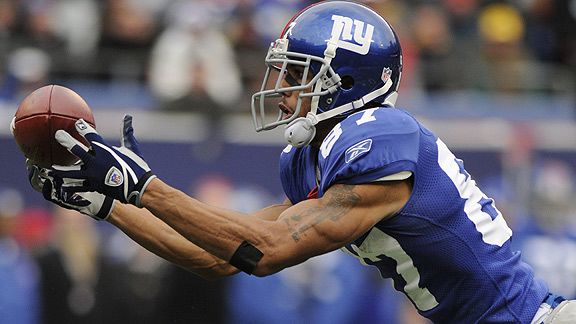 All 2009 Fantasy Articles | 2009 Position Rankings
In the world of fantasy football, the WR position is by nature in constant flux. Every NFL team has two starters, and the potent offenses are even capable of giving a third WR some fantasy value. This means that there are 80+ wideouts that will get consistent playing time on a weekly basis, and that provides plenty of opportunity for surprise breakout stars. Compare this to the RB position, where it usually takes an injury for a lesser-known back to get a shot. Last year, Eddie Royal, Lance Moore, Kevin Walter, Isaac Bruce, DeSean Jackson and Steve Breaston all finished in the top 30 in PPR leagues, and 2009 should have its fair share of surprises.
I listed my mid-round value WRs as part of our positional preview, but here are my top 5 late-round gems (for PPR leagues), sorted by projected value in relation to price. I'll also list several more to keep an eye on as your fantasy draft winds down. To be eligible, the wideout has to have an average draft position (ADP) in the double digits (i.e. he's going in the 10th round or later).
And off we go…
1. Domenik Hixon, Giants (12.07)
With Plaxico Burress sitting in court, pondering his decision to stuff a gun in the waistband of his sweatpants, the Giants have a gaping hole at WR. Hixon hopes to fill it, and he's already shown signs that he's capable. Over the last six weeks, Hixon averaged 4.7-59-0.2. He's just 24, possesses great speed and is entering his third season, which is a prime time for a WR to break out. Sure, the Giants' decision to draft Hakeem Nicks is a little worrisome, but he's been hobbled with a bad hamstring and has a long way to go to usurp Hixon, whom I'd start to think about in round 10.
2. Davone Bess, Dolphins (16.03)
As a rookie, Bess stepped in for the injured Greg Camarillo, and posted 5.8-61-0 – that's a 92-catch pace – over the last six games. He only scored one TD all year, so obviously he's better suited for a roster spot in a PPR league, but he's tough, quick and has good hands. I like Ted Ginn as well, but Bess is a better value in the waning rounds, especially since he's still in the starting lineup despite the fact that Camarillo is healthy again.
3. Chaz Schilens, Raiders (14.10)
It's always dicey to count on an Oakland WR, but in the later rounds, Schilens is definitely worth a flier. The Raider beat writers say that he is the team's clear #1 WR, and he has performed well in the preseason, building on his momentum from the last two games of last season (6 catches for 98 yards and two TD against the Texans and Bucs). Schilens could be primed for the rare (but not unheard of) second-year breakout. It certainly helps that JaMarcus Russell seems to be consistently looking his way.