Jets exploring wide receiver market – Marshall could be a target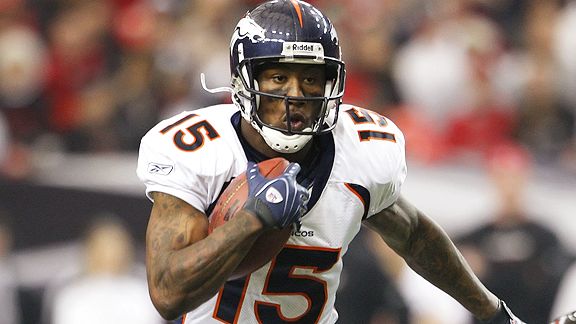 According to Rich Cimini of the New York Daily News, the Jets are exploring a trade for a receiver and Brandon Marshall is the biggest name on their radar.
If the Jets do add a veteran, it probably won't be a free agent such as Marvin Harrison.

Another name to watch is the Chiefs' Dwayne Bowe, a former first-round pick. He caught 86 balls for 1,022 yards on an awful team last season, but he's had a difficult transition under new coach Todd Haley. He may have played his way out of the doghouse with five catches in the preseason opener, but the Chiefs are rebuilding and will move a player if he doesn't fit their long-term plans.

The Giants are another team that bears watching. They have a glut of receivers, and the Jets are wondering if one, perhaps Sinorice Moss, will become available.
The Jets are awfully inexperienced at receiver so it makes sense that they would be interested in trading for one. But they could have a hard time finding a trade partner, especially as the regular season draws closer.
The Broncos have already stated that Marshall isn't available, but if he continues to make a stink about his contract they could wind up dealing him and picking up yet another first round pick for 2010. (They already acquired a first round pick for next year in the Jay Cutler trade.)
Even though Bowe may be in Haley's doghouse, he's a key piece to an improving young offense in Kansas City. So it's highly doubtful that Scott Pioli would make him available. Still, the Jets' receiver situation will be intriguing to follow over the next week or so.