Will the Jets trade Thomas Jones?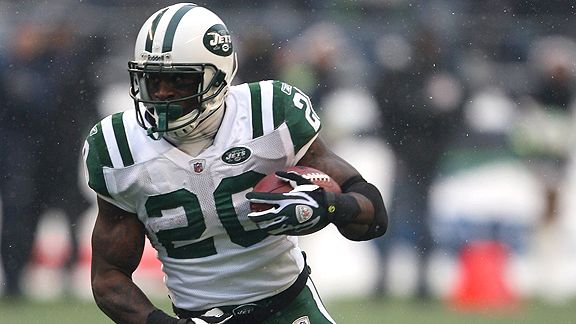 One of the more interesting and underlining storylines brewing in the NFL these days is the current one between the Jets and running back Thomas Jones, who is unhappy about his contract situation and who already skipped the first two months of the team's OTA sessions.
Jones did report to the team's OTAs last Wednesday, although some believe that was only because the Jets promised him that they'd try to trade him this summer if he showed up. He's set to make $1 million in 2009, but no money in the remaining two years of his contract is guaranteed and that's why he wants a new deal.
The Jets are in a tough spot because running back Leon Washington is also peeved about his contract situation, too. The team did draft Iowa running back Shonn Greene in April, but the Jets can't afford to lose both Jones and Washington, leaving Greene (a rookie) as their full-time back.
Personally, I don't blame the Jets for not caving into Jones' demands. They paid him $13 million over the last two years and really only got one season of service out of him after he rushed for only 1,119 yards on 310 carries and one touchdown in 2007. He did bounce back last year, amassing 1,312 yards on 290 carries (4.5 YPC) and 15 total TDs, but one good season is hardly worth demanding a new contract, especially considering that he turns 31 in August.
If the Jets don't want to pay Jones, they're probably going to have to trade him. He's not going to play without a guaranteed contract and they still have to figure out what they're going to do with Washington. The key might be Greene; if he proves this summer that he can handle being the team's early down back, the Jets could make Washington happy and trade Jones. (Assuming they have a suitor for Jones, of course.)
The Jets could do far worse than a duo of Greene and Washington, assuming Greene is up for the challenge as a rookie and they meet Washington's contract demands (whatever they may be).