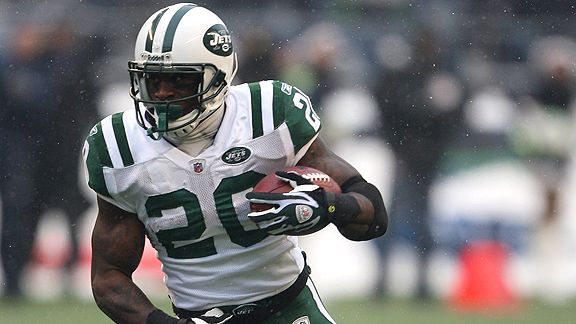 The National Football Post is reporting that the Jets are gauging interest in running back Thomas Jones, but the Newark Star-Ledger and New York Daily News dispute that report.
A rumor on nationalfootballpost.com that the Jets are shopping veteran running back Thomas Jones to an NFC West team is not true, according to a person with knowledge of the club's plans. That person spoke on the condition of anonymity because he's not authorized to speak on the matter publicly.

Jones, the defending AFC rushing champ, is unhappy with his contract and missed most of the team's offseason workouts. He's scheduled to earn $900,000 this season in the third year of a four-year, $20 million contract.
The Jets seem content with going into the season with Jones, Leon Washington and Shonn Greene on their depth chart and seeing who emerges from the pile. Jones doesn't become a free agent until 2011, so it'll be interesting to see what the Jets do after the season if Greene (who is a rookie this year) flashes some potential.
I would assume that the future of the Jets' backfield is Washington and Greene, although the team isn't going to part with Jones until they see Greene in live action.