Stallworth to plead guilty in DUI manslaughter case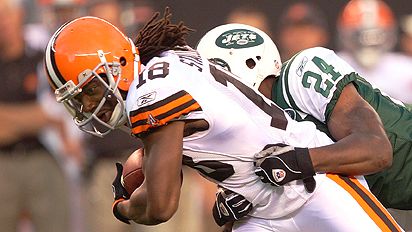 Browns' receiver Donte' Stallworth has agreed to a plead guilty to a DUI manslaughter charge stemming from an incident in Miami in which he struck and killed a pedestrian with his car.
Stallworth, 28, is scheduled to appear Tuesday in a Miami courtroom to enter the plea. If accepted by Miami-Dade Circuit Judge Dennis Murphy, Stallworth would serve a short jail sentence for the March 14 crash, followed by lengthy probation and numerous conditions, Terry Chavez, spokeswoman for the Miami-Dade State Attorney's Office, told The Associated Press.

Miami Beach police said Stallworth was drinking at a bar in the swank Fountainebleu hotel. He left to go to a nearby home — he owns three properties in the Miami area — and then headed out in his black 2005 Bentley on MacArthur Causeway, which links the beach to downtown Miami.

Prosecutors say Stallworth hit 59-year-old Mario Reyes, a construction crane operator who was rushing to catch a bus after finishing his shift around 7:15 a.m. Stallworth told police he flashed his lights in an attempt to warn Reyes, who was not in a crosswalk when he was struck.
"He's shown remorse and taken responsibility from day one," Chavez said.

Stallworth stopped after the crash and immediately told officers he had hit Reyes. Police estimated Stallworth was driving about 50 mph in a 40 mph zone.
This is a sad situation and one of those moments that could have been avoided had one thing went differently. If Stallworth hadn't been drinking, maybe his reaction time would have been better and he could have slammed on his breaks. If Reyes hadn't been rushing to get on the bus, maybe he would have used the crosswalk instead of running across a busy street.
Either way, it's a tragedy. But at least the court process doesn't look like it will be dragged out, which is good for everyone involved.
Update: Stallworth will serve 30 days in jail for pleading guilty to DUI manslaughter. It's assumed that he will be able to continue his football career by reaching this plea agreement.