Stallworth to avoid manslaughter charges?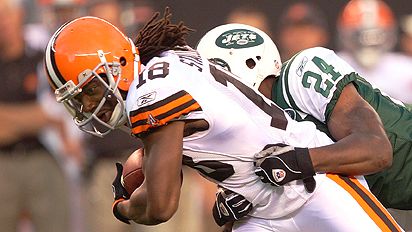 In a stunning development, Yahoo! Sports writes that Browns' receiver Donte Stallworth could avoid a DUI manslaughter conviction stemming from the accident he had in mid-March in which he killed a pedestrian.
According to Florida's DUI manslaughter law, there are exceptions under what is called "causation" of an accident. In short, someone who is driving drunk and causes an accident is not necessarily responsible if the other party did something to contribute to the accident. Florida statute 316.119 was changed in the 1980s to reflect that after a state Supreme Court judge ruled that the state's previous strict liability standard on drunken drivers was essentially unfair.

The exception is based on the idea that if a drunken driver stopped at an intersection was hit by another car and the driver of the other car died, the drunken driver should not be held responsible.

In this case, Reyes allegedly was jaywalking at the time he was hit and killed by Stallworth. If Reyes was jaywalking, it could be argued he contributed to the accident. In addition, Stallworth claimed to have flashed his lights and honked his horn at Reyes, which is being interpreted by Stallworth's side as a way of warning Reyes to get out of the way.
The article also states that Stallworth's jail time could be reduced to as little as two or three months, which is just flabbergasting considering that he killed a man while driving drunk. This reeks of Leonard Little's 1998 manslaughter case, in which he only received 90 days in jail, four years probation and 1,000 hours of community service after driving under the influence of alcohol and killing a woman driver.
I feel horrible for the family of the man Stallworth hit. Not only did they lose a member of their family, but now they also have to endure the pain of having Stallworth and his defense team try and prove that he was partly at fault because he jaywalked. Hey, if Stallworth wasn't being an idiot and driving drunk, maybe this entire situation could have been avoided in the first place. What a tragedy.