Cliff Lee could return this month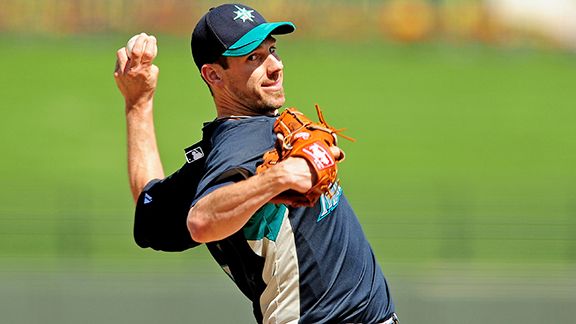 After witnessing Cliff Lee throw a solid bullpen session, Geoff Baker of The Seattle Times thinks that the 2008 Cy Young winner could make his first professional start as a Mariner in a couple of weeks. Lee is currently sidelined with an abdominal strain.
"He looked outstanding," Mariners manager Don Wakamatsu said. "He was supposed to throw between 50 and 55 pitches and he ended up throwing I think 63."

Lee's simulated game is scheduled for Friday.

"We're going to look at a simulated game that we had scheduled for two or three innings and maybe see if we can't bump that up to three or four because he feels so good," Wakamatsu said.

At which point, I asked him whether the team would consider shortening the number of simulated games Lee would pitch and theoretically have him ready to return this month.

"Yeah, that's our tendency right now…that's a possibility," Wakamatsu said.
Remember, Lee still has a five-game suspension to serve for an incident that occurred during spring training. His appeal on the matter is scheduled for Wednesday, and Lee is simply hoping to get the amount of games reduced. Nevertheless, whenever he does make his debut, Seattle will cheerfully welcome him onto their struggling team. So far, the Mariners have fared poorly offensively, waiting on that boost from other additions Chone Figgins, Milton Bradley and Casey Kotchman. Thus, they're practically relying on their pitching. But they don't have much as starter Erik Bedard is attempting to come back from a surgically-repaired left shoulder as well.
It's still very early in the season, but Mariner fans must be a tad worried. Team GM Jack Zduriencik had a lauded offseason, but injuries and slow starts are damaging his work. Obviously, once they get a cohesive and healthy team together we'll get a true sense of their strength. Still, you can never tell with injuries, or Milton Bradley, for that matter.