Sports poll: A-Rod not MLB's best player anymore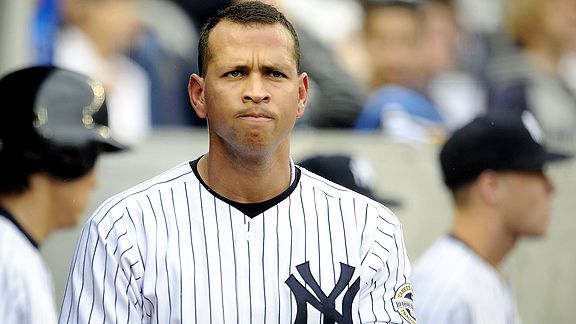 Here's a shock: Alex Rodriguez is not considered baseball's best player anymore according to a report by the New York Daily News.
In a random, unscientific survey that included several scouts, executives, players and other observers, none said Rodriguez was still the best player in baseball.

"When I think of the best player, Pujols' name stands out," one scout said, a sentiment echoed by many. Others suggested Minnesota catcher Joe Mauer or Tampa Bay third baseman Evan Longoria.

But no one said A-Rod was out of the conversation, either. While a few predicted his production would decline, they also said he would remain among the top run producers in baseball. Because of Rodriguez's admission he used steroids from 2001-03 while with Texas, some said they'll always wonder what is genuine in A-Rod's career.

One major-league scout who has watched Rodriguez extensively this season replied, "Probably so," when asked if A-Rod's best days were behind him.
While players like Mauer and Hanley Ramirez certainly garner attention, Pujols is the best player in baseball. He's the best pure hitter in the game right now and he puts up out-of-this-world numbers in a lineup that isn't conducive to do so. He's the best, period.
That said, here's hoping he never breaks our hearts by testing positive for PEDs. I, like many baseball fans, want to continue to believe that what Pujols is doing on the field is 100% legit. As of now, there's no reason to believe otherwise.