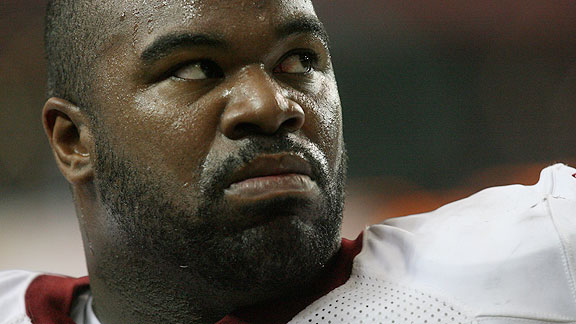 Many of Albert Haynesworth's Redskins teammates have expressed their displeasure over the last two days in the defensive tackle's decision not to report to a mandatory mini-camp because he wants to be traded.
Actually, let me start this post over. In 3…2…1…
Many of Albert Haynesworth's Redskins teammates think he's a bum. And this post is in dedication to all the things that they've said about him since he's decided that he can dictate where he plays and in what system he plays in.
London Fletcher:
"He can say what he wants to say about being traded, but there are ways he can't be a Redskin — give the money back. I'm sure they'll take it, and we'll move on without him. I want teammates I can count on, depend on and know in the fourth quarter, will make a play and do the job that's called of him. We need people we can depend on. Right now, he's showed he can't be depended on."

"It's no different than his attitude and approach to last year's defense, about wanting everything to revolve around him and him making plays. And if it didn't benefit him, he wasn't really willing to do it."

"There's ways he cannot be a Redskin: Give the money back. We'll move on without him. I want teammates who I can depend on, who I can count on, who in the fourth quarter I know is going to be there to make a play or do his job that the defense calls [for]. We need people that we can depend on. And at the end of the day, right now, he's showing that he can't be depended upon. … Last year we had a lot of selfishness that took place, and we got 4-12 out of that. This year, we can't have that."
Phillip Daniels:
"I think I speak for every guy on this team: We all feel like he turned his back on us."
Casey Rabach:
"It's getting to be selfish. He's hurting the team. It doesn't sit well with the players. … You can't really count on him right now."
Mike Shanahan:
"But on April 1, when we owed him a check for $21 million, we said, if you do take that check, we expect you to be the best defensive end, best nose tackle and if we played you at free safety, we'd expect you to be the best free safety — even though he'd have to lose a little weight — whatever position we wanted to play him at, that he'd do the best job he possibly could that would make him the best football player."

"Obviously, he took the check, so I was surprised that he wasn't here today. Because I thought he did make that commitment and once he took that check, that he wanted to be a Washington Redskin, that he wanted to do the best thing for the Washington Redskins to help our defense and help our football team win. Obviously it didn't go in that direction, so quite disappointed."

"Am I disappointed that he's not here, yes, yes, I am," he said. "Because I thought when he did take that check, he was going to make a commitment to be a Washington Redskin and do the best thing he could possibly do to help our team win."
DeAngelo Hall:
"We know Albert's going to do what he wants to do. Whether it's going to benefit him, benefit the team, or if it's a stupid idea or a good idea, he's going to do what he's going to do. It's kind of hard to change his mind."
Andre Carter:
"It's pretty much self explanatory – he doesn't want to be here. He wants to go someplace else, which is fine."

"We kind of wish he would have said it earlier. [Before Tuesday] we had a level of anticipation of, 'Things are going to work out. He'll come back and be a beast and be in shape.' The coaches would see him prove his worth."
What they said.