Report: Tom Cable likely to be fired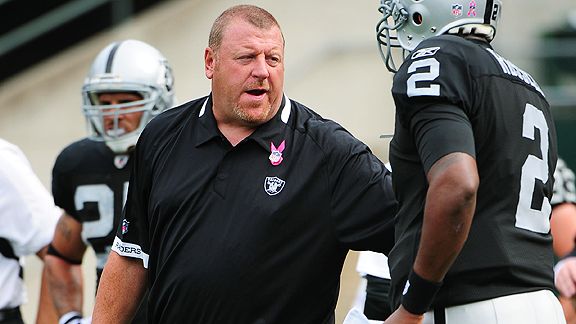 According to the San Jose Mercury News, "all signs point to" the Raiders firing Tom Cable this offseason.
In the Raiders' case, that means parting ways with coach Tom Cable and hitching their floundering franchise to another coach who has a fresh set of ideas and the patience to put up with quarterback JaMarcus Russell.

Managing general partner Al Davis has yet to weigh in publicly on the matter.

However, several people close to Davis say he is inclined to fire Cable and hire a new coach for the sixth time since Jon Gruden was jettisoned after the 2001 season.

When asked if he is expecting to be the coach next season, Cable said: "I am, because I see, and you all see, too, where this team is going, and what we've been able to accomplish in proving some things.
If Davis fires Cable and keeps Russell, that would be yet another horrendous decision in a long line of horrendous decisions by Al Davis. I'm not necessarily suggesting that Cable should be retained, but what has Russell shown in four years that would make Davis (or any owner, coach or water boy for that matter) want to keep him? Russell is absolutely abysmal and shows zero signs of ever becoming a professional quarterback.
At the very least, Cable should be credited for benching Russell and having a little success with castaways like Bruce Gradkowski and Charlie Frye. The Raiders were actually competitive with Gradkowski and Frye under center, not so much with the biggest bust in NFL history. Personally, that merits Cable keeping his job for at least another year. He's not the Raiders' biggest problem – Davis is, with a little aid from Russell.
We'll see if Cable is inevitably gets the boot, although if I were a Raider fan I'd currently have that horrible, Al-Davis-is-about-to-screw-us feeling in the pit of my stomach.