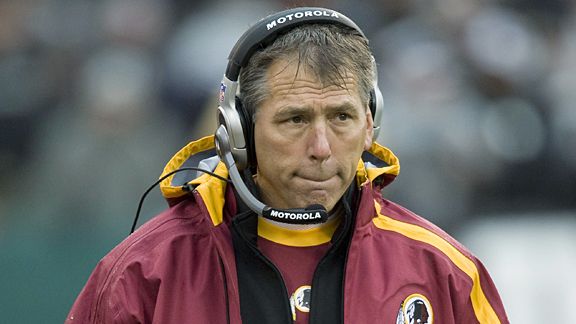 Black Monday was kicked off in the NFL with the firing of Jim Zorn, which surprised absolutely no one.
From the Washington Post:
"The status quo is not acceptable," General Manager Bruce Allen said in a statement. "I felt it was necessary to not waste a moment of time to begin building this team into a winner."

The Redskins may swiftly announce his replacement, possibly within hours. In December, Washington forced out longtime front office executive Vinny Cerrato and announced the hiring of new general manager Bruce Allen within two hours, putting in motion the overhaul of the franchise's infrastructure after a 10-year period that featured just two playoff appearances.

Former Denver and Oakland coach Mike Shanahan, who won two Super Bowls with Hall of Fame quarterback John Elway and the Broncos, has been the presumed hire for weeks. Several NFL sources have said over the past month that they believe Shanahan has long been the choice of Redskins owner Daniel M. Snyder, who now must hire his seventh head coach since he took control of the team in 1999.
Zorn wasn't given much of an opportunity to succeed from the very beginning. He was hired by Daniel Snyder to become the Redskins' offensive coordinator and then thrust into the head coaching position after Snyder couldn't find a candidate he liked. Zorn was overmatched from the beginning and despite getting the Redskins off to a good start in 2008 his inexperience eventually did him in.
After losing his offensive playcalling duties earlier this season in Washington, I doubt he'll land a gig as a coordinator right away but you never know. Even though he was fired, I imagine part of him has to be thrilled that he's leaving that mess behind.
We'll see if the Redskins move quickly on Shanahan. I suspect they will.