Zorn to coach the rest of the season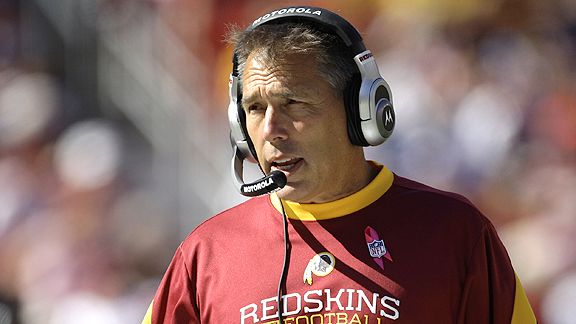 According to a report by Redskins.com, Washington general manager Vinny Cerrato said that Jim Zorn would remain the head coach throughout the rest of the season.
"Let me start by making a few things very perfectly clear," he said. "Jim Zorn is the head coach of the Washington Redskins and will for the rest of this season, and hopefully into the future."
Zorn isn't going to be the Redskins' head coach in 2010. There's just no way. It's difficult to replace a head coach in the middle of the season, so it makes sense that the team would endorse Zorn for the rest of the year. If he has a lucky charm up his ass and magically turns the Skins around, then Cerrato and Daniel Snyder can re-asses the situation at the end of the season. But the more likely scenario is that Snyder already has a list of coaches that he wants in 2010 and is planning on speaking to them after the season.
You can't lose to three previously winless teams and hang onto your job at the end of the year. (Especially when one of those previously winless teams was the 0-19 Detroit Lions.)