2009 NHL Preview: San Jose Sharks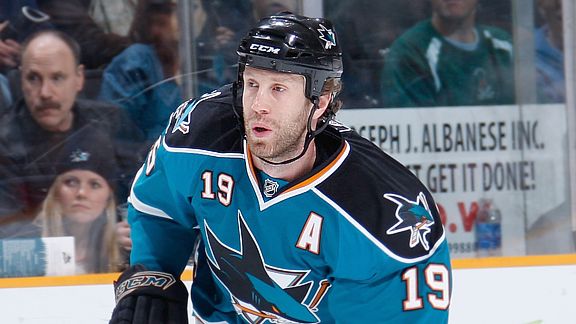 We've partnered with On Goal Analysis to bring you a team-by-team preview of the upcoming NHL season. (Just scroll down on the OGA website and hit the calendar.) Here is the preview for the San Jose Sharks…
SUMMER SPLASH
* In the summer of discontent, where the fans and the media claimed big changes were needed to propel this regular-season wunderkind to the Finals, the San Jose Sharks changed very little. Some minor tweaks here, some chum there. But if there is anything the pre-season signing of Dany Heatley proves, it is the notion this club views the upcoming season as a chance for a good veteran squad, with opportunities of promotion for their prospects, to perform. And if they don't, they will make a move or three during the course of the season to complete the team and solve their conundrum.
* And perhaps the biggest splashes of change in the Shark Tank will come during the season. Elite players will be viewed with a keen eye and we at OGA wouldn't be surprised if more big trades were offered up during the course of the season depending on, well, the course of the season. Pre-pre-season moves have cleared up some salary cap space for future considerations. Sharks fans simply cannot endure another superior regular season followed by a sub-par playoff run.
* To set the stage for the internal changes of operation, the team has stripped Patrick Marleu of his Captaincy and taken the 'A' away from Joe Thornton. The idea is to see who earns these leadership roles through the course of camp and the pre-season. For Wednesday night's game (09.23.09), the Sharks skated captain-less but with three 'A's – Marleau, Thornton, and Dan Boyle. Boyle is considered to be the fan-favorite as a fresh start for the Sharks' Captaincy – and a deserving player/person.
Click here to read the rest of the preview (which includes the site's unique Playoff Qualifying Curve and fantasy information) at the On Goal Analysis site.