NBA Rumors: Monta, T-Mac, LaMarcus and more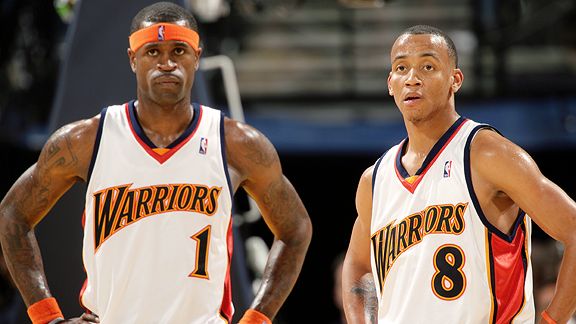 Monta Ellis is still unhappy with the Warriors. Jonathan Abrams (via Twitter): "Monta Ellis may ask out of the #Warriors too soon, via some1 in his camp. Still bitterness on both sides from the mo-ped fiasco." I don't know why Ellis is angry at anyone but himself when it comes to his moped accident. The team invests a ton of money in a guy and he's out riding around on a moped. Unbelievable.
T-Mac doesn't have anything to prove to anyone…but himself. Tracy McGrady: "I don't have to prove to nobody that I still got it." If NBA contracts weren't guaranteed, McGrady would have been cut long ago. Even though he's just 30 years old, T-Mac has missed 109 games over the last four seasons, or 33% of the Rockets' games. He's in a contract year, so he's highly motivated to prove that he's healthy and ready to contribute. With Yao Ming out for the season, T-Mac's return may be the most compelling story coming out of Houston.
LaMarcus Aldridge isn't happy about the lack of a long-term deal. This is a little perplexing. Unless Aldridge's camp thinks that he's a max player, I don't see why it would be difficult to come to a number. I pegged his value at $13-$14 million per season and that seems reasonable for a guy with his skill set.
Stephen Jackson doesn't think the Warriors are getting better. Jackson: "It feels like we're not getting better." Jackson said in late August that he was "looking to leave" the Warriors, and Don Nelson said that the team would move him if the right deal came along.

Andre Miller doesn't seem too happy in Portland. It might be the fact that Steve Blake is still the Blazers' starting point guard, or it might be the tedious media events he was required to attend, but this is a situation to watch.