2009 NFL Preview: #8 Green Bay Packers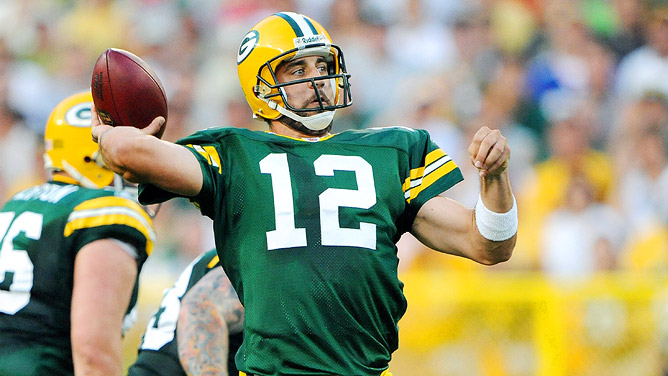 Check out all of our 2009 NFL team previews.
Offseason Additions: Duke Preston (C); Anthony Smith (S).
Offseason Losses: Mark Tauscher (OT); Colin Cole (DT).
Player to Watch: Aaron Rodgers, QB.
In throwing for 4,038 yards and 28 touchdowns in his first year as Green Bay's starter, Rodgers made Packer fans completely forget about the Brett Favre era. Okay, so he didn't do that, but he did put to rest a lot of the doubt fans had about whether or not he could become a legitimate franchise quarterback. Now entering his second year, Rodgers' challenge is to take this team to the next level and get them into the playoffs. His best attribute is that he's fundamentally sound and most of his success (unsurprisingly) comes when he gets the ball out of his hands quickly. He has also shown good mobility outside of the pocket and isn't afraid to take a risk in order to cash in on a big play. The problem that he sometimes gets into is when he fails to progress through all of his reads. While this can be an issue for most quarterbacks, it's the only thing that is holding Rodgers back from being great. He can't fall into patterns of making pre-snap reads and then not adjusting when the defense reacts to where he wants to go with the ball. If he works through his progressions more and cuts down on the mistakes, he's going to do big things in 2009.
Team Strength: While age is a problem, the Packers strength (at least on defense) is their secondary. At 33, Charles Woodson continues to be one of the top corners in the game and doesn't appear to be slowing down. Al Harris is losing a step and didn't have a great preseason, which is why many think that nickelback Tramon Williams will push for more playing time and eventually succeed Harris at the corner position opposite Woodson. Williams has excellent speed, as does dimeback Will Blackmon, and is an emerging starter. For as good as Woodson is, free safety Nick Collins is the star of this group. Collins is outstanding in coverage and seemingly knows where the quarterback wants to go with the ball every time he drops back to pass. He doesn't play the run particularly well, but that job is reserved for hard-hitting strong safety Atari Bigby, so Green Bay doesn't lose much in that area.
Potential Weakness: When the season starts, the Packers will have a ton of unanswered questions at linebacker. Aaron Kampman has been the team's best pass rusher over the years, but that was from his more-familiar defensive end position. When Green Bay hired Dom Capers to be its new coordinator, he installed his vaunted 3-4 defense and moved Kampman to outside linebacker. The veteran voiced his displeasure about the move and it remains to be seen if he can play standing up and in space. At the other outside linebacker position, Brady Poppinga will start, but if he can't rush the passer then first round pick Clay Matthews will get an opportunity. Matthews excelled as a pass rusher at USC, and while some believe he's more of a body builder posing as a football player, others think he'll be a star. Inside linebacker Nick Barnett is a question mark as well. He's coming off ACL surgery and will likely be replaced in obvious passing situations as he's eased back into his middle linebacker role. But who will replace him in those situations? Brandon Chillar is a liability in coverage himself. The only linebacker that Capers doesn't have to worry about making the transition from the 4-3 to a 3-4 is A.J. Hawk, who can take advantage of his tenacity against the run in the new scheme.
Outlook: Thanks to the continued development of Rodgers and the reliable receiving duo of Greg Jennings and Donald Driver, the Packers are going to be able to move the ball through the air. The question is whether or not the ground game has improved. The key will be the health of Ryan Grant. If his hamstring has completely healed (and by all accounts, it has), then he should regain his form as a patient, instinctive runner. Green Bay's zone-blocking scheme is suited for Grant and backup Brandon Jackson's skill sets, although Allen Barbre has to prove that he can take over for the jettisoned Mark Tauscher at right tackle. Defensively, Capers has a ton of experience to help this team make a smooth transition to the 3-4 and GM Ted Thompson did well in the first round by nabbing outstanding defensive tackle prospect B.J. Raji to help provide an interior pass rush. The Packers just need to prove that they can stop the run (something they struggled with last year), because the secondary is solid.
Green Bay's offense is going to be potent this season and Capers has a track record of turning things around quickly when he arrives in a new city as a coordinator. As long as the defense can make the transition to the 3-4, Mike McCarthy's Packers are the sleeper squad of 2009.
2009 Prediction: First, NFC North.