2009 NFL Preview: #15 Carolina Panthers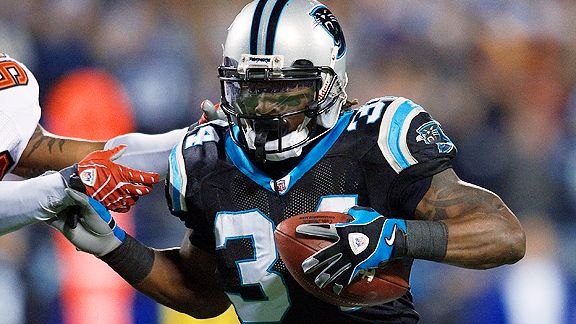 Check out all of our 2009 NFL team previews.
Offseason Additions: Kevin Kaesviharn (S/cut in preseason).
Offseason Losses: D.J. Hackett (WR); Ken Lucas (CB); Jeremy Bridges (G); Geoff Hangartner (C).
Player to Watch: Julius Peppers, DE.
Peppers had a rather tumultuous offseason. In March, he stated that he wouldn't re-sign with the Panthers and was seeking a team that would employ him as an outside linebacker. But Carolina put a stop to that notion by placing the franchise tag on the former first round pick and then proceeded (and failed) to sign him to a long-term extension. Now Peppers is playing on a one-year deal despite not wanting to be in Carolina, although he insists that there's no bad blood between him and the organization. It'll be interesting to see if Peppers' attitude changes if the Panthers take a nosedive after winning the division last year.
Team Strength: The Panthers finished third in the league in rushing last year and will once again feature one of the best ground attacks in football this season. Led by DeAngelo Williams, who had a breakout campaign in 2008 while totaling 20 touchdowns, and former first round pick Jonathan Stewart, Carolina will rely on the run to open things up for quarterback Jake Delhomme and the passing game. Williams is an outstanding downhill runner and when healthy, Stewart can tire out a defense with his bruising running style. Both runners are perfect fits for the zone-blocking scheme that Carolina uses. Left tackle Jordan Gross is one of the best run-blockers in the league, while left guard Travelle Wharton is technically sound and benefits from playing alongside Gross. Center Ryan Kalil and right tackle Jeff Otah continue to develop on what is quickly becoming one of the better offensive lines in the NFL. Stewart and right guard Keydrick Vincent's health are the only question marks.
Potential Weakness: Depth is a major concern for this team heading into the season. The Panthers refuse to develop a young quarterback behind Jake Delhomme and if he falls victim to injury, Carolina's season will be lost. Muhsin Muhammad continues to be productive at his age (36), but he and third-year pro Dwayne Jarrett couldn't carry the passing game if Steve Smith were lost for an extended period of time. Defensive tackle Ma'ake Kemoeatu tore his Achilles tendon in early August and will be lost for the season. The Panthers are now extremely thin at the position and will rely on Nick Hayden and Marlon Favorite (neither of which are as stout against the run as Kemoeatu is) to replace him.
Outlook: The Panthers have a great running game, one of the better offensive lines in football and a dynamic playmaker in Smith. They also have an outstanding linebacker corps led by Jon Beason, who excels at shedding blocks and is quickly becoming one of the league's best at his position. The athletic Thomas Davis and either savvy veteran Na'il Diggs or potential stud Dan Connor will flank Beason at the outside linebacker positions. Cornerback Chris Gamble has developed into one of the best defensive backs in the game and strong safety Chris Harris is ferocious against the run.
That's the good – here's the bad. As his performance against the Cardinals in last year's playoffs indicates, Delhomme can be infuriatingly inconsistent. He often locks onto Smith, which leads to turnovers, and if he gets sacked a few times Delhomme starts to throw temper tantrums that can wear on his teammates. Defensively, the loss of Kemoeatu is a killer and if Peppers is unmotivated then Carolina is in trouble because Ron Meeks' scheme relies on the front four generating a pass rush. The Panthers will always be competitive under head coach John Fox. But considering this team routinely follows one good season up with a bad one, expect Carolina to take a step back in '09.
2009 Prediction: 3rd, NFC South.