Cassel could miss 2-4 weeks with MCL injury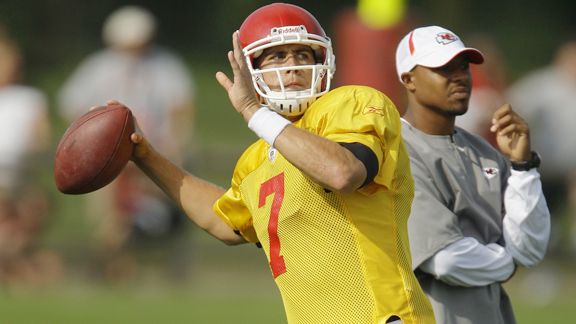 Chiefs quarterback Matt Cassel is in jeopardy of missing Week 1 of the regular season after suffering an MCL injury in Kansas City's most recent preseason game.
From Yahoo! Sports.com:
Cassel, who the Chiefs acquired in a trade with New England this offseason, was hurt Saturday night in an exhibition game against Seattle. The injury is not expected to require surgery because MCL injuries usually heal on their own.

However, the injury means Cassel could miss the Chiefs' season opener at Baltimore on Sept. 13. If Cassel can't play, Tyler Thigpen(notes) is expected to start the season. Thigpen, who had been the subject of trade rumors earlier this week, played in 14 games last season when the Chiefs went through injuries at quarterback. He finished the season with 18 touchdown passes, 12 interceptions and a quarterback rating of 76.0.
The fact that he won't need surgery is good for the long-term status of the team, although it has to be disappointing for both Cassel and the Chiefs that he won't be lining up under center in Week 1.
After a brutal start last season, Thigpen actually played well in the second half and offers Todd Haley starting experience. That doesn't mean that Thigpen will fair well in Baltimore, but at least Haley doesn't have to worry about trotting out a rookie QB in his team's season opener.
One thing to note is that Thigpen has leapfrogged Brodie Croyle on the Chiefs' depth chart. Croyle was the Week 1 starter last year and was once viewed as the long-term answer under center. His time as a starter definitely came to an end when the team acquired Cassel, although now it appears that even his time as a backup (at least in Kansas City) could be dwindling as well.
Obviously, this is worrisome for Cassel owners, but if you're following our QBBC strategy, and drafted Cassel as part of a committee, you probably weren't planning to use Cassel against the Ravens in Week 1 anyway. He should be able to play in Week 2 or Week 3 at the latest, so while his value is certainly hurt as a starting QB, he still holds similar value as a backup or a part of a committee.