Fantasy Football: Quarterback By Committee (QBBC)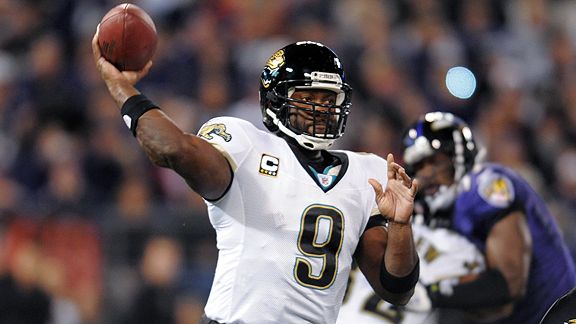 With the relative depth at the position, one approach to drafting a fantasy quarterback is to spend the first six or seven rounds drafting running backs, wide receivers and even a tight end. Then, in the eighth round or later, start to think about drafting a QB. Oftentimes, the players available in the 4th or 5th round won't drastically outscore those QBs taken in the 8th or later.
Why is this? Well, one reason is that, once fantasy owners have a starting QB, they tend to draft for depth at running back and wide receiver instead of drafting a backup QB, whom they know probably won't sniff their starting lineup, except as a bye week fill in.
Another reason is that most leagues require two starting running backs, which means 24 starting RBs in total (assuming a 12-team league). With more and more real NFL teams utilizing a RBBC, the position is much thinner than QB, which requires 12 fantasy starters of 32 real world starters.
Typically, this results in good depth at the QB position, where the expected production from QB10 isn't all that different than QB20. This year the QB10 off the board is Matt Ryan (7.01) while the QB20 is Joe Flacco (11.02). To illustrate my point, in a "high performance" scoring system (4 pts per pass TD, 1 pt per 20 yards passing), Footballguys projects Ryan to score 255 fantasy points and Flacco to score 235. Are those 20 fantasy points worth burning a 7th round pick instead of an 11th? Over a 17-game schedule, that works out to less than 1.2 fantasy points per week.
In other words, it's probably not going to cost you too many wins to go with Flacco instead of Ryan. In fact, you'll probably be better off because the WR or RB you draft in the 7th round (Santana Moss?) is likely to vastly outperform his 11th-round counterpart (Michael Jenkins?). Footballguys projects Moss to outscore Jenkins by 75 points, a 4.4-point per week advantage. So by going with a Moss/Flacco combo instead of a Ryan/Jenkins combo, you're gaining a net of 3.2 points per week.
Going one step further: why not draft two middle- to late-round quarterbacks whose schedules mesh well together to create a Quarterback By Committee (QBBC)? That way, you can load up on RB, WR and TE talent in the first seven or eight rounds knowing that you'll still be able to get good QB play from a couple of later picks by taking advantage of the ebbs and flows of each player's schedule.
To that end, I took the QB strength of schedule data from Footballguys and calculated the per week projections (by using the aforementioned Footballguys projected stats) for every starting quarterback in the league.
Once that was done, I eliminated the 13 QBs with an average draft position (ADP) in the first seven rounds. This means that Tom Brady, Drew Brees, Peyton Manning, Kurt Warner, Aaron Rodgers, Phillip Rivers, Donovan McNabb, Tony Romo, Jay Cutler, Matt Ryan, Matt Schaub, Carson Palmer and Ben Roethlisberger are not a part of this study.
This left 19 potential QBs – actually a few more when you consider those teams that haven't settled on a starter yet. More on this later.
I then determined the best combined schedule (based on projected points scored) for each of the 171 two-QB combinations for a 16-game season (since most leagues don't play in Week 17).
So who came out on top?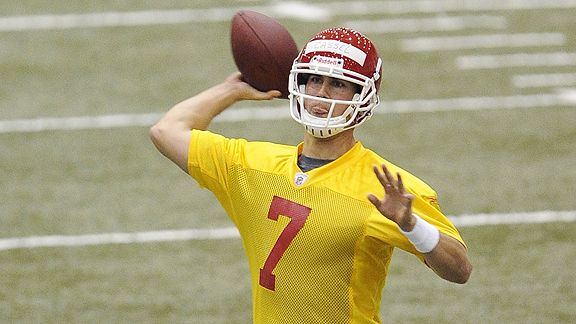 #1 COMBO
Matt Cassel and Shaun Hill (or Alex Smith)…280.7 fp
This combination is a little tough because Cassel is currently being drafted QB14 (8.08), so you're probably going to have to use an 8th or 9th round pick on him. This means that you may have to pass on some value at RB, WR or even TE that slips into the 8th. On the flip side, Hill is going 14.01, so there's no rush in grabbing him after you have Cassel.
I like this combo, but Cassel worries me a little bit because he's joining a new offense that lost Tony Gonzalez over the summer. Dwyane Bowe is a very good target, but the Chiefs are lacking other proven playmakers in the passing game. On the other hand, Hill was very productive (18.3 ppg) in nine starts for the 49ers, though Mike Singletary hasn't been very impressed with him in camp. (The same goes for Alex Smith, by the way.)
Another issue with this pair is that I assumed that Hill would start all 16 games and would score the points projected for Smith (or vice versa). After all, only one QB can score at a time, right?
To utilize this combo, start each guy in the following weeks:
Cassel / (Hill/Smith): (1), (2), (3), 4, (5), 6, (7), (8), (9), (10), (11), (12) 13, (14) 15, 16

Now there's word that Smith may win the job, making this combo dicey at best for fantasy owners drafting soon. I'd recommend waiting until the 49er QB situation is settled before trying to pull the trigger on this QBBC (unless you have plenty of roster space and can grab both Hill and Smith very late).
KEY QUARTERBACKS
As I peruse the top 20 or so combinations, a few names keep popping up.
David Garrard (10.02)
I love Garrard as a value pick this year and he should be deadly in a QBBC format. The Jacksonville offensive line is healthy again and the addition of Torry Holt should give Garrard a good option in the passing game. He was QB9 last year, so I don't see why he wouldn't post similar numbers in 2009 with a better line and an improved receiving corps.
Combines well with: Trent Edwards, Matt Cassel, Eli Manning, Jason Campbell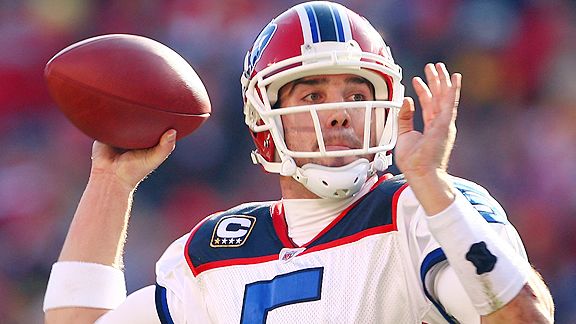 Trent Edwards (10.02)
Edwards missed two games last year and had a few other clunkers, but he showed some promise (nine of 14 starts with 14+ fantasy points) and the arrival of Terrell Owens opposite Lee Evans gives him two legitimate threats to throw to.
Combines well with: David Garrard, Kyle Orton, Hill/Smith, Matt Cassel, Jason Campbell, Eli Manning

Eli Manning (9.08)
Losing Plaxico Burress definitely hurts, but Manning has a great offensive line and a group of young receivers that have a good chance of developing into a solid unit. Domenik Hixon played well in Burress's place last season and Steve Smith is a good possession receiver. Throw in rookie Hakeem Nicks and young tight end Kevin Boss, and the Giants' passing game should be all right without Plax.
Combines well with: Hill/Smith, David Garrard, Trent Edwards, Kyle Orton

Jason Campbell (12.10)
Campbell should benefit from some stability in terms of what kind of offense he's trying to run. Santana Moss is a very good receiver and Chris Cooley is a top five tight end. Campbell rarely puts up a total stinker – he scored at least 10 points in 15 of 16 starts in 2008, and that makes him a safe start.
Combines well with: Hill/Smith, Trent Edwards, David Garrard

Kyle Orton (9.07)
"Neck Beard" is now the Broncos' QB and he has a much better receiving corps (featuring Brandon Marshall and Eddie Royal) than he had in Chicago. He will also be protected by one of the best offensive lines in football — that won't hurt. Still, he's joining a new team and Marshall is disgruntled, so he's not a sure bet. Plus, there are other guys I'd rather have in the 9th.
Combines well with: Hill/Smith, Cassel, Edwards

Matt Cassel (8.08)
Combines well with: Hill/Smith, Kyle Orton, Trent Edwards, David Garrard, Joe Flacco, Matt Hasselbeck

Hill/Smith (14.01)
Combines well with: Matt Cassel, Kyle Orton, David Garrard, Eli Manning, Trent Edwards, Jason Campbell, Joe Flacco, Matt Hasselbeck

Most of these combos are projected to net 270+ points, so assuming a 15-point fill in during the bye week of a "stud" QB, a QBBC is projected to outscore all but the top six or seven QBs at a fraction of the price.
RECOMMENDED COMBOS
At this point, these are the QBBCs that I would target:
Cassel/Garrard
Garrard/Campbell
Garrard/Edwards
Garrard/Manning
Cassel/Edwards
Cassel/Orton
Cassel/Flacco
Once the Hill/Smith situation clears up, the winner would make a nice combo with Garrard, Cassel, Manning and Orton. The nice thing about QBBC is that given the depth at the position, if you miss out on Cassel in the 8th, there's a good chance that Garrard will be there in the 9th, and there are several QBs who schedules mesh well with his. If he's gone, you could always grab Eli Manning (if available) and draft Shaun Hill and/or Alex Smith later on. The options are numerous, so pick two or three combinations that you like and give it a try.