2009 CFB Preview: Alabama Crimson Tide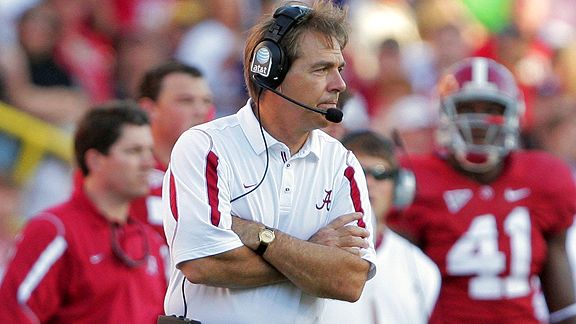 Check out our other 2009 college football previews.
Preseason Ranking: No. 5 in AP Top 25; No. 5 in USA Today Poll.
Key Returning Players: Greg McElroy (QB); Mark Ingram (RB); Julio Jones (WR); Rolando McClain (LB); Don't'a Hightower (LB); Cory Reamer (LB); Brandon Deaderick (DE); Terrence Cody (DT); Brandon Fanney (DT); Justin Woodall (S); Javier Arenas (CB); Kareem Jackson (CB); Leigh Tiffin (K).
Key Losses: Glen Coffee (RB); John Parker Wilson (QB); Rashad Johnson (S); Andre Smith (OT); Antoine Caldwell (C); Marlon Davis (G); Bobby Greenwood (DE); Travis McCall (TE); Nick Walker (TE).
Player to Watch: Terrence Cody, DT.
At 365 pounds, Cody is without a doubt the key cog in Bama's defensive line. "Mount Cody" tallied 24 tackles with 4.5 tackles for loss last season, which made him a consensus First-Team All-American. He was also named a First-Team All-SEC selection by the conference coaches, as well as the AP. As long as he can stay healthy (he missed some time last season with a sprained MCL), Cody will once again be a force in the interior of Bama's defensive line.
Team Strength: Defense, defense, defense. Nick Saban has nine returning starters on the defensive side of the ball, including the dynamic Cody. The Crimson Tide have one of the most talented and deepest linebacker corps in the nation, led by Rolando McClain and Don'ta' Hightower, as well as quality starters in Brandon Fanney and Cory Reamer. Even freshman Nico Johnson has the potential to become an explosive defender in the middle of Bama's defense. The secondary suffered a big loss with the departure of Rashad Johnson, who led the team in interceptions and pass break-ups last season, and also ranked second in tackles. But with the return of Kareem Jackson, Javier Arenas, Marquis Johnson and Justin Woodall, the defensive backfield offers a ton of experience and solid playmaking ability.
Potential Weakness: Nobody confused quarterback John Parker Wilson for Tim Tebow last year, but the former Bama signal caller was steady and always limited mistakes. While the Bama offense wasn't explosive by any means last year, it was efficient and rarely put the defense in a bad position. But with the departures of Parker Wilson and running back Glen Coffee, Saban is forced to retool and therefore, the unit might take a step back this season. Losing massive offensive tackle Andre Smith doesn't help either, neither does a compliance officer meeting with the NCAA regarding a fishing trip that was taken by running back Mark Ingram and wide receiver Julio Jones. The pair doesn't appear to be at risk of facing any disciplinary actions, but that could change.
Outlook: Alabama doesn't have the overall talent on the offensive side of the ball to beat out Florida in the SEC. But the Crimson Tide defense is good enough to win games on its own and if Ingram, Jones and quarterback Greg McElory can exceed expectations this year, it isn't a stretch to think that Saban will have Bama competing for a national title berth again this season. Perhaps the key will be how the Tide look in their season opener against Virginia Tech on September 5. A win could certainly propel Bama the rest of the year and their conference schedule isn't that tough outside of a trip to Mississippi in October and a home game against LSU in November. Even a loss to the Hokies wouldn't be devastating, because it would come at the beginning of the season and therefore give the Tide a chance to redeem themselves the rest of the year. But the offense has to step up and come together after the losses of Parker Wilson, Coffee and Smith. Does Saban have more magic up his sleeve? Or will Bama's great defense be wasted because of an ineffective offense?